When marketing the position of a retail brand, a number of tangible and intangible factors come into play: retail formats are defined by both measurable parameters, including the dimensions of the commercial surface and its geographical location, and intangible elements, such as the creative choices made in fitting the store.
In assessing and monitoring the Italian and European retail industry, Salone Franchising Milano adopted the relationship between retail formats and customer mobility as a main parameter in classifying different models. Some formats, such as convenience stores, intercept customers in their movements, for instance commercial galleries in railway stations or supermarkets on the way home; other shops, such as destination stores, require consumers to reach them by an explicit act of will that obliges them to use a means of transport.
Two variables are considered determining factors of visitor flow through commercial environments: the distance of the location from the downtown area; and the level of attractiveness as perceived by consumers.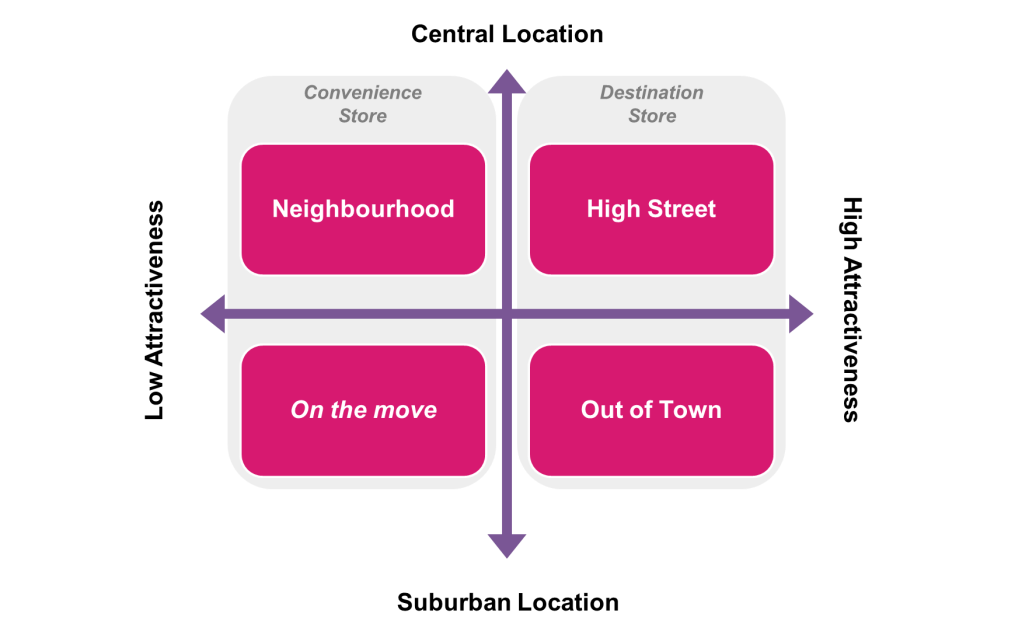 Source: Center for the study of retail industry – RDS & Company – Salone Franchising Milano, 2016
Neighbourhood: supermarkets, traditional points of sale, specialised commerce, markets and urban shopping centres;
High Street: fast fashion points of sale, department stores, flagship stores, medium- to high-positioned mono- and multi-brand stores;
On the move: points of sale within commercial galleries in railway stations and airports (i.e. duty free shops);
Out of Town: superstores, shopping centres, retail parks.
Consumers are generally persuaded to reach destination stores for one or more of the following reasons: cheaper prices, deeper and wider product ranges, and the attractiveness of the commercial environment. These types of store are typically the preferred option for satisfying perceived needs linked to the products or services they market (i.e. Ikea for furnishing, Decathlon for sports equipment and clothing etc.).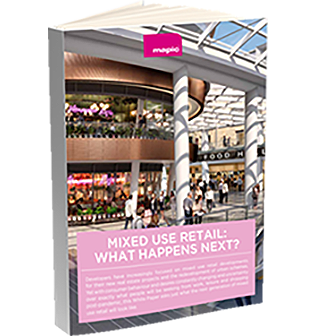 Mixed use retail and leisure: What happens next? – White Paper
Learn about the retail industry's latest data, developments, innovations and projections in our last white paper
However, brands are looking at a new distribution format: one that positions itself as both a destination and convenience store. Not only would this occupy consumers' share of mind when seeking a particular product or service; it would enjoy the brand image of high street shops as well as the organic visitor flow of convenience stores.
Hybrid retail formats are becoming increasingly popular, with brands that always marketed their products in more remote locations now embracing new urban models. Ikea, for example, ran an experiment in 2015 when it launched a temporary convenience store in the centre of Milan.
Urban variations of some destination store retail brands—those lovebrands with strong commercial notoriety—can be supported by a franchising development strategy once the operative and managerial profile of the point of sale has been adapted to the urban store's features.
The turnover of the Italian franchising industry was approximately €23 billion in 2014, equal to 1.3% of the national GDP. The consistency between a franchising formula and small dimension formats is supported by industry data: about 75% of franchisee stores occupy small locations, with a commercial area smaller than 100 square metres (Center for the study of retail industry – RDS & Company – Salone Franchising Milano, 2015), a trend which is expected to continue. In this particularly dynamic period of reshaping formats and renovating layouts, these considerations can be inspiring for those retailers interested in innovating their distribution formats and getting closer to consumers.