"A very difficult and challenging 2020 has meant that this year's holiday-season illuminations have elevated from a nice-to-have to a necessity for the shoppers' experience", says Blachere CEO Johan Hugues. And nowhere does this ring as more true than New York, a city battered by the worst of COVID-19 during the initial outbreak.
We have been involved in many amazing projects this year but if I have to pick out two then they would be Hudson Yards and Fifth Avenue, New York," he says of creating a great consumer shopping experience. "Firstly, because they are so important in bringing some happiness this year but also because of the logistical complexities of running a project remotely during the pandemic.
Indeed, Blachere presented and won the contracts by video calls in the midst of the pandemic and then had to manage the planning, design and installation without its designers being allowed to travel to the US. Working with its American partner, Blachere switched a customer service team to work US time-zone hours so they were available to help throughout the American working day.
The dazzling set pieces and over a million lights feature at Hudson Yards as part of its Shine Bright at Hudson Yards event. From Christmas trees to hot air balloons, lights sparkle all around The Vessel, which is also lit on each of its tiers, as well as inside the mall area to enhance the retail experience and retail spaces.
Meanwhile, the Fifth Avenue Association, launched a Make it Bright campaign that takes two holiday staples – toys and lights – to a new level with installations of larger-than-life, illuminated toys unveiled along the Avenue. Each sculpture features a unique QR code that visitors can scan to read a magical story about the toy, enhancing the shoppers' experience. The installations are spaced along Fifth Avenue from 51st Street to 59th Street outside the stores, culminating with a decorated Pulitzer Fountain in Manhattan's Grand Army Plaza.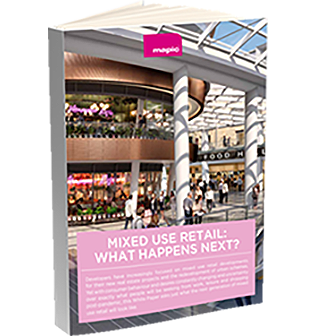 Mixed use retail and leisure: What happens next? – White Paper
Learn about the retail industry's latest data, developments, innovations and projections in our last white paper
Toy designs include a classic New York City taxicab, a giant teddy bear, and a hot air balloon among others and represent timeless toys that offer an ideal photo backdrop and encourage shopper life experiences.
Indeed, while the role of seasonal illuminations remains to draw visitors to a city or mall and to increase dwell and the consumer shopping experience, Hugues says that the emphasis has changed, especially because of social media.
Illuminations are much more interactive now and of course everything has to have social networks in mind and be Instagrammable. Clients want personalisation and unique offers," says Hugues. "It's a way of communicating with customers. Perhaps something direct or perhaps just a way for a BID, or City Hall or a mall owner to communicate with their audience.
One major change in enhancing the shoppers' experience has been sustainability. To work towards its environmental goals, Blachere unveiled its patented Bioprint material in 2019, which is made entirely from sugar cane. Because of its organic origins, the material is biodegradable and does not contain any genetically-modified organisms, and it is being used to replace the aluminium frame previously used in its products.
"We started this project two years ago and the objective has been to have a huge impact on our carbon footprint globally, with manufacture, use and disposal, because Bioprint is fully biodegradable," he says. "We are able to form and shape the product in our factory for all our products and installations."
Hugues says that the role of illuminations is not hugely different in terms of customer feel and the retail experience between cities and mall installations other than practical considerations, such as indoor versus outdoor and also the proximity of visitors to the lights themselves. More detail is often required for shopping centre features and in retail spaces to enhance the store appearance. In addition, there may be more mechanics and animation.
For this year the illuminations have undoubtedly been even more important for the shoppers' experience and Hugues reflects of the New York installations: "After such a difficult year for the city, the holiday lights are both iconic and very symbolic."
Learn more about LeisurUp and MAPIC.
Read more about rethinking retail space and on art and wellbeing in the retail space.