This year ushers in the 'Next Era' for the foodservice market, featuring a growing 'Americanisation' of the UK market which, in turn, heralds trends in the F&B industry likely to be seen across Europe. Often US brands land in the UK first, before expanding into the rest of Europe, and the F&B market is seeing new entrants and expanding fast food brands, including Wingstop, Popeye's, Tim Horton's, Wendy's, Five Guys, Slim Chickens, and Taco Bell.
Indeed, the European F&B industry is moving into new territory of exciting expanding concepts, greater polarisation between value and the experiential, new channels developing, and technology playing a greater role – the key themes from a new Food & Beverage Report forecasting the future and F&B market analysis, including:
1. The Polo Mint effect 
Working habits have changed, with a substantial number of the estimated 12 million office workers now working from home for a proportion of the week. This has decimated trade in city centres and while it is slowly building back, some of these habits will remain. As a result, trade will migrate to suburban locations, in the outer ring of the 'Polo Mint', which bodes well for neighbourhood cafes, delis, convenience stores, and local bars and neighbourhood restaurants as people remain closer to home for breaks, meetings and social events.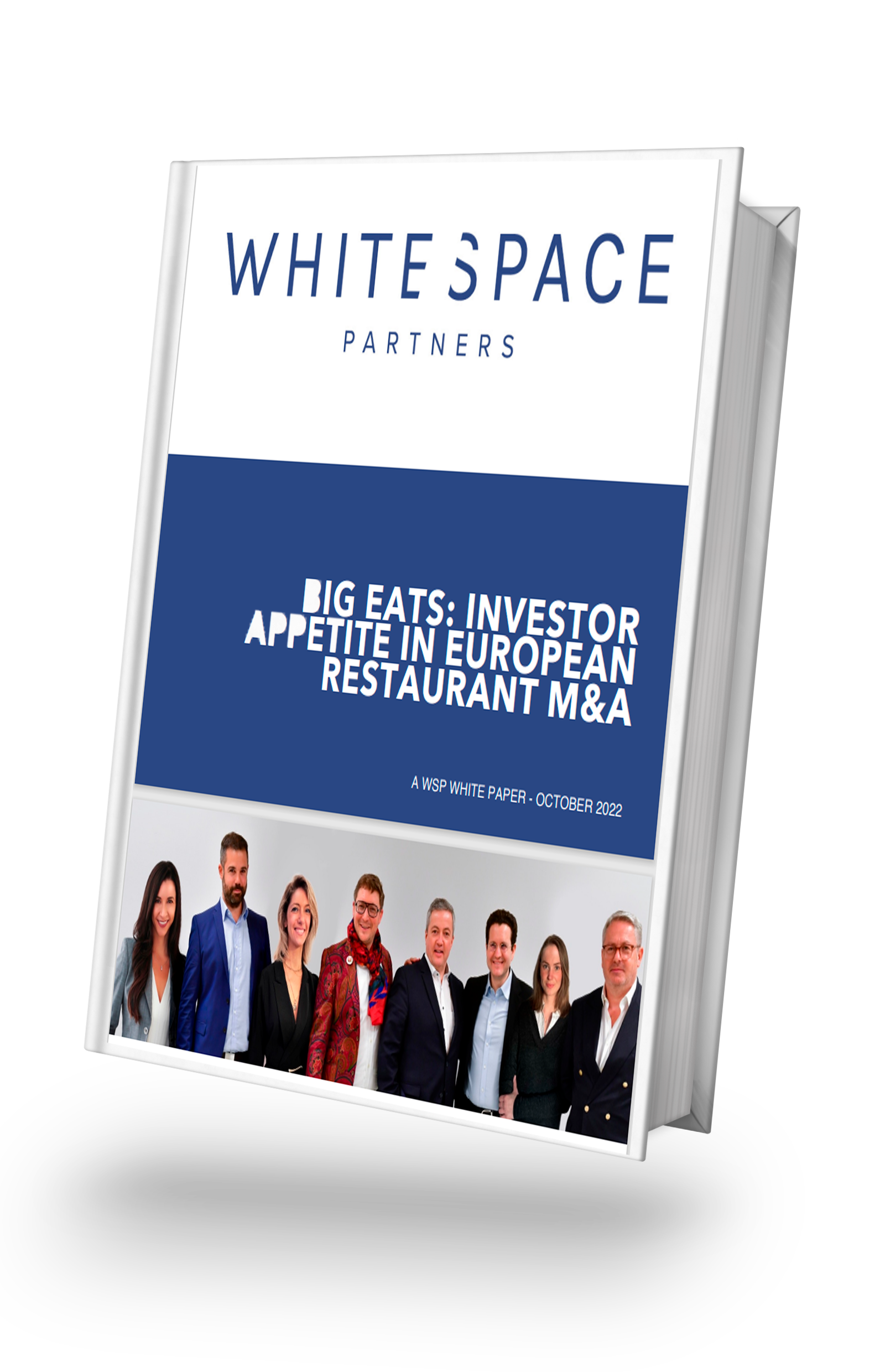 Big Eats: Investor Appetite in European Restaurant M&A
Discover the status of the European M&A market in this post-Covid period.
2. Social Refuelling
There will be a greater polarisation in the food and beverage industry between value-driven 'Social Refuelling', and experiential, premium dining, especially as inflation starts to impact on consumers' discretionary spending.
As consumers seek to try to fit more into busier lives, the growth brands are faster formats or more casual concepts, including food hubs like Kerb or Market Halls, which we are terming 'Social Refuelling' and where costs are either reduced through elements of self-service, or through cheaper food offers such as fast food. When consumers are seeking a better out-of-home dining experience then it is going to cost more, and therefore needs to deliver an exceptional experience that can't easily be replicated in the home.
We are seeing better quality dining brands and 'Sophisti-Casion' restaurants perform strongly as there is still an amount of previously-cancelled celebratory events that consumers want to catch up on, and there are many consumers who are 'cash-rich & time rich' as a result of changing work behaviours.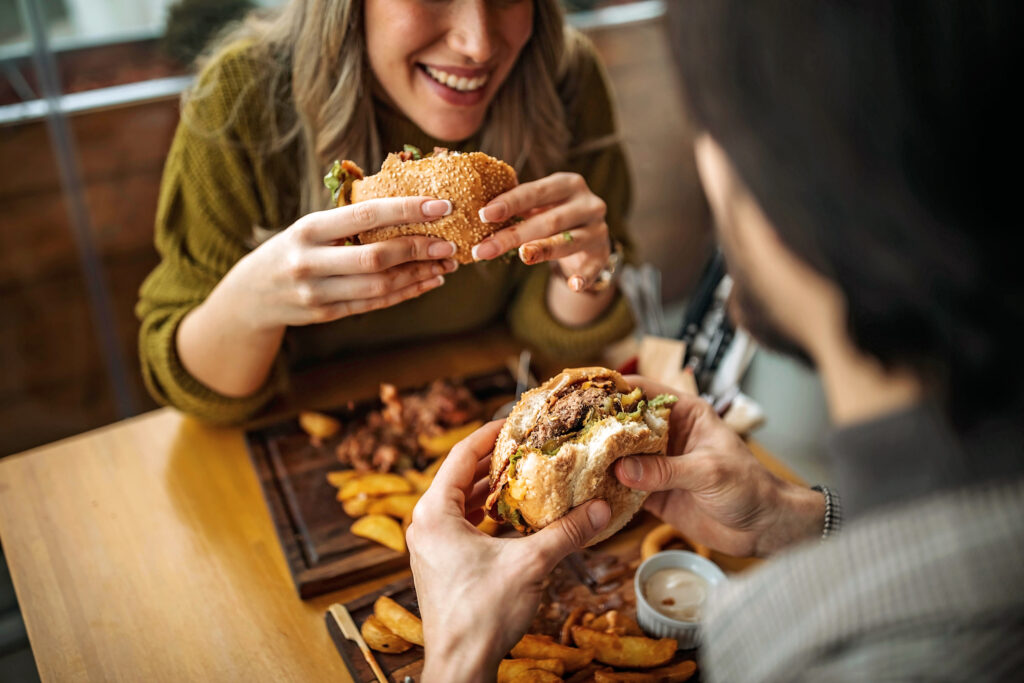 3. Americanisation
Another emerging trend in the F&B industry is a growing 'Americanisation' of the market, with greater number of US quick service brands entering the country and expanding, such as Wendy's, Popeye's, and Wingstop. These new entrants arrive on top of existing US brands Tim Hortons, Slim Chickens, Five Guys and Taco Bell. Both fried chicken and BBQ are significant food trends, meeting consumer's desires for indulgent treats from a fast food occasion, and these American brands deliver on both counts. Many will see landing in the UK as a bridgehead to continental Europe.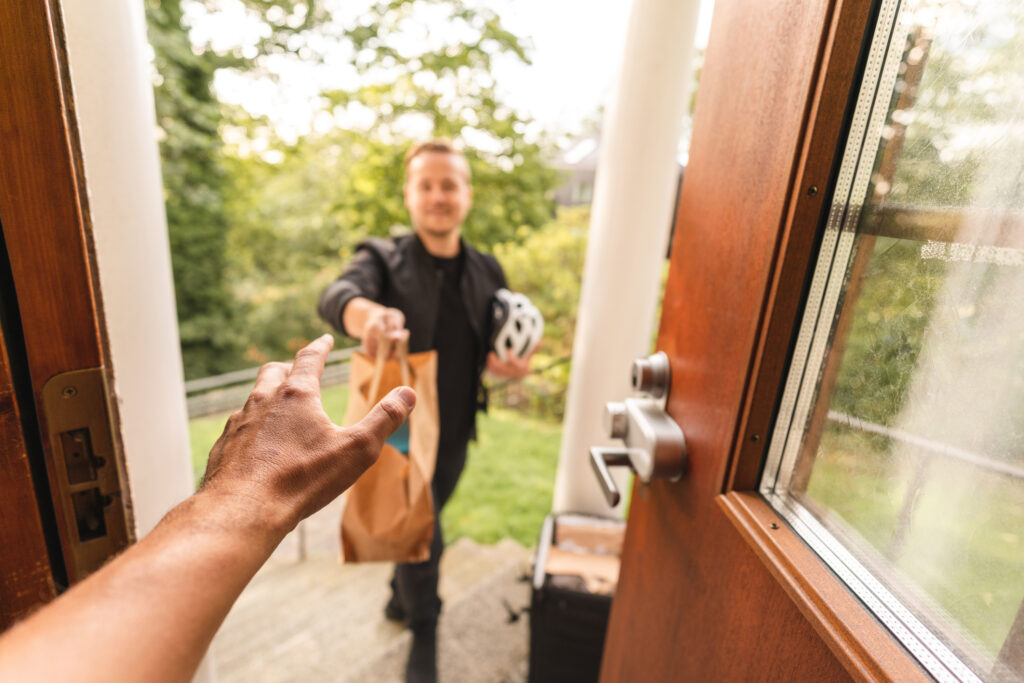 4. New Food Models
Impacts such as rising costs and labour shortages; some volumes decreasing in traditional restaurants; increasing demand for delivered foodservice solutions, and increasing influence of social media on consumer behaviour, are all driving change in the F&B market dynamics and consumer behaviours. As a result, we are seeing new food models:
A switch to digital ordering systems in store, moving front of house staff into food preparation in order to concentrate labour resources on personalised, fresher food. Consumers are happy to use digital screens, which give them more time to allow for all personal preferences, which also encourages greater transaction spend as there is less pressure than standing in front of the till counter.
Changes in food preparation, either through central production kitchens or separate staff just employed for simple prep to support chefs who concentrate on service.
Increasing use of dark kitchens in more environments such as hotels and contract catering sites, leveraging space and equipment to meet several needs at the same time, and exploiting the growing demand for delivered food solutions.
Restaurant meal kits – 'Make-aways' continuing for special occasions, or for consumers who don't have access to delivery, and for dinner parties, etc. This development was born out of necessity but continues due to demand from consumers for prepared products that are at a higher level than they can make themselves.
Virtual brands for delivery and click & collect, with menus developed by social media influencers, either capturing recipes/ingredients/methods shared on platforms such as TikTok, or by using their personal tastes to influence consumer demand, such as 'The Sides' a virtual brand sold out of Reef dark kitchens, created by YouTube influencers 'The Sidemen'; or 'Another Wing', a fried wings concept created by DJ Khaled, which was launched in 165 restaurants on the same day, both in the US and across Europe, again in Reef kitchens.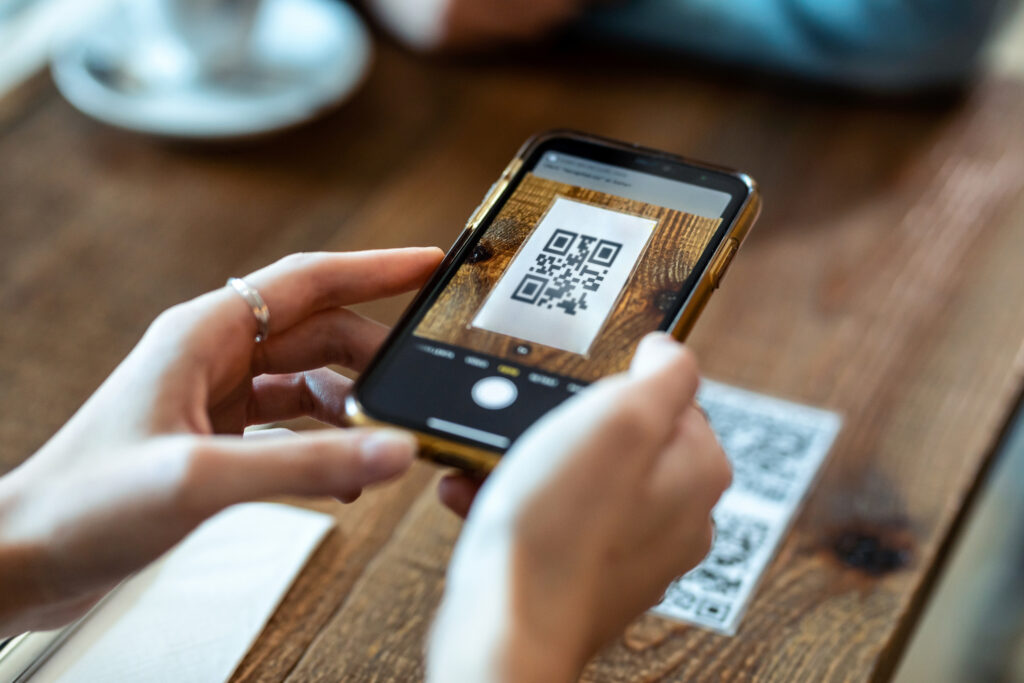 5. Technology adoption
There is greater adoption of digital order screens, which results in both lower labour costs, but also higher transaction spends, but we will also see far more adoption of technology right across the industry, including:
Voice-ordering – Following McDonald's acquisition of tech company Apprente, which specialises in developing voice recognition, we expect to see further developments in the ability to order through systems such as Amazon's Alexa, and from car-based systems when approaching Drive-Thru sites.
Order & Pay apps – Rushed into use during periods of 'table-service only' requirements during Covid, the ability to order and pay from your table was an emerging trend that has been significantly accelerated and will become the norm over the next few years. While QR codes have been acceptable during the past two years, they are old technology that leads to static web pages, whereas apps provide far greater benefits for users and operators. However, consumers do not want to download an app every time they visit a new premise, and so solutions such as OrderPay, which is focused on the consumer experience and integrates into the operator's own system, are set for greater usage.
Automated kiosks, or robot kiosks – A glorified version of a vending machine, but for low-turnover or remote locations, these developments with enhanced user facilities and robotic elements are a really suitable solution. Pizza's and coffee are the most applicable products, and we expect to see greater roll out of these, especially the robot arm coffee kiosks such as Café X, Briggo, Trubird, Monty's, and Crown Coffee.
Click & collect lockers – As consumers switch to digital ordering of their food remotely, either through delivery platforms or direct with the operation, but also as they require more immediate, or more user-friendly, accessible click & collect abilities, we will see the adoption of automated lockers that store food. Some of these will be heated or chilled, but the majority are ambient, to keep cold drinks cold and hot food warm. Wingstop are adopting these in the US for customers to collect from, and we expect to see more of these rolling out elsewhere.
As well as this new landscape of The Next Era, there are changes in the food that we eat, given our developed abilities to do more at home during lockdowns:

Worthy – Consumers are growing in their appreciation and recognition that the foods they eat need to be healthier, through taxes on high-sugar contents etc, but also as a result of Covid, that foods can boost their immune systems; as a result, we are seeing foods, ingredients and dishes marketed for their immune-boosting properties and health-improving abilities, to help consumers feel better about what they are eating – "Because we're worth it"!
Wow – At the same time, foodservice operators need to remember that eating out of home is a treat, and therefore focus needs to be placed on making their menus and food products as appealing as possible, developing a sense of wow for every purchase, even if the ingredients are 'worthy'. Sometimes this will mean more indulgent products, such as dirty burgers, freak shakes, or waffles etc, but it can also be applied to poke bowls, salads, or ramen. Consumers will be expecting more, especially as inflation rises throughout 2022.
Worldy – Consumers are becoming far more worldly in their knowledge, appreciation and desire for different food out of home. We see this in the way that children are growing up with access, and demand for, sushi, falafel, baba ghanoush and hummus as everyday foods. Most menus having a worldly feel.
Woke – The move to plant-based alternatives to meat, and the rise in flexitarian eating, is based upon many reasons, and potentially to label them as woke could be seen as frivolous. However, consumers have become much more aware of the environmental and sustainable impacts from all eating and drinking, and some are amending what they eat in order to have less impact. Operators are therefore having to take sustainability into account more, and make distinct changes in what they offer and how it is sold. 'Purpose' is now a key element in consumer purchase decisions, and operators need to demonstrate that they have greater purpose than simply making money.
And a little bit Wacky – As the experiential becomes more important as a differentiator between what can be eaten in the home (even from delivery or restaurant meal kits), and what is expected from an eating-out experience, so the foods, dishes, ingredients, and service style, are becoming more interesting, different, sometimes challenging, and definitely a little bit Wacky!