Mette Lykke (Too Good To Go) was interviewed by Mario C. Bauer (AmRest/ Curtice Brothers/ WhiteSpace Partners Ltd. / Dr. Oetker Hospitality GmbH) for our second The Happetite 'Food for thought' virtual talk on the topic of food waste solutions.
They discussed the new breed of business that will emerge from the current crisis and why thinking like a social impact company will give you the purpose needed to survive in our new norm. How will the crisis impact the global food waste and supply chain? How can this knowledge arm supermarkets and restaurants with innovative food waste solutions?
They shared their vision on the "Food waste solutions for the new hospitality world".
The key takeaways from our experts were:
1. Food waste is a big problem nowadays. Mette Lykke said that Too Good To Go is more than an app. Its purpose is to be a movement aiming to change the mind-set of industry players by inspiring a change of habits and providing the tools to do this transformation with the benefits of reducing food waste.
The app is free and enables restaurants and shops to post what leftover food they have available at the end of their serving day, together with a time-slot for collection. Members of the public can then purchase discounted meals or groceries through the app, providing a food waste solution for restaurants. The surplus food is saved from being thrown away, the restaurants make a small additional revenue – and reduce their disposal costs – and the firm makes money by taking a commission on meals sold.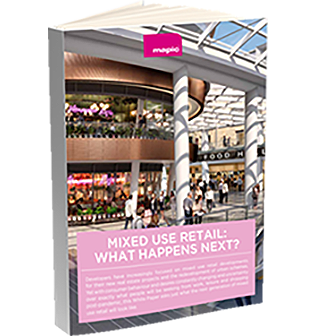 Mixed use retail and leisure: What happens next? – White Paper
Learn about the retail industry's latest data, developments, innovations and projections in our last white paper
"The initial aim was to take all that delicious food that was going to be thrown away and create a market for it," she said of the sustainability motive. "It started with the app but the dream is to help change society's attitude to food waste. We organise this around four pillars: Households, where half of food waste takes place; changing the mind-set of businesses; education within schools to change the mind-set of children; and politics and public affairs."
2. What is necessary to eliminate consumer waste? The ideal scenario is to eliminate food waste, but in retail businesses how much is going to be sold is not predictable and so companies need creative ways to reduce food waste. This means optimising purchases and operations but what is also really important is to motivate people and teams on the benefits of reducing food waste.
Lykke said: "We dream of a planet with no food waste. Our mission is to inspire everyone to fight food waste to go. This needs to be a movement. So many part of that value chain and so many stakeholders where things can and do go wrong. It's not enough to know it's an issue."
To address how to reduce food waste, the typical mode of operation sees a participating restaurant, as it shuts down for the day, upload what meals or food products are left available, which are made available for pick-up. Typically, the amounts are quite small, with Lykke estimating an average value of €35-€40, for example. Consumers use the app to check out what is available locally, order it and collect and Too Good To Go takes a small part of the transaction.
"The food is typically what would be thrown away at the end of that day, so it was fresh five minutes earlier," she said of ensuring food safety for what would be food waste. "Because restaurants are usually quite efficient at regulating surplus food, one of the first things they tend to say is 'we don't have any waste' and they also express concerns about sales cannibalisation. But once they have tried it, we rarely hear those points raised again – because the amounts may be small but they add up for the operator, and of course in terms of meals saved, when you combine the excess from all the restaurants, then they add up hugely."
3. Too Good To Go recently made a huge effort with food producers to clarify date labelling. Confusing date labelling is responsible for 10% of total waste of food and so the industry needs innovative food waste solutions.
Too Good To Go currently is live in 13 countries in Europe, with almost 40,000 restaurants and cafes, plus 22 million registered users on the platform. It saves round 100,000 meals per day and it has spread its activity to lobby major companies about date labelling to make this clearer, preferencing 'best before' and 'often good after' packaging, focusing on products where food safety is very high.
4. We don't expect that COVID 19 will impact the mind-set of future consumers towards cooked food, as it doesn't have any impact on food and remains an effective way to reduce food waste in restaurants.
Lykke said: "Personally I am quite optimistic because we can start to see our markets opening up. At the lowest point, we were down 65% on turnover, but we now see it start to increase. We have made some small changes to help give confidence regarding hygiene and Covid, but I think people understand the situation well."