The food and beverage (F&B) industry has been hit hard by COVID-19 and is now in a period of rapid adjustment and adaptation, with operators reorganising their restaurant offers and expanding their click & collect, kerbside and delivery options.
Over the past months we have talked to a wide range of leading F&B companies about food and beverage trends and how they see the future of dining and what it will take to survive, stay open and succeed.
Few sectors have been as badly hit or fundamentally changed by COVID-19 as the food and beverage industry. Initially forced to close in-store dining during a raft of lockdowns across Europe, more recently F&B operators have been juggling the need to create a great user experience but remain COVID-safe.
More recently, many markets have been back in partial or full in-store closures once again. Indeed, it is a feature of our reporting and updates that many of our respondents were preparing to re-open when we first spoke to them, yet the immediate future is far less certain. Markets and societies are moving at different paces and stages.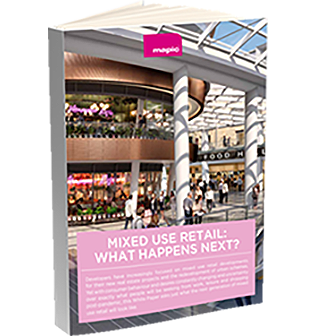 Mixed use retail and leisure: What happens next? – White Paper
Learn about the retail industry's latest data, developments, innovations and projections in our last white paper
While the UK and the US have been two of the hardest hit by the pandemic, they both have tangible roadmaps to opening up their food and beverage businesses. For much of mainland Europe, restrictions may in fact become tighter in the short-term.
Geographically, some F&B industry operators have found themselves in a slightly better position in the food and beverage sector because of their offer and have had to adapt less, despite the COVID-related trends in the food and beverage industry and across the global market. In addition, markets such as Spain and Italy have kept more outlets open at times during the pandemic, with slightly less severe restrictions.
F&B industry sector trends
Our updated report contains information on the latest COVID rules for the F&B sector across the five main Western European markets. Inevitably, these will continue to evolve, as political leaders determine the best ways to protect the health and economy of their nations.
For many in the food & beverage industry this has meant embracing trends in the food and beverage industry that were already apparent – including click & collect, App-ordering, kerbside collection and delivery.
The pandemic has meant a huge acceleration of these changes and required a rapid response to ensure that new F&B business models make F&B industry operators fit for business as quickly as possible.
Coupled with changes in consumer requirements, the F&B sector has also been experiencing the consequences of all the other lifestyle changes, with working from home largely emptying Europe's city centres and downtowns and cinema closures, which have been a blow to the many F&B industry operators which base their business around a movie theatre.
Innovation in the F&B sector
As our food & beverage industry report notes, there have also been countless small, pragmatic changes made, from the obvious elements such as masks, sanitising gel, physical distancing, etc, through to a steep increase in the use of digital menus, in-App ordering and contactless payment.
Having introduced or enhanced many of these elements, the challenge now for the F&B industry is to improve and optimise these systems and to shift their business model towards the growth channels of their income streams and the latest F&B trends.
At the same time, they may face further changes, from flexing their offers for further local lockdowns and restrictions to ongoing considerations about where and what their real estate should look like and where it should be located for the food market.
Particularly hard hit has been the travel food and beverage industry, where F&B operators reliant on footfall across airports, train stations and public transport hubs have seen the collapse of traveller numbers.
As Mélanie Guilldou, executive vice president foodservice global, Lagardère Travel – a world-leading operator with three main retail businesses, duty free, travel essentials and food service – said of the impact of COVID-19: "Our business model has completely changed since the beginning of the pandemic. First we are still partly closed – only 60-70% of our outlets and restaurants have reopened over the 39 countries where we operate – and our turnover has decreased by 60% versus last year [reported Autumn 2020]. Our industry being also based on traffic and volume, our business model has hence to be reinvented. Not to be too technical but we have to renegotiate all our contracts, most of them having variable but also fixed rents that we cannot afford anymore."
To download our report, please fill out the form on the right =>
If you want to read more about France's F&B industry, click here, and about the F&B trends in a Covid world here.