As consumer spending on leisure activities continues to surge and people shift from buying material goods to seeking experiences, leading operators are seeking out the greatest possible returns across the globe. Thomas Rose of P-Three picks out some of the concepts leading the way.
Over the past decade, there has been a remarkable growth in social entertainment concepts, particularly in the UK, which has gained recognition as the global hub for innovation in this field.
However, identifying the most lucrative opportunities for the best operators has become a global undertaking.
Like many sub-sectors within the retail and leisure industries, a divergence is emerging between leading operators and the rest of the pack. The top operators prioritise strategic site selection, often focusing on corporate customers, occasion-based leisure spenders, and millennials to drive the highest sales densities.
A strong public transport network, which facilitates a drinks trade, further contributes to their success. While this formula may seem straightforward in theory, it proves far more challenging to execute in practice. Given the shift towards hybrid working patterns in a post-Covid environment, urban centres no longer consistently offer the necessary density of corporate workers to drive mid-week sales. Consequently, operators are increasingly exploring global locations that offer a larger pool of potential customers.
F1Arcade racing concept
One shining example of this strategy is F1Arcade, a client of P-Three, which opened its doors in London's One New Change in 2022. F1Arcade is a themed venue featuring 60 motion F1 simulators, where fans can live out their racing dreams while indulging in best-in-class food and drink offerings.
The brainchild of Adam Breeden, who is behind popular London entertainment venues such as Flight Club, Puttshack, Hijingo, Bounce, and All Star Lanes, F1Arcade has delivered extraordinary performance. Since its launch it has attracted over 8,000 guests per week thanks to its premium experiential offering. Somewhat surprisingly, rather than saturating the market in London, F1Arcade has chosen to expand its operations to the US, where larger cities promise increased consumer densities.
The first US location, set to open in 2024, will be in Boston Seaport, a metropolitan area with approximately 4.9 million people, promising a 'capital city' level of returns.
The US expansion plan follows the well-established path paved by Adam Breeden, who has also rapidly grown Puttshack in the US with 19 locations already announced, outnumbering the four in their home country, the UK.
So, why pursue this strategy, and how does it impact the real estate landscape?
Undoubtedly, larger cities offer greater market potential, and the US expansion model could be readily replicated in other major urban markets, such as those in Asia.
Equally evident is the competitive advantage gained by being a first mover. By establishing a presence before local competitors or other international brands enter the scene, these concepts can build brand recognition, secure prime locations, and potentially dominate the market.
This advantage translates into a stronger market position and long-term success.
Top-tier social entertainment brands
Currently, there are only a select few top-tier social entertainment brands, making this opportunity a tangible one that investors are closely monitoring. The social entertainment sector is ripe for significant equity backing and market expansion.
Funders seek factors like first-mover advantage and location dominance, as seen with Puttshack raising $150 million in growth capital from Blackrock or Cain International's investment into golf format Swingers, which has focused on super-high-performing locations, with two in the US and two in London.
It's not just the social entertainment sector eyeing international cities; other industries are also following suit. The Van Gough Experience, for instance, looks for global cities where it can leverage its international brand equity.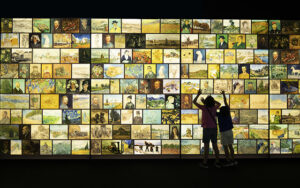 The Van Gogh Experience
Sandbox VR has successfully exported its immersive VR concept from the US to the UK, and Monopoly Lifesize has found its way to Saudi Arabia as a UK export. Even the foodhall sector adopts a similar strategy, with anchor occupiers like TimeOut Market already well-established in its global city expansion plans, and the UK-based Alchemist bar recently opening its first international branch at The Playce in Berlin, Germany.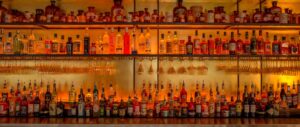 The Alchemist
Global expansion challenges
Of course, this global expansion journey is not without its challenges. Finding suitable real estate in multiple markets requires extensive travel and/or local teams before launching in a chosen geography. Cultural differences must also be taken into account.
For example, Puttshack operates significantly larger restaurant elements in its US locations compared with its UK sites. Regulatory considerations and labour costs add further complexity, with well-known locations like New York and Las Vegas posing challenges in terms of staffing costs and policies.
Nevertheless, the allure of global cities extends beyond occupiers; landlords and developers are also adapting to this worldwide trend. Companies like Brookfield emphasise owning prime properties in key global gateway cities, creating 'premier urban live-work-play environments for its tenants and local communities'.
It seems that a global outlook may indeed be the future of leisure and entertainment.