After the Middle East and Africa, La Vie en Rose is targeting Russia. The Canadian lingerie retailer is currently looking for a Russian partner to distribute its products. If all goes well, La Vie en Rose products should become available by fall 2013.
"Abroad, La Vie en Rose is a wholesaler rather than a retailer", specifies Mr. Luc Poirier, VP, International Business, at La Vie en Rose.   The company will continue to commercialize its products and its concept, but stores and sales will be managed by La Vie en Rose' eventual Russian partner, with respect for the local culture.
With its 138 million residents, its highly-populated cities and an emerging middle class, Russia presents great opportunities for La Vie en Rose.According to Leonie Barrie, writer at just-style.com :"Emerging markets, and particularly the BRIC nations (Brazil, Russia, India, China), have an increasingly important role to play for lingerie brands and own labels. Together they account for 40% of the population of the world. Their influence on the lingerie market is far less than that percentage, but it is growing at a time when the lingerie sectors of North America and Western Europe are, at best, flat. The BRICs contain exciting opportunities for both lingerie brands and lingerie manufacturers.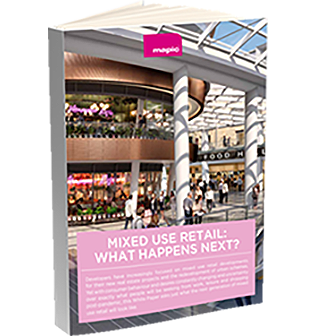 Mixed use retail and leisure: What happens next? – White Paper
Learn about the retail industry's latest data, developments, innovations and projections in our last white paper
While the US$29.23 billion dollar lingerie industry has faced challenges in the last few years (sales grew by just 0.4% last year), things should get better in 2013. The forecast for the next 5 years is positive, with international lingerie sales expected to reach US$30.55 billion by 2017.
With Russia as the country of honour at this year's MAPIC, there is no doubt that international retailers and investors, just like La Vie en Rose, will be jumping on these important business opportunities.
by Johanne Royer Communication Expert – Könige communications
Könige communications is a communication agency that distinguishes itself through its strategic communication approach and by its ability to achieve goals by offering clients a range of integrated services, such as communication counseling, branding, web strategies and design, public relations (press relations, speech writing, coaching) and event planning. Johanne Royer is the founding president of Könige communications. She is also the official representative of MAPIC in Canada.
Top image credit : Photobank gallery