The first notion of Convenience shopping began with the arrival of the corner store, a spin off of the larger supermarket in mini format, close to home, providing consumers with on-the-go goods at a sightly higher price. Even if consumers are well aware of the hefty price tag that goes along with such shops, 71 per cent of those surveyed in a convenience culture survey by UK consultancy firm HIM! said they were still happy to pay a little bit more for convenience.
Convenience shopping has expanded into multi dimensional concept, especially with the arrival of mobile, online and advanced technologies. In the last MIF Newsletter, we take a look at some examples of this increasingly popular trend.
Download the entire MAPIC Innovation Forum June Newsletter here
Evian for Babies
Available from February 2013, Evian Baby is the result of a partnership between Evian and French baby products brand Béaba. Evian Baby water bottles are equipped with a specially-adapted teat-style cap for infants, facilitating easy feeding while on the go. On sale in supermarkets and grocery stores in France, a pack of 12 bottles is priced at EUR 5.49.
Qthru
Qthru is a free mobile app which allows consumers to shop, scan and check out at supermarkets using their smartphones. Via QThru's software, a retailer's products and pricing are synchronized with the secure QThru cloud. Shoppers input their credit card information and then scan items' barcodes as they go along; they can also view in-store specials and get product details as they shop, create a shopping list and see a running total of spending so far. To check out, shoppers simply enter a previously stored passcode and scan a QR code at checkout kiosks.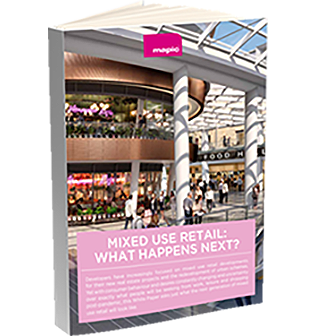 Mixed use retail and leisure: What happens next? – White Paper
Learn about the retail industry's latest data, developments, innovations and projections in our last white paper
Coaster
is a free mobile app which recommends nearby bars for San Francisco residents. Once users select a location, they can view the menu and order from within the app – including mixing their own ingredients for cocktails. Staff are notified of their order and the customer receives an alert when it's time to pick up drinks at the designated part of the bar. Customers show the three-letter code sent to their phone to confirm the drinks are for them, with payments made through a card linked to the Coaster account.
Eat Sushi
French restaurant chain Eat Sushi has opened the country's first-ever drive-through sushi takeaway in Bordeaux. A menu displays images of sushi dishes available, and drivers can make their order via a speaker system, after which their food and beverages are delivered in under four minutes. A traditional sit-down restaurant is also available at the location.
Food Panda
Emerging market-focused FoodPanda has expanded into Argentina and Venezuela, taking the total number of countries the website covers to 25. FoodPanda allows users to organize delivery from multiple takeout restaurants and includes a restaurant database that can be searched by postcode, food type, and price. A free mobile app was also launched in March 2013, allowing users to specify their location, providing a list of nearby restaurants, and displaying order details and delivery times.
T Mall
Chinese e-commerce site Tmall has teamed up with nine convenience store chains across the country (such as local retail chain C-Store), to provide consumers with a place to pick-up their online purchases. 580 convenience stores across five major Chinese cities act as 24/7 collection points.
Source: https://www.dailymail.co.uk/
Cover Image: Internet retailing