From panel discussions on pop-ups and design, to conferences on regions and high streets, the end game was evident today: retail is shifting towards user experience.
UK Retail guru Mary Portas, opened up a UK focused morning panel discussion Good Morning Retail with an inspirational talk on where we are headed and what we can expect over the next several years. She said that personalisation was a huge emerging trend in 2013; we can expect it to continue to influence retail strategy – although we are definately moving away from bling and more to individualisation.
With a vision of the future, she added, "By 2020, experience will take over product and price; people will be spending on experience and using their time creatively. By 2025, the "where" will be dictated not by stores, but by consumers: they'll shop where they want to".
Mary Portas was joined by Jeremy Collins, Property Director of John Lewis,  Duncan Grant, Strategy Director at The Entertainer, Justin Taylor, Head of EMEA Retail at Cushman & Wakefield, and Jace Tyrrell, New West End Company. The panel discussed how developing trends are touching the existing business models of retail and affecting revenue. Duncan Grant stressed that its harder than ever to make money out of retail in the U.K. This, mostly coming from the fact that  "we've switched from an obsession with products to an obsession with our customers; you can't put them in (socioeconomic) buckets any more", according to Jeremy Collins.
"We've switched from an obsession with products to an obsession with our customers." @johnlewisretail's Jeremy Collins #MAPIC pic.twitter.com/kt7MD9Nacg

— MAPICWorld (@MAPICWorld) 17 November 2016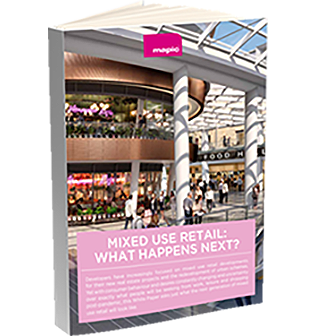 Mixed use retail and leisure: What happens next? – White Paper
Learn about the retail industry's latest data, developments, innovations and projections in our last white paper
How do we maintain a creative mix?
Seasoned retail expert Jace Tyrrell responded,  "It's a challenge. But we're all about creating places where retail can thrive; but the market will also dictate the retail mix. Place making is a key buzzword, so it's key to make sure the environment is as high quality as the stores themselves".
Watch highlights from the conference:
The Travel Retail conference also insisted on the importance of providing an in-store experience with WOW factor. Kim Grey, Head of Retail Strategy at Heathrow Airport, spoke at quite some length about the time challenged consumer of today. He hopes that Heathrow is elevating the standard by not only adapting to this rapidly evolving consumer mentality, but also to demographic changes; by adapting their offer to a burgeoning middle class.
The future of retail – "20% product, 80% experience" @Samsung #MAPIC pic.twitter.com/4KQV5nnhHi

— MAPICWorld (@MAPICWorld) 17 November 2016
In order to create this magical experience, it is necessary for retailers to optimise their design and make their space as innovative as possible. In order to do this, Matthieu Nicoletti, Director of UR Link at Unibail-Rodamco, is "looking for the best startups to create innovative products for shopping centres".
During the conference panel session on Design & Innovation, retailers and experts voiced their opinions on the important role these elements will take in making an exceptional retail experience.
Joanna Langer, International Business Developer of IMS, stressed the need to expand sensory surprises; music, scents, and crossover of the senses with touch screens, for example, will be the future of enhanced user experience. Joanna says, "we must go beyond the 5 sense in the human being and create new ones". For the moment, she doesn't feel we are using sensorial experience enough in retail.
Karen Harris of intuDigital had an interesting reflection echoed by others throughout the Palais in their pitching sessions, that "stores are becoming media and media is becoming retail". She feels there is a growing place for augmented reality as well.
What is all boils down to is creating a unique story, or a strong emotional brand DNA, through which we can drive retail strategy towards more exciting experiences.