How the retail China market and the Asian economies are rebooting their retail offers after the global pandemic was the main theme in a digital panel debate on 22 June, in a session dedicated to China's retail sales recovery as part of the build-up to MAPIC 2021.
This online event also provided an exclusive opportunity to discover how the Asian markets will be represented at MAPIC 2021, which takes place in Cannes, France from 30 November to 2 December this year, after being held digitally alongside LeisurUp in 2020.
Speakers included Nicole Zhou, vice general manager of international business, Zhejiang Semir Garment Co; Stephanie Yan Li Jin, general manager for overseas business centres, 361 Degree Sports; Louise Ye Xu, chief strategy officer, Icicle; plus moderator Stephanie Lau from global advisor Savills.
China was the first retail market to go into lockdown, following the Covid-19 breakout in Wuhan, but, after a comprehensive shutdown of public movement and extensive testing, the country was also one of the first to emerge from restrictions. While localized lockdowns have continued to deal with small outbreaks, China is largely back to normal, although the panel said that Chinese consumer behaviour has clearly changed because of the pandemic.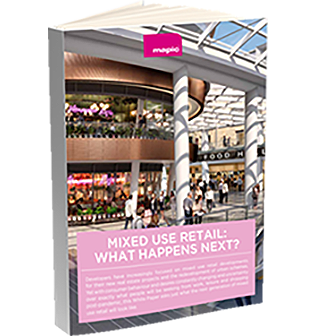 Mixed use retail and leisure: What happens next? – White Paper
Learn about the retail industry's latest data, developments, innovations and projections in our last white paper
One of the first actions in the retail China market during the first lockdown was the need to shore up finances, said Nicole Zhou, vice general manager of international business, Zhejiang Semir Garment Co. "We realised the importance of cash flow. To start with all stores closed. Saving cash flow and costs was the first priority. Our main model is franchisee and our partners had the same issue. So we needed to empower and comfort the franchisees. It was a real test for the whole top management. We also focused and developed on how to cope with online and offline."
Online shopping in China after the pandemic
Louise Ye Xu, chief strategy officer, Icicle, also insisted that the role of ecommerce has become very important. "Before the covid crisis, because it is quite a high end product, 90% of our sales were offline," she said. "After covid the customer behaviour has changed. Before we separated online and offline but now every online purchase could be delivered by the personal shopper, who the customer knows well. For luxury in China that was one change. After Covid we think a new business model will develop to work with the malls. We have worked with several shopping centres where we work more closely online and transparently."
Jin said that with limited travel allowed, the focus has been on the domestic Chinese consumer and said that as lockdowns eased in May 2020 most of the brands experienced quite a big sales increase around the first May holiday, as people enjoyed being out once again.
"Later it had become more normal, so we feel by the end of last quarter for 2020 we saw another big increase. People experienced short lockdowns in between, so almost from October people became more comfortable again," she said. "Now, it is an almost normal situation, which is a very good sign. People have more confidence and it's going to be a very bright future."
The online and offline retail market mix

Xu added that the balance between online and offline has changed, as has the way the channels work together.
"Icicle has been working to ensure the brand is represented well in-store and online. In the physical stores we have more events and online we try and maintain this type of customer experience. We know online has a very strong reach," said Xu. "We are also trying to achieve the same customer experience in our international sales, and we have our first international flagship in Paris, because it is the centre of fashion. This was noticed by other international malls, and we had approaches from several Japanese shopping centres and we are looking at other opportunities where we can create the brand image for Chinese companies."
Zhou has also seen a sharp change in the relationship between online and offline, and though she said that in some markets like Hong Kong offline is still dominant, for Mainland China, online now covers more than 30% of sales.
"This has been a very difficult period to expand internationally as Chinese brands," she added. "But in the past year we have opened in Vietnam, and with a department store in Indonesia. This year we are going to open with a Qatar retailer in the Qatar and Dubai markets."
While the pandemic restrictions made international expansion difficult, it is heavily on the agenda for many Chinese brands, according to Jin, who admitted she was "happy to be in the sports sector during Covid", as people realised the importance of sports.
"That helped with a quick recovery," she said. "Also, as a Chinese sports brand, we got a lot of opportunities to grow very fast. But at the same time, there is a lot of activities and in-store activities, always connecting online and offline activities. So a lot of activity was announced online but to lead the traffic to offline stores. For the past five months we have seen store sales increase about 10% over 2019, and online 30-40%."

"Most Chinese brands are well funded to go international. We know Nike and Adidas are trying to go more and more direct and that is leaving us more and more opportunities to get into markets that we are not yet in," she said. "So this is a very good time for Chinese brands to go international. We see Shein, which is so popular but has no physical stores. We are taking quite a traditional way to slowly open internationally, through direct and franchise partners. We actually opened in seven more markets during the pandemic."
Retail reboot: Key takeaways from China is available on-demand and is part of MAPIC's overall theme for 2021, People and Places: A New Chapter, which will bring together MAPIC, LeisurUp and The Happetite. It is part of a series of digital events, which will provide valuable insight on a range of topics and trends.
MAPIC, LeisurUp and The Happetite will be held together at the Palais des Festivals, Cannes, France from 30 November to 2 December.
To view the panel session click here
Learn more by following these: retail in asia – how are the markets recovering, rebuilding how to connect online and offline retail and southeast asia retail market bluebell report.