The customer is an amalgamation of many interests, opinions, pursuits and attractions and it is time for commerce to adapt. But how do/can you stay relevant and in demand to the constantly evolving online consumer tastes and interests?
Store Operations Hub, a Schneider Electric and Lucibel (LSE) joint venture is launching an innovative turn-key solution, which provides enormous expansion potential for a product brand.
Within any premium retail environment, the consumer (visitor) is accompanied by a vendor, and provided immediate digital content visualisation and complete product information via a simple touch-pad unit. The specific touch-pad technology unit is precisely located and can therefore be available for any product at any given moment.
Transmission is delivered to the touch-pad through a LED transmitter flood light. The consumer is immediately immersed in a global, multi-sensory experience lights, music, scents and changes in temperature. This enables traditional retailer operations to be replaced by an emotive excursion that transforms the "customer experience".
We are standing at the crossroads of the physical and digital path. "As the consumer moves through the store, he is provided immediate access to all information of any given product via the dedicated touch-pad unit.  It is immediate transmission of targeted data directly to the consumer, in a simple, fun way. All this encompassing a light show and music which helps creates a "multi-sensory bubble", coherent with the observed product and the message that we wish to communicate", explains Joris Gaudion, SLMS CEO.
"Store Operations" management is performed via a digital server accessible through a touch-pad. Monitoring of the merchandising (or product's) impact, the service will interface with the brand CRM tools and will allow a statistical survey by zone: warm zones and cold zones frequentation.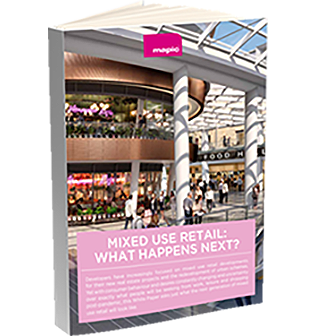 Mixed use retail and leisure: What happens next? – White Paper
Learn about the retail industry's latest data, developments, innovations and projections in our last white paper
The primary objective of these tools is to ensure optimisation of the consumer's relationship and experience by adapting marketing operations in a creative and interactive manner. As a result, the customer now feels more in control of his purchasing experience as he controls pathway, timing and location. A complete range of tools and devices can ensure a positive and productive experience for the customer.
Visibility to specific product offerings allows for greater organization, planning and productivity within the store – unless he/she chooses to order online!
Shared experiences within a community can have considerable influence and effect on a brand image or reputation. We know that the customer of today digests a variety of information and interacts with his community and other networks. Therefore, brand confidence via traditional marketing messaging has deteriorated and is moving more and more to community and social media networks.
The challenge lies within moving beyond traditional product marketing and communicating the brand or product's value through emotion, amazement and intrigue so that customers live a real-world experiences and generate brand intimacy and loyalty.
A recent example of this is at the "Marathon boutique" located at Bercy Village, France, which examines the typical consumer pathway of selecting and purchasing running shoes. It is suggested the customer try on the selected running shoe and test drive them on a virtual running track. The customer is placed within a race/running atmosphere and can fully live the true experience of the shoe before purchase. Immersion into the customer's world transmitted through customer's emotional experience also allows the vendor to better adapt to specific needs of each customer.
Click here to read the article in French on www.influentia.net

Pascal Guy Pascal made his career mostly in the industry where he has held executive positions managing international businesses. Lastly he was International Vice President of one of the leaders in the medical industry. He has developed expertise in Strategy, organization, change management and business development. He's the co-founder of Salt & Pepper and is passionate about the digital transformation of retail, its strategic and organizational consequences guiding companies to success within this disruptive environment.
 Meet Salt & Pepper at MAPIC 2015