With six weeks to go before the inaugural  Retail Real Estate Market (RREM) brought by MAPIC, major retail industry players have confirmed they will be attending the new MAPIC event to be held in Shanghai on 11 and 12 June.
Participants already confirmed include China's – Wanda Group, Sands China, Carrefour China, and Inter Ikea Centre China – and international developers – CapitaLand (Singapore), Hammerson (UK), Arco Retail (Italy), Trigranit (Hungary) and Thor Equities (USA) – as well as many international brands eaer to develop their business in China, including Celio, Geox, Gucci, Inditex, Ladurée, Neuhaus and Ikea.
"China is a market with many opportunities but companies need to learn the local rules and have a clear grasp of consumer expectations," says Nathalie Depetro, Director of MAPIC. "MAPIC can bring its experience to bear for international brands, offering them not just direct contacts with the biggest developers in the Chinese market, but also the keys to understanding how international brands already established in China,  have managed to expand."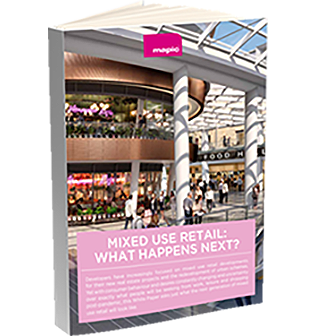 Mixed use retail and leisure: What happens next? – White Paper
Learn about the retail industry's latest data, developments, innovations and projections in our last white paper
★ Join top leaders at the 1st international forum for retail & real estate development in China. Register here!
RREM will feature two mornings of high-level conferences and two afternoons of networking to help regional and international brands meet with shopping centre owners/developers operating in China.
The conference programme will provide a comprehensive picture of the Chinese commercial real estate market together with opportunities in such fields as new retail concepts and digital distribution. It will also analyse the expectations of Chinese consumers by studying three flagship market trends: digital, leisure and retailtainment (business combined with leisure).
The opening Market Overview – Chinese Retail Property Opportunities for the Decade (Thursday, June 11 at 9 am), will provide a platform for Chinese and international professionals with extensive knowledge of the industry, including:
Luca Bastagli Ferrari, CEO, Arcoretail (Italy)
Philippe Legrand, Director of Property, Carrefour (France)
Jérôme Bennasar, National Marketing & Leasing Director, Carrefour China Shopping Mall
Deli Chen, Vice President, Wanda Commercial Management (China)
Rui Oliveira, Managing Director, Sonae Sierra Asia
The luxury retail business is flourishing in China, while at the same time fast retailing is a strategy being adopted by leading international retailers. Case studies will outline the main challenges to be addressed when setting up a luxury brand, or doing fast retailing in China during a conference session organized in partnership with the CCFA. The conference on How international luxury brands and fast retailing successfully expand their business in China will be held Thursday, June 11 at 10 am with the following speakers:
Lucy Wu, Vice Secretary-General, CCFA (China)
Carmine Rotondaro, World Real Estate Director, Gucci (Italy)
David Sancho, CEO, Mango China
Michel Seror, Real Estate Director, Celio (France)
Mario Manna, General Manager, Camicissima Shanghai Trading Co. Ltd
Frederic Linkens, Development Manager Greater China, NEUHAUS (Belgium)
Another key conference is the session on New Trends and Innovations – The digital age (Friday, June 12 at 10am), that will address various digital themes. Among the many questions to be discussed during this session will be the possibility of using digital portals in China as a gateway to the market for international brands.
It will be organized in partnership with China Connect, an organization that for nearly five years has been explaining the key issues of digital and mobile marketing in China and forging relations between professionals based inside and outside China.
RREM participants will also be able to join in exclusive tours of shopping centres to discover the latest trends in services, retail, innovation, connected shops and consumer experience.
★ Want to know more about RREM | Shanghai?
Learn everything about the event!