INNOVATION ABOUNDS AT 20th MAPIC
Cannes, 21 November, 2014 – Innovation, internationalisation and continued confidence in an ongoing retail recovery, were the hallmarks of the 20th edition of MAPIC, which took place in Cannes, France this week.
Over 8,400 delegates including 2,400 retailers, from 75 countries came together on the Cote d'Azur. Reflecting increased confidence in the market, 500 retail companies attended MAPIC for the first time.
"The mood among retailers at MAPIC has been extraordinary. They are proving their audacity, dynamism and capacity to innovate as they move beyond national borders to new international territories," commented MAPIC Director Nathalie Depetro.
With digital retailing continuing to grow, delegates attending the third MAPIC Digital Summit on November 18, agreed that rather than competition between online and offline retailers, convergence is the order of the day, with the emphasis still on omni-channel strategies.
As if to prove the point, China's massive shopping mall developer, Wanda Group, is launching an e-commerce joint venture with online giants Baidu and Tencent Holdings, in the process creating a bridge between leaders in bricks-&-mortar and online business.
Several senior retail real estate executives at MAPIC noted that web giant Google opened its first physical store in Germany last year, while Amazon is reportedly preparing to open its first store in New York, possibly later this year.
And reflecting the changes sweeping through retail, Alan Barocos, Senior EVP Leasing at General Growth Properties, told a gathering of US retail real estate leaders at MAPIC that GGP's shopping malls have now begun to provide same-day delivery services in their catchment areas, something more often associated with online retailers.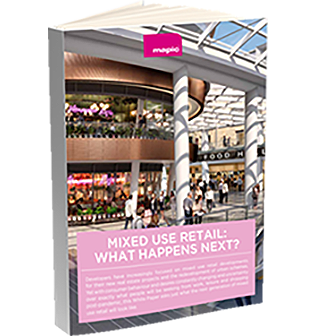 Mixed use retail and leisure: What happens next? – White Paper
Learn about the retail industry's latest data, developments, innovations and projections in our last white paper
According to data released by commercial real estate services and investment giant CBRE during MAPIC, while 74% of shoppers look for specific items online or research product information using internet, 79% of the 32,000 people interviewed said they still visit physical stores.
Alongside innovation that is being driven by digital, shopping mall developers are increasingly looking to include entertainment facilities either within or adjacent to their centres. Reflecting this development, retailtainment figured prominently at MAPIC 2014. Among those to be investing heavily in entertainment, CapitaMalls Asia has earmarked substantial sums for ice rinks, IMAX cinemas, children's playgrounds and fitness zones, all of them incorporated in retail centres.
Don Ghermezian, CEO of Triple Five – American Dream, noted "it's that blend of retail and entertainment that gets people to come. It's what they experience that gets them to stay longer than they would in traditional shopping malls." Triple Five owns and manages the world's three largest tourism, retail and entertainment complexes and is currently working on its US-based American Dream project. "American Dream will take the best of the entertainment and retail components from our Mall of America…and combine them with a DreamWorks theme park and DreamWorks water park," said Don Ghermezian.
In Spain, the southern city of Malaga has been chosen to host a new mixed-use project combining retail, leisure and hotels. The fruit of a joint venture between UK developer Intu and Eurofund, the new development will include artificial ski slopes, a mini theme park and a surfing lake.
Belgium's Mall of Europe in Brussels, presented by Unibail-Rodamco, will include the first indoor "Spirouland" in the world, while the Jihua Park Changchun destination centre in China will offer sports facilities such as skiing, freefalling, free climbing and surfing, alongside hotel rooms and retail stores.
MAPIC opened for business against a background of major summer deals involving European retail giants. French developer and landlord Klepierre announced plans to merge with Dutch counterpart Corio, in the process creating a combined asset portfolio valued at some €21 billion.
Elsewhere, Carrefour's shopping mall operator subsidiary, Carmila, acquired six French malls from Europe's largest retail real estate property group Unibail-Rodamco, for a reported €931 million, as Unibail-Rodamco confirmed its intention to target larger commercial centres as it continues its expansion strategy.
"In the European and US markets there is strong activity, based on refurbishing and enlarging existing malls and building new ones. In developing territories the emphasis, particularly in China, is on new projects," said MAPIC's Nathalie Depetro.
With 75 countries represented, MAPIC confirmed the internationalisation of the retail real estate industry. The United States – seen by many as the cradle of mass retail – saw the size of its delegation surge this year, with 171 companies in Cannes, 40% more than in 2013. US retail real estate will take centre stage at MAPIC in 2015, with the United States named Country of Honour.
In the MAPIC exhibition halls there was considerable discussion on how the United States' second tier malls are upgrading and how food is being used as one driver to attract clients. And not just in the United States. From Madrid to Manchester by way of Moscow and Munich, shopping mall owners are seeing that catering outlets are still in the market for space and can encourage shoppers to spend more time and cash in a mall.
Making a first-time appearance at MAPIC, popular UK sandwich chain, Pret A Manger came to Cannes looking to extend its international footprint beyond its current British, US, French and Hong Kong markets. Meanwhile, Italy's Alice Pizza, which has developed its franchise restaurant business mainly in commercial centres, used MAPIC to talk to potential partners that could help bring the brand to new international territories.
Meanwhile, real estate consultant group JLL has just acquired Coverpoint Foodservice Consultants to strengthen its understanding of the food and beverage sector. If the United States remains the world's largest retail economy, the Chinese market continues to grow with breath-taking speed. China's giant Wanda Group conglomerate, with its extensive interests in shopping malls, department stores, hotels and cinemas, had a high-profile presence at MAPIC.
Estimates are that some 49 million m² of shopping mall space is being developed in China, for delivery between now and 2016, as the country continues to experience growing urbanisation and a rise in middle class spending power.
State-owned Jihua Group Corporation Ltd., which at last year's MAPIC unveiled plans to create 35 Jihua Park Destination Centres, combining quality brand outlets, sport hubs, hotels and restaurants, returned to Cannes to promote the first three of the Centres (in Changchun, Chongqing and Yangzhong), due to open in 2015.
MAPIC delegates reacted positively to news that in June 2015, Shanghai will host the first Retail Real Estate Market powered by MAPIC – a new business, conference and networking event designed primarily to bring together international and regional retail brands with shopping mall owners/developers operating on the Chinese mainland.
See LIVE videos from MAPIC on the MAPIC News Feed