Day one of MAPIC kicked off with US retail guru Paco Underhill speaking to a packed audience at the MAPIC Studio, while the Cities Summit brought the major players involved in urban regeneration together to discuss opportunities to transform city centres. As ever, MAPIC attracted retailers, developers, leisure operators, F&B specialists and investors from all around the world and here are a few key highlights from the first day in Cannes.
MAPIC opening keynote
'It's time for the witches to take over'
PACO Underhill, retail guru, environmental psychologist, author and founder of market research and consulting company Envirosel, applied his theory of "environmental psychology" to the retail experience during his MAPIC keynote presentation on Tuesday.
Speaking to a packed MAPIC Studio in a session held in partnership with ECE Marketplaces, Underhill stressed how retail needs to adapt to changing demographics.
"The number of households in Western Europe and in North America, where the woman is the dominant breadwinner, goes up with each passing month," he said. "It's time for the witches to take over as opposed to the wizards to rule."
He asked: "What makes for a female-friendly store?" and cited the example of a hotel where he and his team were shown around by some of the female cleaning staff. "They told us how hard it is to keep parts of it clean. And why? Well the average height of a male hotel room designer is probably at least 185 cm, while the average height of the chambermaid cleaning that room is maybe 170 cm."
He then showed a picture of a hotel room in Brazil designed for women: "They have taken out the little mini fridge with all the beer and put in its place a mini washing machine – that means when you're on the road you can wash your underwear. Now in Brazil, they have women who will call up and say, 'I will only stay at a hotel that has that washing machine'."
Retailers should consider applying similar changes. He cited a shop in Dubai that sells matching shoes for mothers and children: "The idea of cross merchandising women's and children's shoes in the same place makes perfect sense when you start thinking about it," he said. "One of the ways that a grandmother can justify buying a new pair of shoes is if she can give a matching pair to her granddaughter."
Understanding changes in human behaviour is crucial to retail, he said, remembering the opening of the first Sephora store in France, on the Champs-Élysées – "one of the temples of new retail" – back in 1997. "It was a transformation. We went from understanding customer service that was nose-to-nose across the counter, to customer service that was what we call hip-to-hip. The impact of that Sephora store on the design of the Apple store and others was profound."
Paco Underhill: 'What makes for a female-friendly store?'
[LEISURE SECTION]
Leisure firms bring a fairground feel to retail
Gravity's 'department store of fun'
IN 2014, friends Simon Whicker, Harvey Jenkinson and Michael Harrison opened their first Gravity trampoline park in Yorkshire, in the north of England. Two years later, Gravity Active Entertainment had won backing from Guinness Asset Management, triggering rapid expansion.
The year 2021 changed everything for the company as the pandemic left landlords looking for a new type of tenant and centres needing anchors and footfall. As well as three new venues in the UK, Gravity opened its first European venue in Leipzig, Germany – and an £8m 'big-box leisure' destination venue at Southside shopping centre, Wandsworth, South London. The 7,900 sq m site – set over four floors and targeting family and adult customers with E-karting, bowling, urban street golf, VR, competitive gaming, darts, F&B and more – brought a 30% increase in footfall to the centre in its first three months of opening.
"When you shout about those sorts of numbers, the doors open wherever you want them to open," Gravity Active Entertainment founder and chief growth officer Michael Harrison said. "Gravity is the new anchor tenant. We really are the one-stop answer to a lot of the problems that are going on in the mall."
The company is expanding the big-box concept fast with new projects at various stages of development, including in Liverpool, UK; Westfield, Stratford, east London; the island of Mauritius; and Doha.
Harrison is at MAPIC looking for new partnerships with the goal of growing the business further. "We really are the blue-eyed boys of the High Street," he said. "We're a department store of fun."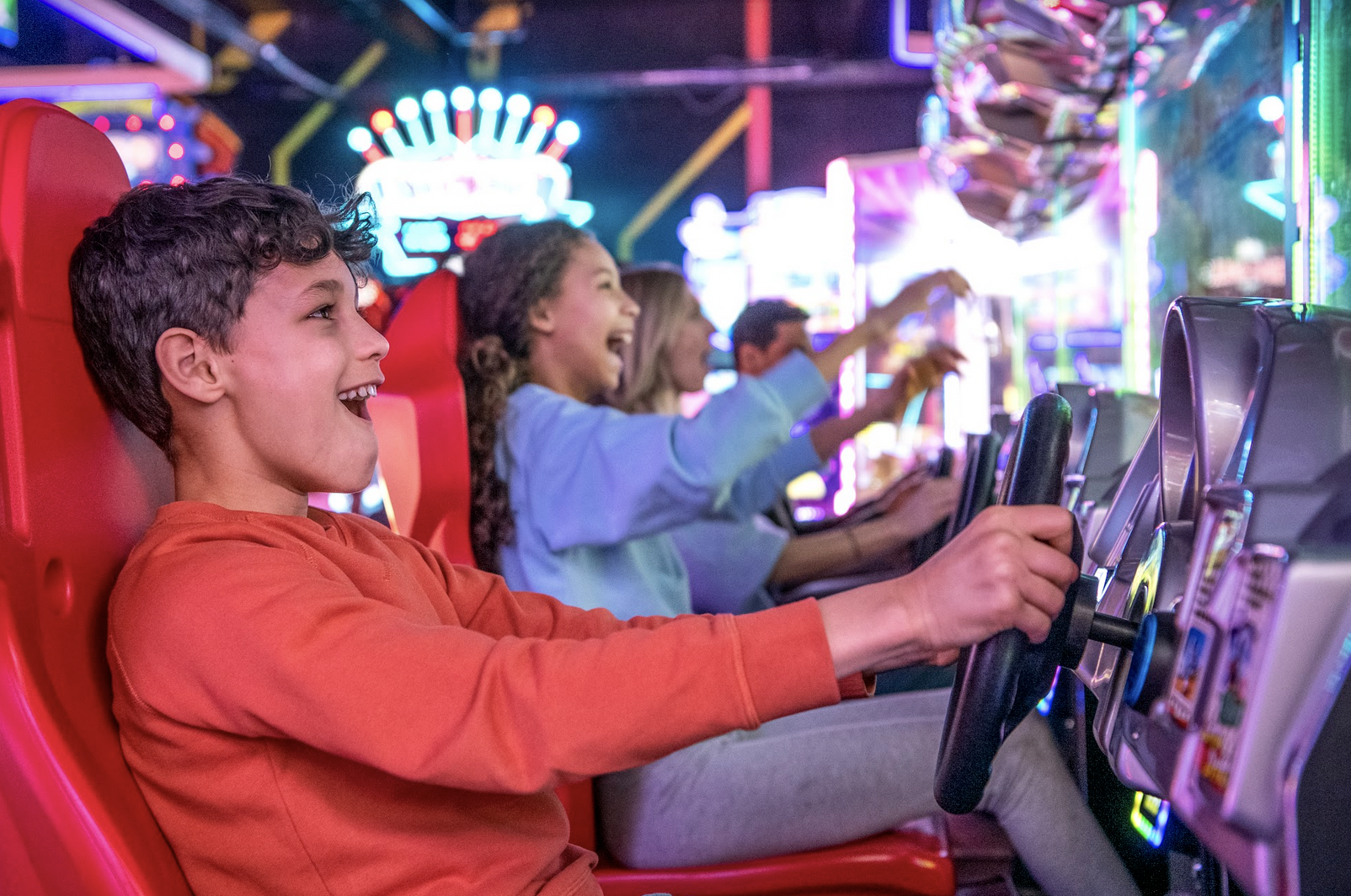 Gravity Wandsworth: 'A department store of fun'
Welcome to the pleasure dome
The Flying Theater is the flagship product of Brogent Technologies, a tech company specialising in simulation products, part of the Taiwan-based Brogent Group.
The company has typically established these airborne ride experiences in theme parks and other large spaces including former IMAX theatres and repurposed city-centre sites.
Brogent's key products are the i-Ride and the m-Ride. Riders are seated suspended, in groups, up in the air on seating that moves towards a giant dome screen for a realistic flight simulation experience. The new m-Ride technology enables the seating to rotate 180º as it approaches the dome screen, adding to the sensation.
"We're at MAPIC to let the retail world know who we are, the experiences we create and that we can be an anchor," Brogent Group sales and marketing director Stefan Rothaug said. "We're looking for landlords to whom we can sell the rights to our technology."
Storytelling comes to retail
There has been a huge shift in the execution of leisure attractions within retail and city environments, with an emphasis on strong storytelling, operational excellence and design quality, according to Fri Forjindam, chief design officer at California-based Mycotoo.
That is reflected in a greater diversity of concepts and a focus on leisure installations that can be incorporated within shopping centres and on or close to high streets, she said, giving two of Mycotoo's latest projects as examples.
At Simon's mall in Torrance, California, Mycotoo has opened the first of a proposed 20 Dig It facilities, which offer children aged three-to-ten the opportunity to interact with 13 different challenges based around construction and STEM learning. The 800 sq m entertainment facility opened in September and promotes "learning through play" she said.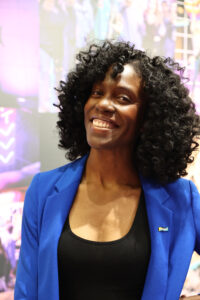 Mycotto is also working with Netflix and Fever on the travelling Stranger Things-based attraction, which has been on three separate tours to New York and Atlanta; San Francisco and Los Angeles; London and soon Paris.
"This reflects the strong interest from major studios in executing vertical opportunities such as tours," she said. "What this demonstrates is that leisure can be added to a lot of different venues to boost footfall and bring families back on repeat visits and the attractions we have out there now are proof of concept."
Fri Forjindam, Mycotoo
[The Avenues]
Europe-inspired The Avenues is Gulf success
THE AVENUES, a popular retail and entertainment destination created by Mabanee's Shomoul Holding, is being replicated twice-over in Saudi Arabia following success in Kuwait and Bahrain.
"The first-ever The Avenues opened in Kuwait in 2007 and was an absolute hit, thanks to the vision of our chairman Mohammed bin Abdulaziz Al-Shaya," said Jassem M. Al Muqbel, Shomoul's chief development officer, speaking at MAPIC. "He didn't want to build a regular mall. So we toured the world, looking at destinations like London and Paris to see what makes them successful."
The resulting formula – which includes a large, European-style promenade in the middle and an avenue with prestige brands – has made visitors "fall for the destination and make them feel like it is their second home", Al Muqbel said.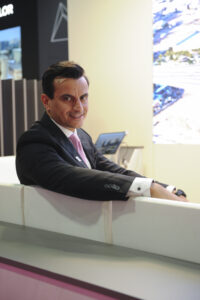 A decade after success in Kuwait, Shomoul launched The Avenues in Bahrain in 2017; the next chapter includes projects in the Saudi capital Riyadh as well as in Khobar, in the Eastern Province.
The groundbreaking ceremony for The Avenues – Riyadh, a megaproject with a GLA of 400,000 sq m, took place in February of this year. The development will include retail, international hotels, apartments, medical clinics, offices, and parking spaces for about 15,000 vehicles.
"The leasing is going well," Al Muqbel added, "as we focus not on quantity but quality." The group, which has a long-term pact with Hilton to bring some 70 hotels to the region, has included a significant hospitality element in the latest two editions of The Avenues. The Riyadh scheme, which also boasts an office and residential tower, will host a Waldorf Astoria, a Conrad, a Hilton Garden Inn and a Canopy by Hilton, underlining its international ambitions.
Jassem M Al Muqbel, chief development officer, Shomoul Holding Co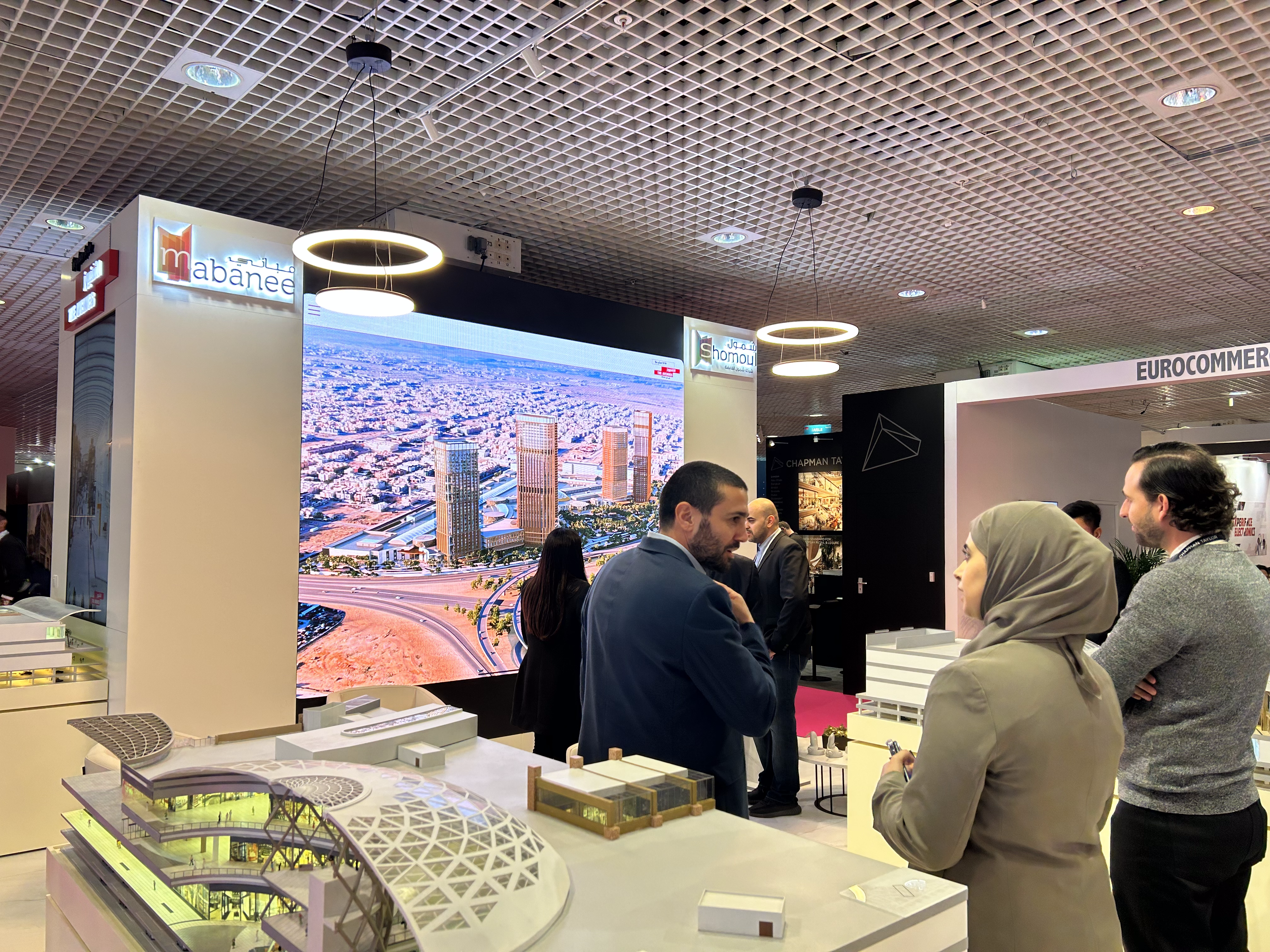 Mabanee stand R7.E27
[TASHKEN]
Tashkent City Mall aims to put Uzbekistan on the retail map
THE OPENING of Tashkent City Mall in August 2023 will raise the bar for retail in Central Asia and highlight the opportunity for retail and leisure in Uzebekistan, Tashkent City Mall managing director, Dilyor Kayumov, said.
Showcasing the 106,000 sq m GLA shopping centre at MAPIC, Kayumov said that the concept behind the scheme is to create a lifestyle destination that incorporates retail, leisure, F&B, a luxury hotel and luxury residences, a business centre and a luxury avenue between the hotel and mall.
The scheme will include around 300 retail and leisure outlets, set on 450,000 sq m gross build area, with a 20ha park and woodlands opposite, including a musical fountain.
"More than anything we want Tashkent City Mall to help the country attract more international retailers," Kayumov said. "The country has transformed with many reforms since 2016 and the country has a young and increasingly affluent consumer base, plus a strong tourism industry. So the demand for high-quality retail is very high."
Marketing director Ilya Lyapustin added that the retail mix will include European, US and Asian brands, including Spain's Inditex, while the hotel operator will be announced in the next month.
"We are developing Tashkent City Mall to international best-in-class standards and we believe it will be a catalyst for more international brands and more overseas visitors to the country. We are at MAPIC to reinforce that message that Uzebekistan is open for business," he said.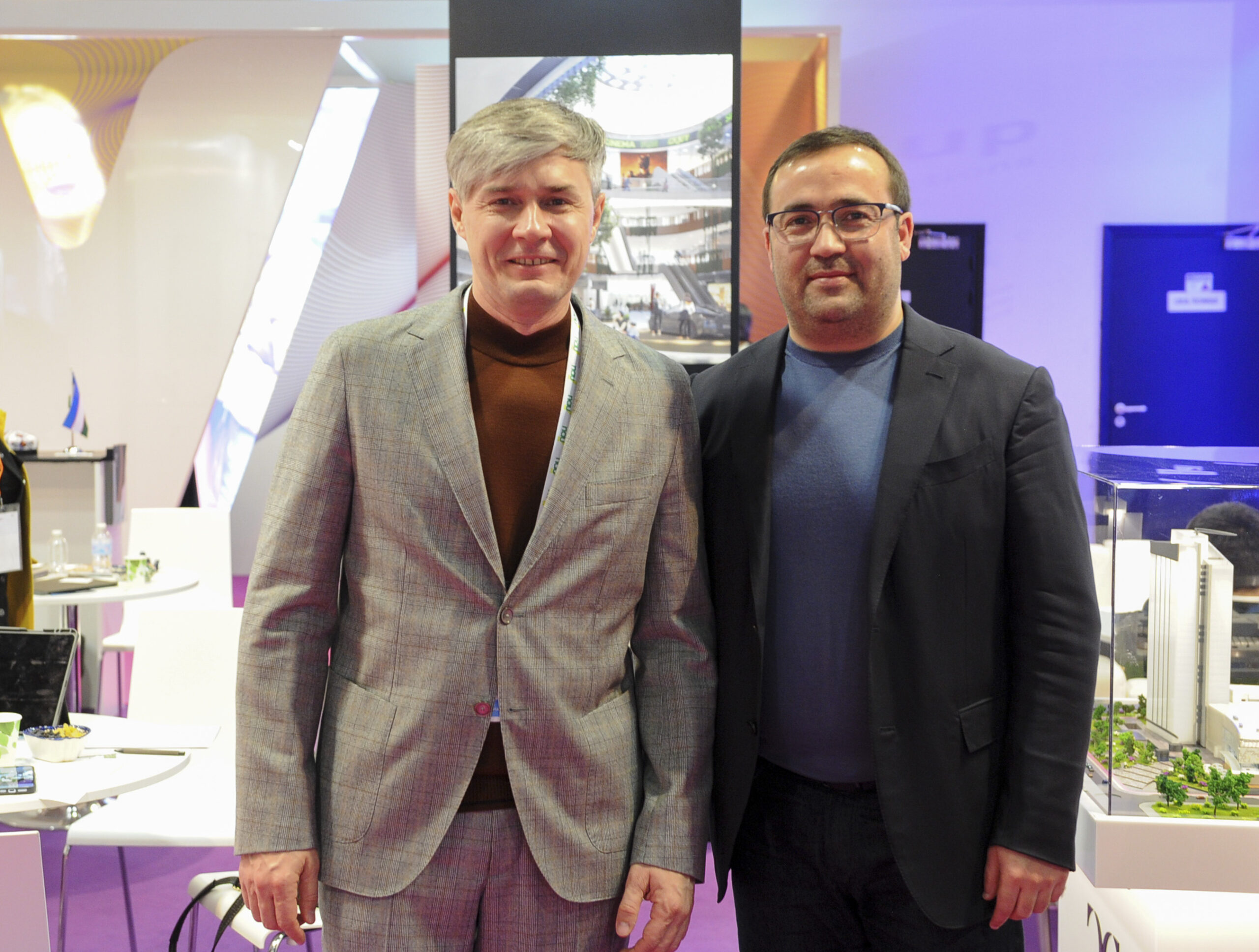 Ilya Lyapustin and Dilyor Kayumov, Tashkent City Mall
[CITIES STORY]
Summits looks towards the cities of the future
MAPIC's first closed-door event, How To Shape Retail in Cities, brought together key players from around the world for a summit designed to examine how cities can reinvent themselves to remain attractive to retailers and consumers.
In the words of moderator Monica Cannalire, founder and managing director of Milan-based retail consultancy Younicorn, the key to all those attending was "how to keep people interested in physical stores and in city centres, because it's a common fight".
The event kicked off with a panel session that focused on retail in the post-pandemic world and how cities need to approach the concept of retail from new angles.
For panellist Eric Costa, real estate director for Groupe Galaries Lafayette, coming out of COVID, consumers are "stressed" – about the environment, about money, about political issues – so "we have to provide more positive emotions. You have to give customers a positive view of the future and that's the challenge."
Also on the panel, Leanne Catterall, customer partnership director, retail & leisure for The Crown Estate in the UK, said that she has been impressed post-COVID with the amount of innovation she's seen in the retail sector. "Retailers are incredible and adaptable… and some of the most talented people in the world," Catterall said.
Guglielmo Miani, president of the Montenapoleone District – Milan, also had a positive post-pandemic outlook: "We are a very specific kind of city, because there's only one major shopping destination. And we are just 1.3 million people, so it's not New York and it's not Paris. This creates a specific, unique experience for the people who come," he said. "And it's not only about shopping – it's the restaurants, the museums."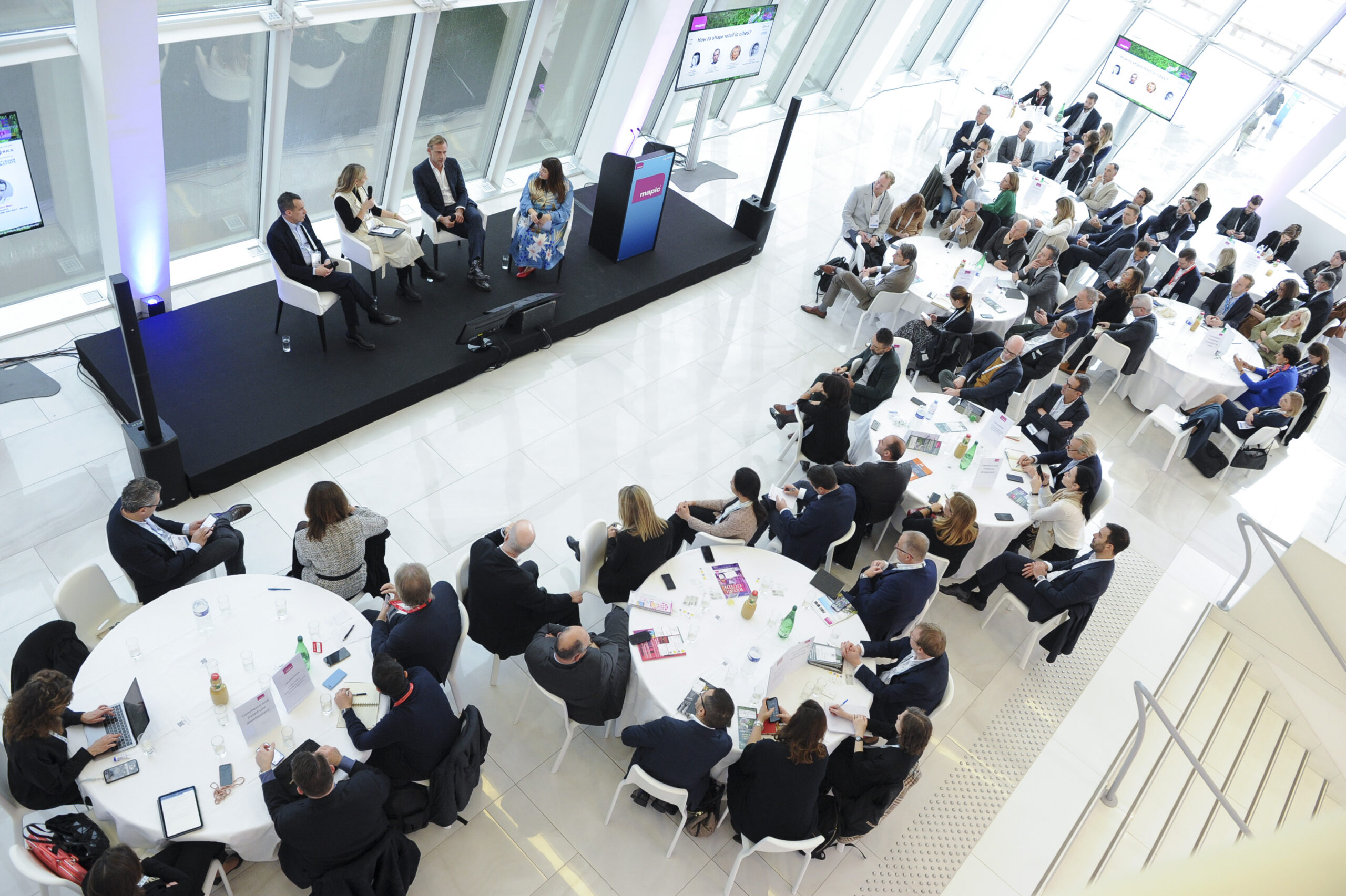 Delegates at the MAPIC Cities Summit
[RETAILTECH LAB]
Tech companies look to MAPIC for growth
THE RETAILTECH Lab in the Palais R7 is home to a range of tech firms offering products designed to assist the retail real estate industry in the navigation of an increasingly complex landscape.
Rotterdam-based Chainels offers an app with which property owners and managers can chart tenant experience. A white-label platform that can be tailored to customers' requirements, Chainels is expanding beyond retail and on day one of MAPIC, announced a move into the travel hub sector.
Utrecht train station, run by NS Stations Retailbedrijf, a subsidiary of the Dutch national rail company Nederlandse Spoorwegen (NS) and Vienna International Airport, will both use Chainels' digital platform to improve communication with retailers and service providers.
With nearly 195,000 passengers daily and 16 tracks, Utrecht station is the Netherlands' biggest and busiest rail hub. Chainel's Station Connect platform provides a tool to facilitate communication between operator NS Stations, property managers, retail tenants and service providers including maintenance and security teams.
Vienna International Airport is a key hub for travel to Central and Eastern European destinations. Vienna AirportCity is the platform powered by Chainels currently being soft launched among targeted businesses on site and their employees.
Also in the Retailtech Hub, London- and Boston-based Nuvolo is at MAPIC looking to reach further into the retail sector with its ServiceNow connected-workplace technology that connects clients' business data to improve efficiency across customer experience, employee satisfaction and real estate strategy.
One Nuovo client, Circle K, the global owner and operator of convenience stores and gas stations, applied Nuovo's digitised asset register to enable the company to implement preventative maintenance plans and reduce asset downtime across sites.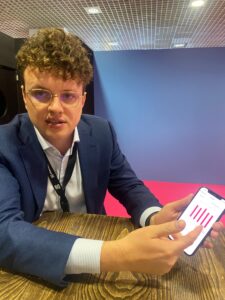 After implementing a preventative maintenance plan for pressure washing equipment in Norway, for example, Circle K reduced unplanned asset downtime from 28% to 8% of the asset's total operating time, Nuvolo's marketing director, EMEA, Benjamin Gardner said at MAPIC.
And Dortmund-based Crosscan is in Cannes with its Crosscan Connect platform that is designed to manage a range of tasks including visitor count, key performance indicators, staff scheduling and sales and product performance analysis. The company's senior communications manager Philipp Scroter said Crosscan is at MAPIC as part of its plan to expand beyond Germany.
Chainels CEO Erwin Buckers
[5th AVENUE]
New York's Fifth Avenue is back at Nº1
NEW YORK's Fifth Avenue has reclaimed its position as the world's most expensive retail street, with average rents of €21,076 per sq m per year, according to a new global ranking from real estate services firm Cushman & Wakefield.
Pegging the Hong Kong dollar to the US dollar has helped Hong Kong maintain second position in 2022, with Tsim Sha Tsui at €15,134 per sq m per displacing Causeway Bay as the territory's representative in the rankings.
In third, Milan's Via Montenapoleone, at €14,547 per sq m per year, is Europe's most expensive shopping street for the first time, going ahead of New Bond Street in London and Avenues des Champs Elysees in Paris.
Cushman & Wakefield's Main Streets Across the World report, first launched in 1988, tracks the top retail streets across 92 cities and ranks the most expensive by prime rental value. An annual report until 2019, this is the first since that year – allowing insight into comparative performance pre- and post-pandemic.
"The industry has been through one of the biggest stress tests imaginable over the past few years, but best-in-class retail real estate has remained robust," Robert Travers, head of EMEA retail at Cushman & Wakefield, said. "While we now face new economic challenges, the conversation has shifted from pessimism to retail´s omnichannel evolution."
Travers added: "Many brands are playing the long game and seeking to secure prime opportunities to adapt to ever demanding customer needs. With further investment in high-quality in-store experiences and advances in omnichannel approaches, we are confident in the resilience of the sector, particularly at the luxury end and in key global destination cities."