For retailers, being able to analyze the traffic of their e-commerce sites was a real breakthrough, that seemed to mark the beginning of a new era and, only apparently, the sunset of the traditional brick and mortar commerce.
Online sales are immediately controllable, predictable, optimizable. They attract connected shoppers round the clock, from any mobile touchpoints.
The opportunity to collect data from shoppers to track and retarget opened the doors to the immense possibilities of Personalization, what I call the 5th "P", a fifth element that adds on top of the traditional 4 levers of Marketing we used to know.
While all of this, undoubtedly, created a shockwave that put under discussion the role of physical stores and redesigned the rules of competition, it also paradoxically compelled traditional Retail to integrate a number of patterns that are typical of online shopping yet can enhance exponentially the experience of shoppers in the physical store: Interactivity, Self-Check-Out, Real-Time Signage, Contextual Notifications and many others, which all are based on the common principle of Measurability.
The Physical Store, from being a black box, becomes now a measurable and quantifiable ecosystem. And this was made possible only by the Internet of Things and its endless applications in Retail.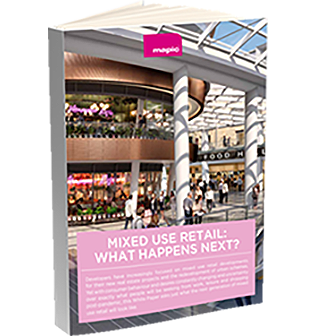 Mixed use retail and leisure: What happens next? – White Paper
Learn about the retail industry's latest data, developments, innovations and projections in our last white paper
People counting cameras and heatmap cameras can analyze the flow of footfall "landing" to a shop and provide store managers and retailers with a number of essential KPIs, that are seamlessly comparable to those that usually are used to measure e-commerce performance: total entries, exit rate, conversion rate at the POS, dwelling time – an important indicator of engagement or hesitation in the shopping journey – and many others.
The funnels that are typically implemented in online sales can now be re-created in physical domains. This alone is the foundation of any Retail omnichannel practices because it allows for a comparative and holistic perspective on both sides of the commerce business, the online and the physical one.
Measurability, interesting enough, extends beyond the walls of a store and factors in also other sets of data related to the outer contexts that surround and affect the store: the mall, the neighbourhood, the city.
Retail Estate and Malls Developers can highly benefit from measurability practices based on IoT architectures, as these allow them to quantify correctly the commercial value of tenants locations and specific malls areas, based on footfall traffic and higher/lower engagement data as well as external urban variables, such as traffic or weather conditions.
Real-time measurability, enabled by IoT in all of its facets, is the new barometer of decision making for all Retail industry players who want to stay competitive and probably the only way to understand and predict effectively consumers demand.