Cycle to MAPIC will once again take in the glorious French Riviera
Registration is now open for new, extended charity bike ride from Barcelona to Cannes.
The fundraising charity CYCLE TO… bring to you, for the third year running, CBRE
CYCLE TO MAPIC  which will take place on 13th-17th November. The most exciting sports challenge for retail property professionals is now open for registration. Fifty property professionals will exchange pinstripe suits for Lycra and cycle 740km for charity from Barcelona to Cannes, arriving in time for MAPIC, the leading international retail property conference.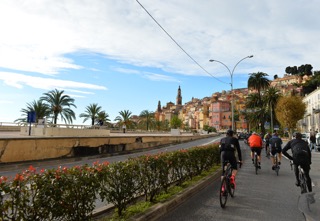 This year's challenge has been extended to 4 days of cycling and more than 6,000m of climbing. The ride will depart from Barcelona and head along the Costa Brava, towards the French border via Girona, the favoured training grounds of the pro teams, to finish at Llanca, an important fishing port and tourist centre. On Day 2, the riders will face a series of climbs as they skirt the looming Pyrenees, before crossing into France and traversing some of the finest wine regions in the country including Perpignan. The day finishes at Cape d'Adge, one of the largest leisure ports on the French Mediterranean coast. The third day is the longest of the tour, hugging the coast line before turning east and heading through Arles before a final climb and descent into Aix en Provence. The fourth and final day has the biggest vertical climb of the event as the riders head south through pine forests towards the coast of the Côte d'Azur to Cannes, where business as normal will be resumed.
CBRE CYCLE TO MAPIC follows a similar format to the hugely successful CYCLE TO MIPIM. A tough challenge not to be undertaken lightly, the event will raise funds for CYCLE TO's beneficiary charities including the UK's first children's charity Coram. CYCLE TO has raised more than £2 million in grants for charities and two thirds of the money raised by CYCLE TO MAPIC will go to Coram, supporting its vital adoption services.
Malcolm Dalgleish, Chairman of EMEA Retail, CBRE, commented, "CYCLE TO MAPIC is a fantastic event. The additional extra day not only adds to the challenge, but also means more time on the bike for networking through some spectacular parts of Spain and France. We're extremely proud to be headline sponsor for a third year and we're hoping to exceed the £20,000 we raised on last year's event."
CYCLE TO MAPIC takes place 13th-17th November 2015. Registration for the event is now open and there are only 50 places available. Please click here to sign up: http://cycle-to.org/index.php/cbre-cycle-to-mapic-entry-form