A decade ago, when the internet and social media completely transformed the music industry into what we know today, the same transition is happening today in the retail industry. A whole new ecosystem is being formed, and everyone in the game — designers, investors, architects, makers, wholesalers, distributors and consumers alike — need a new map. The virtual, which developed a disruptive approach with the real economy, is now convering with the physical world.
What we have also noticed in commercial real estate is that there is no physical commerce without digital, and vice versa. Technological innovation is now an integral part of the evolution of retail real estate. It is helping enhance customer service and boosting the attractiveness of shopping venues. The startup, which hopes to support commerce in the digitalization of points of sale, understands it well. Indeed, digital represents a development opportunity and a factor of dynamism for commercial real estate actors. We can see evidence of this with rising number of startups headed to MAPIC every year.
The N°1 event for the digitalization of shopping malls and more widely of commerce, MAPIC is also not only a sign of the French representation of innovative startups,  but also "The" hub for international digital actors dedicated to commercial real estate. We find numerous actors there as Retency, Via Direct, Hease Robotics, Occi, Quividi, Agence 187, Solution BI, Find & Order, Transaction Connect or Kel Foncier. You can find them in the dedicated space, MAPIC Innovation Forum. It is a real show within the MAPIC event. With a pitching and exhibition area, MAPIC attendees will discover more than 50 companies and startups showcasing their innovative solutions for the retail real estate industry worldwide.
For example, the highly customer service-oriented British startups Dropit Shopping and Quiqup, will exhibit for the first time in the MAPIC Innovation Forum. Dropit Shopping is an application that provides in-shop consumers with the comforts of online shopping by offering a same-day shopping delivery service. Dropit Shopping has already partnered with several major retailers in the UK including Liberty London, M&S, GAP, Uniqlo, Urban Outfitters, Anthropologie and Michael Kors.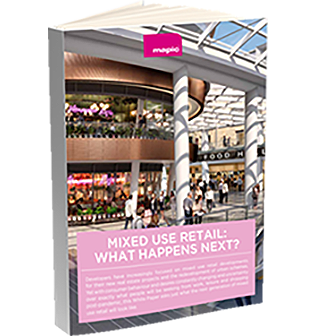 Mixed use retail and leisure: What happens next? – White Paper
Learn about the retail industry's latest data, developments, innovations and projections in our last white paper
In the same vein, Quiqup offers a personalised courier service, and has recently partnered with the brand Hellmann's, which wanted to develop its direct sales to consumers, and now offers deliveries of baskets containing all the ingredients needed to prepare a meal at home.
Hospitality is another important aspect of customer service. This is the core activity of Hease Robotics, a French startup specialising in robots for hospitality services and sales support. It will be attending MAPIC for the first time to present its flagship product Heasy, the first interactive-kiosk robot with an integrated payment terminal. This robot has been specifically designed for large public spaces, so it is large, visible from a distance, and completely side-steps speech-recognition (because of noise in public spaces), to focus interaction exclusively on-screen.
Data collection and analytics often drive new services for customers. MAPIC newcomers Geoblink and Kel Quartier will showcase their localisation intelligence solutions – i.e. providing data to help retailers select the best location sites.
Other companies such as Axper, Occi and Spoon robotics, all attending for the first time at Cannes, as well as Spallian Group, Retency, Retailic, TC Group, Xovis, Coniq and ESRI, will be showcasing a range of solutions derived from data analytics.
People from all over the world come to MAPIC to understand the retail ecosystem. As consumer expectations change, retailers of all sizes and verticals will be expected to offer flexible, efficient and affordable delivery services. Organised by Reed MIDEM, MAPIC, the International Retail Property Market, will be held in Cannes from 15 to 17 November.
"Consumers now have high expectations: they want their shopping experience to be easy, enjoyable and even memorable. For this, bricks & mortar shops remain the vital embodiment of the customer experience. This is why online commerce professionals are increasingly interested in physical retail sites and are coming in greater numbers to MAPIC,"Nathalie Depetro, Director of MAPIC Markets.
Partner of the next BPI France « le Hub » event on November 9th,  Nathalie Depetro will moderate the conference session "IA, machine learning, reconnaissance faciale… quel est le magasin de demain" dedicated to the digitalisation of commerce. See the programme here