Retailtainment, a relatively new concept combining shopping and leisure, has been capturing more and more attention of retailers and developers looking for innovative ideas to drive traffic to their stores and shopping centres. Following the success of last year's retailtainment zone, MAPIC will put greater emphasis on the growing segment with a larger dedicated retailtainment area located In Riviera Hall, among the picturesque backdrop of the Mediterranean sea. Conferences and pitching sessions will accompany the new area, allowing key players the chance to share their latest retail entertainment concepts and innovations with global developers and investors.
Theme parks & Entertainment
With continued growth in the sector of theme parks, we will see more attraction park and design companies coming to MAPIC to showcase their work and demonstrate how entertainment can generate sustainable long-term profits. For instance, KCC, JoraVision, Jack Rouse Associates and Aerodium will unveil their vision of creativity in-store, and present their worldwide experience & technical know-how. Triple Five, Canadian developer and owner of Mall of America, will also be present, looking for new ideas for their latest project: American Dream Mall Meadowlands.
KCC Entertainment Design, one of the leading companies in the design and realisation of exceptional projects worldwide, will be back to share their work dedicated to the creation of exceptional themed environments in order to ensure long-term profitability to their clients.
Jora Vision, another leading theme creator specialising in the European and Asian leisure industry, is currently  working on the design of the first Wanda theme park in Hefei, a city located in the Chinese province of  Anhui.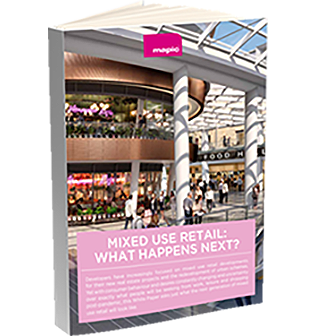 Mixed use retail and leisure: What happens next? – White Paper
Learn about the retail industry's latest data, developments, innovations and projections in our last white paper
Aerodium (Latvia), experienced professionals in aerodynamics, recreation and show business who created the wind tunnels during the Torino Olympics games in 2006 and the Expo 2010 in Shangai, will share their concept available for public in malls.
As for industry giant Jack Rouse Associates, known for their design of Ferrari Abu Dhabi and  Legoland California , they will  be at MAPIC as visitors for the first time.
Technology & Edutainment
'Experience' has become the 'it' word in the retail world- with brand's racing for the next best idea to drive footfall into their shops. The conceptual event organiser Am-Teg, part of The Experience Group, will share the most current trends in demand for leisure and fun experiences. Also, a must see this year is British Company, AI Solve, presenting their latest work with interactive, immersive 3D technologies. They will demonstrate how to use new engagement platforms in a cost-effective way.
Longterm MAPIC's participant QuibicaAMF will be joining the retailtainment zone this year. They will reveal the best practices how to modernise and upgrade the existing shopping centres in order to attract and fidelise customers. MAPIC will also be highlighting leaders of the 'edutainment' sector with companies such as Playtime and market leader Kidzania, Istanbul.
Also, don't miss a special session at MAPIC 2014 hosted by BRC Imagination Arts on "Theme Parks Vs. Malls: different worlds, same challenges".
French company Universcience, specialising in edutainment, will be in our 2014 Entertainment Conference Programme. Organised by BRC Imagination Arts, entertainment experts will demonstrate and debate how entertainment and edutainment can become an attractive component for shopping areas in order to generate sustainable long-term profits.
Visit retailtainment zone at MAPIC this fall!
 Useful links:
Participate as a visitor or exhibitor!
Login to the MAPIC Online Database to get ready for the show
Top image via voylodyon