Brazil's franchise industry is booming. Forbes recently announced that Brazil ranks fifth in the world franchising league table with 93,000 franchisees. The Brazilian Association of Franchising states that this year, Brazil's franchising industry is expected to grow profits 15%, while the total number of franchises should rise by a further 10% to 2,031 brands. In an exclusive interview, Ricardo Camargo, Executive Director of the Association, gives us a look into the Brazilian retail market and discusses his plans for MAPIC 2012, in Cannes, France November 14-16th.
See which Brazilian Retailers will be present this year at MAPIC!
MIPIMWorld: Brazil is one of the fastest growing markets in Latin America. You mentioned last year that there has been a great boom in shopping centre development. Can you tell us what type of major retail activity/transaction you've been seeing this year?
Ricardo Camargo: In 2011 we had 430 Shopping Malls in Brazil.  The projection in is to have 471 shopping centres in 2012 and 522 in 2013. As you can see, that represents a great margin of growth. We have noticed a large increase in the number of malls in the medium and small cities, since people do not want to go to the big cities to go shopping. This is also due in part to the growth of the purchasing power of Brazil's interior population.  The main retail segments we see in shopping malls are food, clothing and beauty.
MIPIMWorld: Can you tell us what countries are heavily investing in Brazil at the moment?
Ricardo Camargo: The countries which have the most expressive presence in Brazil are : USA, Spain, Argentina and Portugal.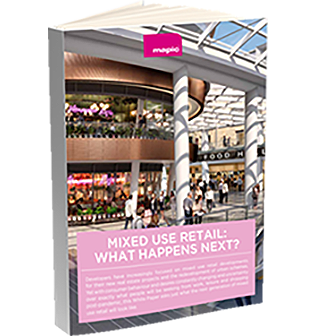 Mixed use retail and leisure: What happens next? – White Paper
Learn about the retail industry's latest data, developments, innovations and projections in our last white paper
MIPIMWorld: Can you give us an example of a brand innovation success story in Brazil?
Ricardo Camargo: We have the Havaianas case: In the beginning, the product – summer sandals – was intended only for lower social classes. After having invested heavily in design and a clever multi-channel advertising campaign, they have repositioned themselves as a trendy product.  By raising the price, they have made the product more attractiveto the higher social classes, enabling hollywood celebrities and famous names all over the world to become ambassadors for the brand.
MIPIMWorld: You were here at MAPIC last year. Do you have any success stories to report from your presence here last year?
Ricardo Camargo: ABF didn't have a stand on MAPIC last year. We were simply invited as a participant. Having seen the show and potential opportunities available, ABF decided to invest on a stand at MAPIC this year,  bringing some brazilian franchising concepts!
MIPIMWorld: Having already attended, what will you do differently this year in order to get the most out of the 3 day event?
Ricardo Camargo: We will have a different concept on our Stand: we want to bring a more relaxed environment to promote informal/formal meetings and networking between the companies that are interested in Brazil and those looking to start a Brazilian franchise in France. We will also organize a cocktail on our stand to highlight the Brazilian Brands present during the event and promote franchising in Brazil.
We are also taking great advantage of the media – pre and during the event to enhance the Brazilian participation on MAPIC 2012.
The  ABF-Brazilian Franchise Association, a non-profit entity, has been contributing, promoting and striving for technical and institutional development of the franchise system for more than 22 years.
Top image credit : Photobank gallery