London topped the charts in the debut Tech Cities of the Future ranking for urban retail development, focused on finding those European cities with the most promising prospects for start-ups, tech and innovation investment, produced by fDi and TNW, a media, events and intelligence company focused on new technology and start-ups. The UK capital took first place in five out of six categories, with FDI in the software and IT services and communications sectors making up about 50% of London's total inward FDI, between 2015-2019. In 2019, tech investors in the city ranged from large multinationals Huawei Technologies, Facebook and Robert Bosch to smaller start-ups such as Chainalysis and Lilium Aviation. According to data compiled by London & Partners, the UK capital is producing more unicorn tech companies (valued at more than $1bn) than any other European city, including Monzo, Revolut, Deliveroo and Farfetch. Paris is the second-ranking tech city. The French capital attracted 50 inward FDI projects in software R&D between 2015 and 2019, the highest out of all locations studied. Paris also did well in the Economic Potential category – since investors can start a business there in just four days – as well as in Innovation & Attractiveness; the city has 10 of the world's top 500 universities in computer science and engineering.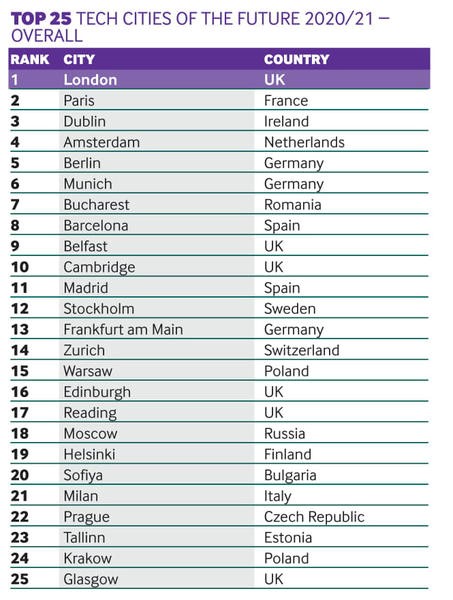 With new development thin on the ground, a number of the cities are also pushing ahead with major new retail developments, renovations and extensions. What follows is a brief overview of some of them.
1. London
Battersea Power Station is emerging as a new retail and leisure destination for London. The 17ha site is being developed in phases with a 50:50 split between residential and commercial uses. Phase One – Circus West Village – has been open for over three years and the next to be delivered will be the renovation of the Power Station building itself. Already 46,000 sq m of office space has been pre-let to Apple for its new London campus (and another circa 4,000 sq m to business club, No18) and the two turbine halls will house over 100 shops, restaurants and cafes. BPS has appointed Camm & Hooper to deliver events at the 6,500 sq m of event spaces, which includes the Generator Hall and Control Room A inside the power station. The urban development will also include a unique chimney lift experience offering 360-degree views of London's skyline.
2. Paris
Many of the new retail developments in France are also reflecting the changing retail design landscape. French shopping-centre developer and owner Apsys is actively working to refresh its portfolio, with the opening of the mixed-use Eden retail park in the Seine-et-Marne area south east of Paris. Gare du Nord, Paris has been given the go-ahead to better accommodate fast-rising passenger numbers, expected to reach 800,000 daily by 2024 and 900,000 by 2030. The aim is to finish in time for the 2023 Rugby World Cup and 2024 Olympics and Paralympics that will draw more throngs to the French capital. National railway operator SNCF and property developer Ceetrus plan to add some 46,000 sq m in floor space for urban retail solutions, offices, a gym, a concert hall and other cultural venues. The arrivals and departures hall will be expanded by 30,000 sq m.
3. Dublin
Cherrywood in south Dublin is rebooting large scale retail in the city, being developed by US property developer Hines. Cherrywood Town Centre will include retail, F&B, leisure, workspace, community, medical and residential uses.
Derek Rossel, development director at Hines, says: "The project has been designed to a human scale with the customer of the future in mind to create a strong sense of place, foster real social connections and increase dwell times."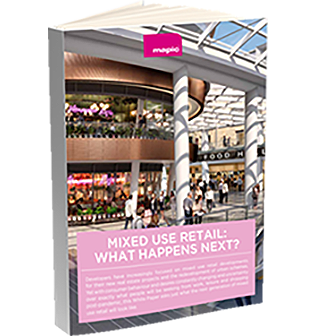 Mixed use retail and leisure: What happens next? – White Paper
Learn about the retail industry's latest data, developments, innovations and projections in our last white paper
The scheme includes 'urban retail streets and squares' which aim to integrate the public realm with F&B, leisure, entertainment, art and culture.
5. Berlin
The German capital Berlin has a huge array of retail spaces — some 70 shopping centres or smaller mall spaces in total — which means that developers are having to go to great lengths to compete. TIAA and CNP, joint owners of Gropius Passagen in Berlin, with investment manager Nuveen and Unibail-Rodamco-Westfield as shareholder and centre manager, have been revamping the centre. Gropius, which offers a range of non-retail uses from job fairs to book-reading workshops for children, encapsulates the new way of thinking in retail property, says Frederik Sarnes, Nuveen's retail asset manager for Germany. Meanwhile, the extensive construction work on the 46,000 sq m Potsdamer Platz Arkaden has begun and is expected to take two years. Brookfield Properties, the asset manager of Potsdamer Platz, and centre operator ECE, have added London-based Mercato Metropolitano as a 4,400 sq m anchor tenant.
7. Bucharest
Romania's Chamber of Commerce and Industry (CCIR) and Iulian Dascalu – one of the biggest real estate investors in Romania – have announced that they will transform the Romexpo exhibition centre in Bucharest into the biggest mixed real estate project in the country. The planned investment is €2.87bn and will include museums and a multi-functional event hall, a new park and green urban connections, a business district, a retail and lifestyle centre and facilities for local entrepreneurs, with a fresh market concept developed for the first time in Romania.
15. Warsaw
BIG, an architectural studio founded by Bjarke Ingels, is designing and building a city quarter between Towarowa and Miedziana Streets in Warsaw. BIG's design seeks to bring back the walkable streets of historic Warsaw, with shops, cafes and a park at the heart of the development. The master plan introduces cultural infrastructure as a destination, while building a critical density of homes and workplaces to create a resident population for a lively, 24-7 year-round neighbourhood. The central part of the new Towarowa 22 project will be Kazimierza Wielkiego Square, while BIG's concept also seeks to create a network of pedestrian lanes, thanks to which the project will be connected with the city. Towarowa 22 is a plot of about 6.5ha located in the Wola district covering approximately 230,000 sq m of built area. Development is by EPP and Echo Investment.
16. Edinburgh
In the UK, investor Nuveen Real Estate is working on a centre that goes well beyond urban retail development and is also designed to expand the number of festivals and venues available, even in a city as culturally rich as Scottish capital Edinburgh. As part of the overall 78,967 sq m masterplan for the new Edinburgh St James centre, which includes 85 new retail stores, more than 30 new restaurants and an Everyman Cinema, Nuveen is creating public spaces with the flexibility to host cultural events, performances and community-led activities.
"As part of our events strategy, we are reviewing a number of potential festival options to bring to life the nine events spaces across Edinburgh St James," adds Martin Perry, Nuveen's director of development, real estate, Europe.
18. Moscow
In the first quarter of 2020 the retail real estate market in Moscow saw the arrival of one large project – Dream Island (190,000 sq m including entertainment). This brought the total supply of retail space in the Russian capital at the end of the period to 7.5m sq m, according to Colliers International. Retail space has increased from 565 sq m per 1,000 inhabitants in 2019 against 595 sq m per 1,000 in 2020. About 85% of the total leasable area announced for opening is for entertainment, multi-screen cinemas and amusement parks; 8% of new space will be shopping centres/malls and 7% outlets. The high volume of potential openings in 2020 (476,000 sq m) was triggered by the postponement of projects from 2019 (311,100 sq m) including: Dream Island, Muckvartalwest, SC Skazkaas – part of TIH Rasskazovka – phase two of Smolenskiy Passage and Outlet Moscow.
19. Helsinki
Shopping centre Lippulaiva, due to open in spring 2022, will become the flagship of local energy production in Helsinki, according to urban developer Citycon. The largest geothermal heating and cooling facility for a commercial building in Europe is being built under the shopping centre, and it will generate carbon-free energy to meet almost the entire heating and cooling needs of the shopping centre. The facility and several other sustainable energy solutions make it possible for Lippulaiva to participate in the EU's SPARCS project, which aims to promote energy efficiency and electric-powered modes of transport.
"The SPARCS project supports our sustainable development strategy and helps us find new solutions and partners to implement sustainable technologies," says Risto Seppo, Citycon's property development director.
21. Milan
Lendlease has established a long-term strategic partnership with Canadian pension investment manager PSP Investments for the €2.5bn urban development of major regeneration project, Milano Santa Giulia. This covers more than 110ha in the southeast of Milan and is split into two distinct areas to the north and south of a new mixed-use development with the potential for 2,500 homes alongside an office, retail and entertainment district. The scheme will provide facilities for over 1,500 students, new schools and a museum. Milan's largest multi-function 16,000-capacity indoor arena will be built to the north of the site and used as a venue during the Milano Cortina 2026 Winter Olympics. Meanwhile, Ceetrus Italy is to invest at least €2.5bn in a five-year plan, including Merlata Mall, a complex consisting of two buildings that extends over an area of ​​65,000 sq m in the heart of the first 'urban smart district' of Milan adjacent to AreaExpo. Merlata Mall will host new forms of entertainment based on virtual reality, sports activities and digital art as well as catering located along a covered boulevard illuminated by natural light. The inauguration is scheduled for 2022. The second project is Milanord2 in Cinisello Balsamo. At 240,000 sq m, it will combine a futuristic mall, served by a subway hub, plus an office district, scheduled to open in 2023-24.
Read a whitepaper about urban retail and leisure, read an interview of Ekaterina Kirichenko, concept & customer experience developer, Ingka Centres on urban retail properties in London.