Time for more female leaders in the real estate industry to rise up
The real estate industry is still a bastion of male domination; women remain under-represented and not as likely as men to attain senior-level executive positions. Women have to wait more than 200 years to achieve equality in the workplace according to The Global Gender Gap Report 20171 released by the World Economic Forum this month. This calls for more efforts to achieve gender parity but changes would occur when culture shifts and respect for new leaders is earned. Having experienced this process myself, I think that women are capable of the same success as men when equal opportunities are there.
Grasp the opportunity
The biggest challenge women encounter usually doesn't come from their working environment, but rather from within. With the guidance of a trusted mentor, women can learn to overcome different factors that hold them back and know when to lean in to advance our career. I am particularly fortunate that my mentors have taken me under their wings. Thanks for the previous CEO of Champion REIT, Adrian Lee, who had given me opportunities and had now paved the way for my ascent as a new-generation female CEO of Champion REIT. I had known Adrian for long time and I had proven myself in various strategic transactions that I executed for Champion REIT during my tenure as an investment banker.  Adrian had willingly shared his management experience in shopping malls and office buildings, valuable business lessons that could not be learnt from books or the classroom.
Why we need more female leaders
Vastly different management style brings in new prospective. Gender diversity allows decision-making to become more multi-dimensional and thus more comprehensive. A report (2) released by Credit Suisse reveals that companies with at least one woman director received a better return on their investments compared with companies with all-male boardrooms.
In the past decade, there has been a growth in women contributing to the economy. Most of us probably already know the benefits of diversity under the current "she-economy" as female buyers now control 70-80% of all purchases. Women are also the fastest growing group of consumers nowadays; for instance, China's medical cosmetology market is expected to reach 300 billion yuan by 2020, up from 100 billion yuan last year (3). The term "womenomics" has been coined to describe this huge shift in the spending power.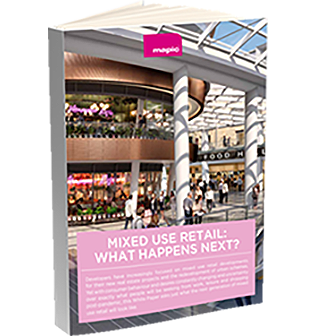 Mixed use retail and leisure: What happens next? – White Paper
Learn about the retail industry's latest data, developments, innovations and projections in our last white paper
It is also worthwhile to note that China and the US could add US$2.5 trillion and US$1,750 billion to its GDP respectively if the economic gender gap was totally closed (1). Women's perspectives are imperative to drive economic growth.
How women balance work and family
There is always an assumption that work and kids are hard to balance, but that may not be the case.  Women can manage flexibly and still be effective. Being a mother of two sons, I experience first-hand that technology enables us working mothers to juggle between work and family. In our company, we try to be flexible when the staff needs to leave early for their children's needs. An empowered, motivated and committed workforce is important as we all reap the benefits from more engaged performances.
"We win or lose as a team." this is the spirit of what I always try to inculcate in our team. In general, women tend to involve staff in making and implementing decisions, and the work environment become more dynamic and innovative. I view my staff as partners rather than subordinates – not only does the company become less hierarchical, but our staff would also take the initiative more often, assume greater ownership and, ultimately, be much more motivated to succeed.
In fact, every year, more women are achieving career advancements making the most of opportunities presented by organic change. Women should be optimistic about the future as more enterprises realize it's beneficial to embrace diversity as a positive and important business strategy.
Don't miss Ada Wong at MIPIM Asia in her discussion "Time to uplift more female leaders in real estate industry?"
Note:
The Global Gender Gap Report 2017. World Economic Forum. https://www.weforum.org/reports/the-global-gender-gap-report-2017
The CS Gender 3000: The Reward for Change. Credit Suisse. https://glg.it/assets/docs/csri-gender-3000.pdf
"Medical cosmetology market expected to be worth 300b yuan by 2020". South China Morning Post. http://www.scmp.com/business/companies/article/2021601/medical-cosmetology-market-expected-be-worth-300b-yuan-2020
Top photo: GettyImages © Yuri_Arcurs