Paris-based Digital Native Group is a consulting firm for direct-to-consumer (D2C) brands and more specifically digital native vertical brands (DNVBs). One of its most recent initiatives has been to create multi-brand concept stores in collaboration with commercial real estate companies.
The first project was at Carousel du Louvre, Paris which hosted Pyramid, the first DVNB concept store in Europe, in an initiative carried out with landlord Unibail-Rodamco-Westfield. In all, 23 digital native brands participated in the three-month concept.
"DNVBs are the centre of attention for the innovation they bring to the retail sector and their adaptation to new consumption patterns," says CEO and founding partner Vincent Redrado. "They also attract a young and trendy clientele that doesn't always go to traditional shopping malls. That is why URW was eager to attract these digital native brands and their committed associated clientele. Customer experience is at the heart of the retailer's challenges and DNVB masters this advantage better than anyone else."
For the DNVBs, the main interest is to pool fixed costs and try – for those who don't have a store yet – a brick-and-mortar environment with measured investments and risks. It is also a great opportunity to extend their visibility and reach a new customer-base through brick and mortar retail. The selection of digital brands and direct to consumer brands is predominantly around lifestyle but not only fashion, rather including clothing, footwear, lingerie, chocolate and cosmetics. So far those involved have come from a mixture of backgrounds and aspirations, says Redrado, with some start-ups looking to take their first step into retail, while others are established digital brands that have perhaps operated pop-ups but that wanted to gain awareness and broaden their customer base.
"As we know DNVBs and their business models very well, we are the facilitator to get them in touch with commercial real estate companies and provide both parties with the best deal," says Redrado. "One interesting thing is that in Paris the centre attracts around 70% international visitors but those shopping at the Pyramid store were 70% Parisians. The brands that took space had a combined 1.5 million Instagram followers and worked hard to leverage their social media presence."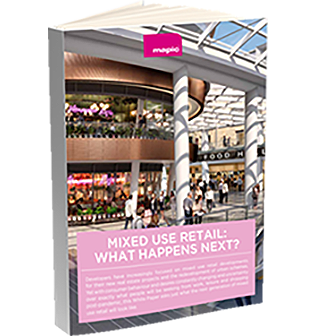 Mixed use retail and leisure: What happens next? – White Paper
Learn about the retail industry's latest data, developments, innovations and projections in our last white paper
The model works by Digital Native Group taking a fixed-term lease on a store, which has been constructed and fitted-out by the landlord. The digital native brands and direct to consumer brands that take space within the concept store then lease space from DNG in contracts which, going forwards, will run at either six or 12 months. This longer period for the second site is, Redrado says, because to be cost-efficient and to justify the "energy required", the site needs to be operational for longer periods than the initial Paris pilot.
Having established the initial outlet, the next store will open at the beginning of October near Toulouse, south-west France. Called Marquette, it will be within the Labege 2 mall owned by Carmila, and nine brands will take part, such as My Jolie Candle, Faguo and Cabaia. It is to stay open for 20 months and fewer brands will occupy larger areas than in the original shop. After operating in a high profile, international location, this will be a very different site.
"We'll be looking to open perhaps five of these concepts across Europe," says Redrado. "The idea is that we can then offer brands the opportunity to travel across a number of locations, perhaps Paris, London, Berlin and so on. We will also be seeking to cycle brands, because what is relevant for the summer may not be right for the winter."
Above all, Redrado believes that these pilot outlets reflect the need for changing attitudes towards space. He says that in Paris the new digitally native vertical brands gave URW a "dynamic element" that attracted new customers to the shopping centre. A number of those brands subsequently signed leases afterwards.
"We need to enter a new era in terms of how we consider how space works," he says. "It's about attracting different brands, giving them an opportunity for different positioning, and creating a space that is for everyone."
Vincent Redrado will be a speaker at MAPIC 2020.