Physical stores equate to an uptick in sales for once online-only retailers
Contrary to some of the headlines that have permeated news cycles of late, over 90 percent of retail sales still take place in physical stores. That has quietly sent many e-tailers scrambling to find space in malls, shopping centers and urban locations.
"While brands can easily be born online, they tend to reach saturation on that channel quickly and begin to stagnate," said Erin Grace, Managing Director for JLL Retail in New York. "Expanding into the physical world provides these e-tailers with the potential to expand their customer base and benefit from the higher conversion rates that stores offer."
The trend really began to heat up with now-household names, Warby Parker and Bonobos, but the queue is quickly filling up with new entrants to the physical landscape.
ModCloth, a women's fashion portal that claims to be "democratizing fashion one indie, vintage and retro-inspired style at a time," recently opened a store at General Growth Properties (Inc) Pioneer Place in Portland, Oregon. The second largest mall owner in the country also has said it has or will soon be adding other once pure-play e-tailers, such as Country Club Prep, Peloton, Aesop, e.l.f. Cosmetics and Essentia, at other properties. Simon Property Group, the largest mall owner, also recently noted a similar trend in its portfolio, with deals including Kate Hudson-backed fitness apparel company Fabletics, subscription-based cosmetic company Birchbox, and men's casual shirt retailer, UNTUCKit. These retailers are after more than the better conversion rates that physical retail offers.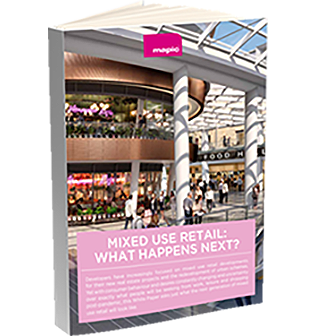 Mixed use retail and leisure: What happens next? – White Paper
Learn about the retail industry's latest data, developments, innovations and projections in our last white paper
Physical locations offer the ability for incremental sales, according to a ShopVisible study. For online sales with direct delivery and only remote exchanges, retailers can expect a net sale of just 77 percent, compared with an expected 95 percent net sale for online sales with in-store return. The increase is due to an 18 percent increase in additional sales. Given the cost of shipping in today's environment, having a physical location also can reduce the overall return rate.
"It's not just malls that are seeing an influx of digital- to-physical retailers," added Grace. Home appliance retailer Pirch has flagship showroom in New York City's Soho neighborhood. The showroom offers weekly cooking classes given by top chefs. Shoppers may test drive appliances, even the showers.
The barrier to entry for these retailers is only getting easier to penetrate. WithMe stores provide fully portable, prefabricated retail environments allowing a tenant to locate anywhere—from inside a traditional department store to a convention center during a retail trade show. These modular stores blend the best of online and offline retail, with smart fitting rooms, self-checkout mobile payment options, RFID tags and even virtual reality experiences.
So whether you're in the market for an engagement ring or a piece of fun costume jewelry; chances are your favourite online boutique is soon to have a physical store near you.
For more information connect with Erin Grace, Managing Director of Retail at JLL and follow @JLLRetail on Twitter and Instagram
Top photo: © Getty Images / Peopleimages