Q. There are so many nutritional, dietary and ethical food trends…what advice would you give F&B operators about how they shape and adapt their offers?
GC: Food and beverage has moved increasingly from imitation to innovation. If you imitate you become one of the regulars, but if you innovate you become the centre of attention of the new profile. Today, F&B operators have to adapt their operations without losing their authenticity. In order to increase and maintain footfall at their venues they have to offer 'trendy and healthy versions of their signature items without losing their locality. With this, F&B operators will gain the opportunity to pivot with market changes and position the concept to grow in a strategic manner through menu changes and pricing changes, all while quickly adapting to newly-opened competitors without losing their overall vision.
At Big Chefs, we always stay on global trends, but when adapting these trends to our menus we take local consumers and local needs into consideration.
In fact, the F&B business has a very big role to provide a direction for consuming habits. Accordingly, operators need to take more responsibility than before. But they shouldn't forget that the world is getting more glocal and so are the trends. If they want to take more responsibility, they should start from their nearest environment to effect change while following the trends. For example, we rove the country to find local female farmers so we can bring their healthy products to the table. We do not look for trendy words on their products or their noble heritage but we strive to enable healthy and environmentally-conscious farming and to change the farmers' way of thinking or doing business.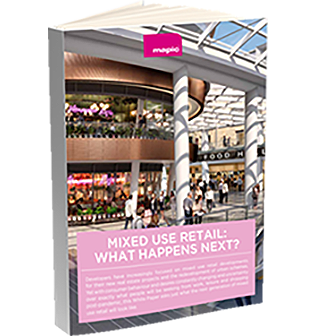 Mixed use retail and leisure: What happens next? – White Paper
Learn about the retail industry's latest data, developments, innovations and projections in our last white paper
Q. What are the best strategies for food players to meet consumer expectations? Is it better to respond, to lead, to create the agenda? How do you work out what is a trend and what is a fad?
GC: Menu alterations and presenting options to the consumers, in order to stay in the 'where to eat list' in consumer minds is becoming a must. Today, we see many menu items that weren't in our lives before, such as "The Bowl". As a restaurant you should respond, lead and be current, because millennials and trend followers will look for these sought after new trends when they visit your venue. However, as a restaurant with many signature dishes, one also learns these trends thoroughly and creates a signature item that reflects the brand DNA.
In addition, customisation is also becoming very important. Make your customers create dishes according to their wishes. For example, offer ketogenic options to your salads or gluten-free pasta choices. As they customise, they will feel relaxed and will enjoy being at a place where they can find something to eat.
Q. How would you advise operators to source upcoming trends and develop new businesses, especially as the market becomes increasingly competitive?
GC: My best advice is not to copy trends and keep your uniqueness in your menu alterations. Today, consumers look for options when they look at the menus, such as vegan, gluten-free, dairy free and many others. With these many options they want clear and to the point dishes that will have the same authenticity in daily offers.
Trend followers such as vegan consumers do not want to be stuck in the salad section of your menus, they want to have options just like any other customer. Be deliciously innovative and then you will become the place to be in these consumers' minds.
Don't miss MAPIC Food!