At a time when physical retail spaces are poised to reinvent themselves in response to the
overwhelming growth of digital commerce, food halls appear to be one of the hottest new
ideas of the 21st century.
How retail property companies and investors can take advantage of the customers' massive
appetite for food halls?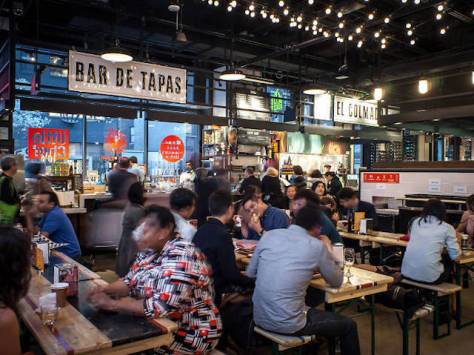 FOOD HALLS, A COMPELLING DESTINATION VENUE
Food halls? Not to be confused with food courts. Basically food courts are quick service
restaurants sharing a space with a common seating area for customers in need for
recharge. By contrast, food halls are a destination that fulfill the requirements of customers
with an urban active lifestyle. Precisely the profile of visitors shopping centres and
department stores are eager to attract and retain.
To be honest, food halls are not a new concept. Rather an old one inspired by European markets that has been reinvented into a lifestyle destination. Originally the term "Food Hall"
has traditionally referred to the food section of a department store. The food hall, as we know
it now, that started it all is probably Eataly in the early 2000's, a food and cultural destination
that elevated the experience way beyond any other competitors did in this industry before.
A few years ago, Markthal in Rotterdam got worldwide press coverage for its spectacular
mixed-use building that blends a residential complex and a fresh market to such an extent
that it has now become a landmark of the city.
…
Source: Getty Images