Get the concept right and growth potential is almost unlimited in the casual dining sector, according to Vincent Mourre, Managing Partner of Mourre Participations. "The growth potential is wide when you have one of these beautiful causal brands in your hands, you don't have a limit to your growth potential," he says.
Although there are still huge opportunities for successful brands to grow, and tired brands to reinvent themselves, he says attention had to be paid to deliver a consistent offer. "Nothing is easy and the restaurant sector is based on consistency and a high standard of execution," he adds.
What is notable is how many schemes are bringing retail, F&B and culture together, nowhere more so than at the Galataport Project by the banks of the Bosporus in Istanbul, in a scheme that was showcased at MAPIC and aims to re-establish the area as the Turkish city's centre for fashion and design
With over 250 shops and restaurants planned, plus a 1.2 km riverside promenade, two museums, a university, office space, a hotel and extensive public spaces, the mixed-use project will target both the international cruise passengers who already arrive at the port and the youthful, design-conscious local catchment.
Project Development Director Irem Yucel Kaymak says that on opening in May 2020, Galataport will bring an extensive boutique retail offer to the area, plus a vibrant F&B scene building on the area's strong heritage in contemporary dining.
"It will be a mixture of the old and the new," she says of the design approach. "The existing buildings, many of which are old warehouses, are being renovated and brought up-to-date, while the new buildings are very modern, so we have this mix across the site."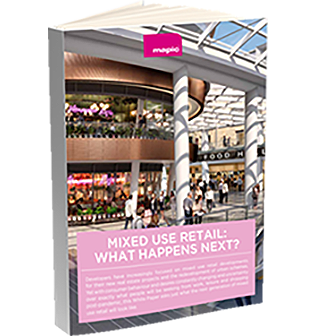 Mixed use retail and leisure: What happens next? – White Paper
Learn about the retail industry's latest data, developments, innovations and projections in our last white paper
Architectural Practice Renzo Piano is creating a new home for the Istanbul Modern contemporary art museum, which is being rebuilt on its existing site at Galataport. The museum was relocated into a temporary building in March while construction takes place.Kaymak says that beyond the 52,000 sq m retail offer, the intention is to make Galataport a centre for open air events and activities, to re-establish it as a fashion destination.
There are also some major collaborations in progress. Shopping centre owner, manager and developer Intu has signed up the first of a new concept from thriving food hall business Market Halls for Intu Lakeside's £72 million leisure extension.  
Market Halls opened two major central London sites in Fulham and Victoria last year and its first out-of-town concept, The Hall, will launch as part of a 17,000 sq m leisure development at Intu Lakeside this spring. The Hall will bring together dynamic and independent food traders from across the south east and use the big-city energy, theatre and excitement of street-food to create a compelling dining experience for Intu Lakeside's 20 million annual footfall.
Family entertainment centre Nickelodeon Adventure and indoor mini golf experience Puttshack's first location outside of London are also launching at Intu Lakeside's extension to capitalise on the shopping centre's transformation into a major retail and leisure attraction. Two more leisure operators, Hollywood Bowl and Flipout, and a range of new restaurants will open their doors there this year.
The Hall at Intu Lakeside will take 1,200 sq m and the site will include seven kitchens, a coffee shop, pop-up areas for food trucks, two bars and seating for 680 people. There will be an array of high quality, good-value dining options and relaxed seating solutions to suit families, big groups, couples and lone shoppers alike. Rebecca Ryman, Regional Managing Director at Intu, says: "The Hall at Intu Lakeside is a great fit for the centre's quality new leisure offer and we know it will flourish here.  Intu Lakeside is already one of the country's most popular shopping centres and we're working with operators that share our ambition for innovation in leisure in order to create the best possible customer experience. The calibre of all the brands we're attracting to the centre's leisure development is testament to the potential of this new space when it launches later this year."