Day three of MAPIC and the sun shone on the day after the night before, during which the MAPIC Awards had been presented at the Palais des Festivals during a gala dinner. In our final wrap-up, we caught up with ECE Marketplaces, Pradera Lateral, American Dream and Eurofund Group as the investors and developers had their say on the next 12 months in retail real estate
Everyone's a winner: MAPIC Awards 2022
The MAPIC Awards were back last night for the first time since 2019, as the industry came together to reward outstanding endeavour over the past 12 months at a gala dinner at the Palais des Festivals.
The over-arching theme of the MAPIC Awards was the importance of sustainability and this was reflected in everything from the stage design to the central message that people, planet and profit must come together across the retail, leisure and F&B sectors for the long-term future.
In addition to the host of winners across multiple categories (full details on mapic.com), the final award for lifetime achievement was presented by MAPIC director Francesco Pupillo to a clearly emotional Jonathan Doughty, an F&B expert who combines his role at ECE Marketplaces with chairing Whitespace Partners.
Doughty said the F&B and real estate industries for making the sector "a wonderful place to work" as the official ceremony came to a close and the MAPIC after-party began.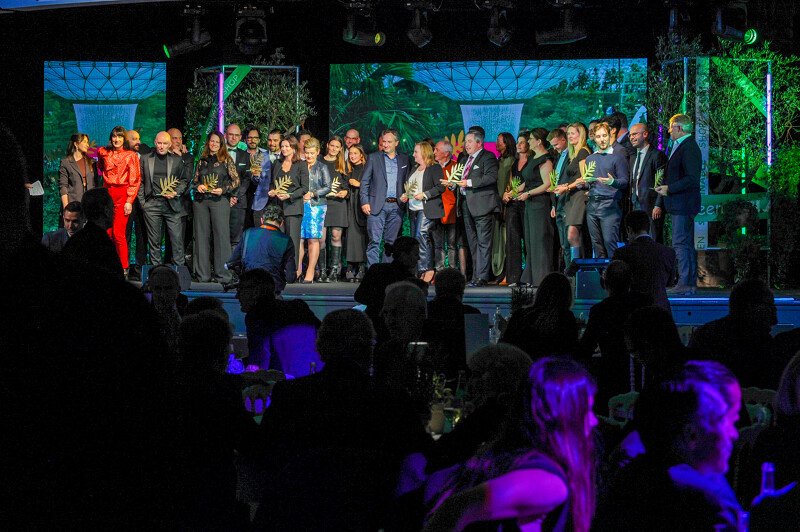 All the MAPIC Awards winners from last night
ECE Marketplaces focus on renewal and sustainability
With the phased opening of The Playce in Berlin now underway, German shopping centre investor and developer ECE marketplaces is focusing on refurbishment and renewal of its assets, plus pushing ahead with a sustainability programme for its centres.
Among the main projects is the MyZeil shopping centre in Frankfurt, where ECE has demolished a former department store and is replacing its with a garden piazza surrounded by new restaurants, said Steffen Friedlein, managing director leasing services at ECE Marketplaces.
"Our main activity is around how we can improve the existing assets," he said. "At MyZeil the Food Garden will provide a really nice and natural space, with good restaurants and a new public realm area adjacent to the shopping centre."
ECE is also revamping G3, a combined mall and retail park in Gerasdorf, Vienna, into a "sports cluster", offering outdoor space where customers can try out bicycles and running shoes, for example, from sportswear and athleisure brands.
"In both these cases, we are looking to offer things which are impossible online, whether that's a nice F&B experience or hands-on testing of product," Freidlein said.
The Playce will debut food hall Market Manifesto in December, with more stores opening as phased reopening continues; and department store Peek & Cloppenburg is opening a special eco-department store next year.
"Sustainability is a large part of what we are doing with refurbishments. We are looking to put solar panels on the roofs of our shopping centres and we will launch a new internal document for all our centres soon, detailing strategies to be more sustainable," Freidlein said.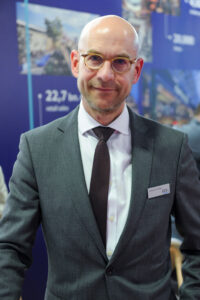 Steffen Friedlein, ECE Marketplaces
New Jersey's American Dream welcomes new Apple store
THE AMERICAN Dream team has come to MAPIC to meet with peers and potential partners as the 90-acre New Jersey-based retail, leisure and entertainment destination continues to expand.
A neighbouring 30-acre site has been acquired eventually to bring the complex to a total of 120 acres.
Situated in East Rutherford, eight kilometers from Manhattan's Times Square, the complex opened in late 2019 a few months ahead of the start of the global pandemic.
Widely reported financial pressures at the time raised questions over its viability, but the centre has attracted a string of new tenants and brands continue to partner with the project – among the latest, Apple's 12th store to open in the state of New Jersey, on December 3.
Other retail attractions include a 930 sq m Gucci store and Saks 5th Avenue.
Leisure attractions are in partnership with giant global brands and include the Hasbro family entertainment centre; an Angry Birds mini golf course; and the DreamWorks Water Park, the biggest indoor water park in North America, built in partnership with DreamWorks Animation. Recently added leisure attractions include indoor skiing and rock climbing.
Coca-Cola Eats is an 800-seater restaurant, part of a 10-year sponsorship deal with the soft drinks company; and the world's first MrBeast Burger Restaurant, created in partnership with YouTube superstar Jimmy Donaldson – aka MrBeast – opened in September of this year, drawing a crowd of 10,000 people.
American Dream is owned and operated by Canadian development and finance corporation Triple Five, which also established the West Edmonton Mall in Alberta in 1981 and Mall of America in Minnesota, which opened in 1992.
"At its core, American Dream is the culmination of over 40 years of mixing leisure and retail which started for us in West Edmonton," American Dream principal Paul Ghermezian said.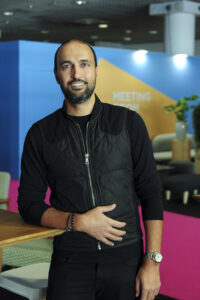 American Dream principal Paul Ghermezian
Hands-on asset management essential, Pradera Lateral says
THE DAYS of managing retail assets on a spreadsheet in an office are long gone according to Pradera Lateral, which has been rejigging the retail offer at Trafford Centre, Manchester over the past 12 months following Intu's administration.
A major part of the retail restructure has involved creating distinct zones across the huge out-of-town mall, populating the area around the Selfridges department store with luxury and premium retail and creating zones for fashion and high-street retail.
"The initial stage was really about stabilisation and we have now moved into a growth phase, in particular upsizing a number of key tenants including Next, JD Sports and Tessuti," Pradera Lateral managing director, Barry Cox, said.
For JD Sports and Tessuti, these are now the largest stores in their estate and Next is also introducing Gap back into its store, while H&M has added H&M Home to its unit.
"We have based the leasing team in the centre and that's really important, because you need to be walking the centre, talking to retailers and seeing how things are really working," Pradera Lateral retail director, Marcus Briggs said.
Pradera Lateral has also added three new assets to its UK portfolio, an indoor ski slope in Glasgow, a retail asset in Stoke and Eldon Square, Newcastle.
Eurofund Group targets Italy and pushes ahead with UK
INVESTMENT and development company Eurofund Group is to enter the Italian market with an agreement to acquire Parma Retail, located in Parma, northern Italy.
The centre has a GLA of circa 40,000 sq m and the aim is to transform it into Italy's first open-air, fully integrated retail and leisure promenade. To achieve this, Eurofund Group, working with Signal Capital, intends to invest €25m to transform Parma Retail into Parma Promenade, with works to start by the end of 2023.
In addition to tenants already present in the centre such as Kiabi, OVS, Decathlon, Euronics, Tedi, Pepco, Terranova, and Cisalfa, the transformation is intended to attract flagship international fashion, F&B, and leisure brands to the project. The 4,000 sq m terrace located on the first floor of the centre will host Eurofund Group's community-focused neighbourhood concept, Hood.
Sandford said the intention is for the scheme to have a "village feel", upgrading the retail offer and improving services.
Swift progress is also being made at Silverburn, Glasgow, which Eurofund Group acquired from Hammerson in March of this year. The company has completed 28 deals with retailers including The White Company, The Real Greek and Polestar among others, as it has upgraded the retail offer at the centre.
"I think our real advantage is that we have always been a hands-on investor," Sandford said. "A lot of asset owners move things forward in iterations, but we have always been happy to handle risk as investors because we are experienced in radical transformation."
Sandford has also expanded the company's management team. He has become executive chairman while Ion Saralegui has been appointed Eurofund Group CEO and Stephane Hepburn has is now CEO for Italy.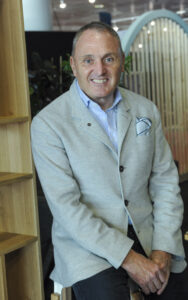 Ian Sandford, Eurofund
NWEC CEO sets out three-pronged plan for London growth
THE NEW CEO of New West End Company (NWEC), Dee Corsi, has set out a three-pronged plan to help revive London's retail and leisure economy ahead of what she described as "a very challenging market over the next 18 months".
Pre-Christmas trading is up 24% on last year, but is still significantly lower than pre-pandemic, and although the opening of the Elizabeth Line [London's new east-west underground line] is set to contribute around seven per cent of additional turnover by 2030, Corsi is keen to see some short-term boosts.
Firstly, NWEC is to lobby the government over tax-free shopping for international visitors, which was briefly reintroduced in one budget, only to be removed in another three weeks later.
"Reintroducing tax-free shopping for international visitors is a simple way to give retailers and the tourism sector a much-needed boost. Far from costing the £2bn that was previously cited, new research from Oxford Economics estimates that reintroducing the scheme would actually benefit the Treasury by £350m each year, supporting 78,000 jobs and adding £4.1bn to the British economy," she said.
As a result, NWEC is to urge the Chancellor to ask the Office for Budget Responsibility to conduct an independent review of the full economic impact of tax-free shopping.
Secondly, Corsi is leading the campaign to simplify the visa system for international visitors – noting that the West End's visitor profile is far more domestic than pre-pandemic – and thirdly, extending Sunday trading hours to allow West End and Knightsbridge stores to stay open two hours later.
The beleaguered Oxford Street is another key focus for NWEC, and she welcomed more leisure and commercial offices coming onto what has traditionally been a retail-dominated thoroughfare.
"It's more about the experience, and we've got a lot of new things coming to the West End. There's Outernet London, the Twist Museum and the Frameless Art Exhibition at Marble Arch, which are all very different types of offer," Corsi said.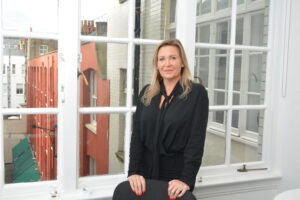 Dee Corsi, New West End Company
Outlets sector sees post-pandemic growth
ONCE AGAIN outlets attended MAPIC in force with a special Summit dedicated to the sector. A number of major players made announcements in Cannes, including Rioja Estates, which has two new European outlets set to start on site within the next 12 months.
Grantham in the UK and Malmo, Sweden are well-advanced, Giles Membrey, managing director of outlets specialist Rioja Estates, said.
Grantham Designer Outlet Village is already 30% pre-let and Membrey hopes to see pre-leasing at 50% by the time it starts on-site in Q4 2022, with an expected completion date of spring 2025.
The scheme will feature a mix of premium and high street brands, including Armani, Five Guys, Mountain Warehouse, Animal and Skechers and, in a second phase, the developers are in discussion with the Highways Agency about adding a major EV charging station of, eventually, up to 250 points.
In Malmo, Membrey hopes to start on site Q3 of 2023, with completion for Q3 2025, with a project – with strong sustainability credentials – which he believes can exploit a "massive gap in the market".
Following a successful zoning near Cork, Rioja Estates is in the early stages of assessing the opportunities for an outlet near the Irish city, while Membrey also foresees possible projects in the Middle East, notably Saudi Arabia.
"The outlet sector has withstood the downturn very well and with people very conscious about costs and a lot of online returns going through the outlet channel, I am very confident for the future," Membrey said.
The opening of phase one of Tbilisi Outlet Village, outside the Georgian capital, is scheduled for the end of 2023. The developer is global outlet development group TORG International and the project is financed by the Domus Group, with the support of Georgia's TBC Bank.
Phase 1 comprises 12,500 sq m GLA with 70 units and a mix of brands including designer labels from Europe, the US and Georgia as well as mainstream fashion and sportswear brands. Two thirds of the space is leased a year ahead of opening.
There will be a strong gastronomic offer and particular emphasis on the country's 8,000-year history in winemaking. Leisure and entertainment attractions next to the outlet are at the planning stages and phase two is scheduled to follow within the three years following the opening of phase one, bringing the project to a total of 20,000 sq m GLA and 110 units.
"Georgia is a strongly emerging market and a fashion hotspot at the edge of Europe," Barbara Horatz, partner at TORG International, said. "Many more international brands are currently entering the country, especially  premium and luxury labels."
VIA Outlets, the owner-operator of 11 fashion outlets across Europe, is at MAPIC looking ahead to 2023 with a focus on sustainability and continued growth.
Founded in 2014, VIA Outlets is 100% owned by Dutch pension fund asset manager APG and offers over 1,100 stores across 267,000 sq m GLA across nine European countries.
The company has announced growth in total brand sales for 2022, up on 2019, its last full year pre-pandemic – and the result of its "3Rs' strategy of growth: remodelling, remerchandising, and remarketing".
This has been reflected in the recent BBB+ credit rating awarded to VIA Outlets by Fitch Ratings.
This year also saw expansion of projects in the VIA Outlets portfolio, in particular Sevilla Fashion Outlet, Spain and Landquart Fashion Outlet, Switzerland.
The company invested €17.5m in the expansion of its Sevilla Fashion Outlet, with an increase of close to 20% in GLA, scheduled for completion in Q4 2023.
And plans have been finalised to add an additional 4,707 sq m to the Landquart Fashion Outlet. The planned development will be driven by an investment of over €53m and will include 15 additional stores. The ground-breaking event is planned for Q1 2023 and the expected opening date for the extension is Q4 2024.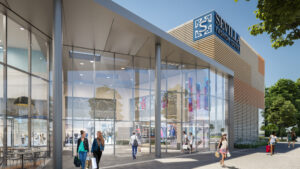 The Sevilla Fashion Outlet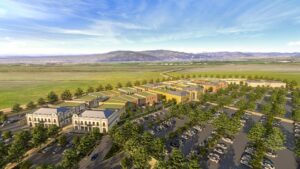 Tblisi Outlet, Georgia
Damac Properties feels the need for speed
AMIT PURI, vice-president of UAE developer Damac Properties, is seeking to expand beyond the company's 15 global markets.
Puri is at MAPIC as the company accelerates expansion, with a new mixed-use scheme in Nine Elms, London, just one example of the ambitious projects the company is pushing ahead with.
"We are well known for our community malls in the UAE and we are active across multiple markets, including a recent land acquisition for luxury residences in Miami, but we have come to MAPIC to really announce ourselves to European partners," said Puri.
While Puri pointed to data centres in Germany and real estate opportunities in Turkey as two markets that Damac is keen to pursue, plus entry into the European outlets sector, he said that the business is predominantly driven by spotting opportunities and finding the right partners.
"What we also want to do is establish a stronger presence in the markets in which we operate. Our mixed-use London scheme is 75% sold for the luxury residential element, while we are in discussions over the office space and the ground floor retail," he said. "But having entered the UK, I am keen to look at opening a London office to seek new opportunities."
Above all, Puri said that alongside return on investment, the company wants projects that it feels can be started quickly, as he insisted "speed is an absolute priority" for the business as it grows its real estate portfolio in Europe and the US.
Fashion brand DeFacto targets 180 countries by 2027
GLOBAL fashion brand DeFacto has recorded rapid growth for 2022 and is now operating 500 stores in five continents and e-commerce channels in 93 countries, including 12 European countries.
The company's stated aim is "to offer its customers luxury at competitive prices, expanding rapidly with the mission to operate in 180 countries by 2027".
At MAPIC the Turkey-based company is announcing its intent to continue expanding its network of 34 franchise stores in 13 countries, boosting its investment growth further. DeFacto aims to expand its franchise channel by 300% in three years.
DeFacto's stated aim is "to offer its customers luxury at competitive prices, expanding rapidly with the mission to operate in 180 countries by 2027".
As part of the company's "new generation franchise model", all processes associated with franchising will fall under DeFacto's framework of "360-degree operational excellence – to ensure a consistent, quality shopping experience across the franchises globally". At the core of this strategy is DeFacto's active involvement in the end-to-end franchising process, from finding the space and construction, to product selection, planning, pricing, and operational efficiency processes.
"We are aiming to double our growth rate globally, through both our own investments and our franchise partners," DeFacto general manager, Serdar Ersoy, said. "Expansion and franchise by DeFacto aims to help these businesses function as though they are a stand-alone company, managed with its own dynamism. We have designed this franchise model which is informed by our own experience, instead of implementing the wholesale model adopted by the world in general."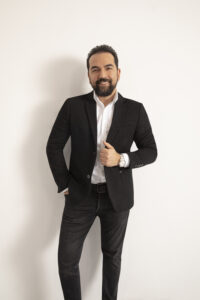 DeFacto general manager, Serdar Ersoy