The end of this year, entertainment publisher Time Out will have expanded from one to six Time Out Markets. One of the latest to open — Time Out Market New York — features 21 eateries serving up food from some of the city's top chefs and restaurateurs, cocktails from renowned mixologists and cultural experiences by local talent, all handpicked by Time Out New York's editorial team.
When it opened in May, Time Out Market New York became the latest food and culture destination to bring the best of a city under one roof. The New York venue is spread across 21,000 sq ft and two floors of the historic Empire Stores at 55 Water Street, Brooklyn.
"All the design work has been handled in-house and we have retained the same signage and branding throughout each Market, echoing the strong brand signposting in our publications," says Jessica Parrish, Time Out Market's commercial director. "However, each space is very architecturally different, so at each site we look at how we can best use the architecture and position. New York offers an amazing location and an iconic view."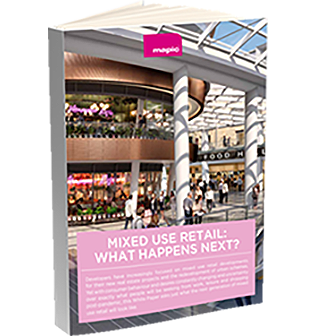 Mixed use retail and leisure: What happens next? – White Paper
Learn about the retail industry's latest data, developments, innovations and projections in our last white paper
Parrish says the focus in the last year has been firmly on North America, where five Time Out Markets are being rolled out this year —in Miami, Boston, Chicago and Montreal, alongside New York. "As a result, we'll be moving slower for the next couple of years as we take stock and evaluate these new sites," she adds.
In practice, that means that, after Montreal opens in a collaboration with Canadian-based investor/developer Ivanhoe Cambridge towards the end of the year, openings will slow to one per year: Dubai in 2020, London in 2021 and Prague in 2022.
Over in the UK, French restaurant group Big Mamma entered the London restaurant scene in February with the bright and bold Gloria, located in trendy Shoreditch. This was followed by a second restaurant — Circolo Popolare in the Rathbone Square scheme in Fitzrovia — which opened in late June.
Founded in Paris in 2013 by Victor Lugger and business partner Tigrane Seydoux, Big Mamma operates seven trattorias in the French capital, as well as a food market — La Felicita — which claims to be the biggest restaurant space in Europe. It also operates another restaurant called La Bellezza in Lille. The group is looking to add one further restaurant to its chain in the early part of next year, before exploring a 2,000-4,000 sq m food market along the lines of La Felicita in London. With nine different restaurant concepts, Big Mamma's director of development, Jack de Wet, says the group has pursued a philosophy of multiplicity, creating eateries that are not single format, but have the single offer of Italian cuisine.
This year, burger chain Five Guys will open its 100th store in the UK, bringing its total portfolio across the UK, France, Spain and Germany to around 140 outlets. The aim of the Five Guys JV — a joint venture with the founding US business and Charles Dunstone, founder of Carphone Warehouse — is to open 10 stores per market per year over the next five years, according to Five Guys' property director Richard Collier.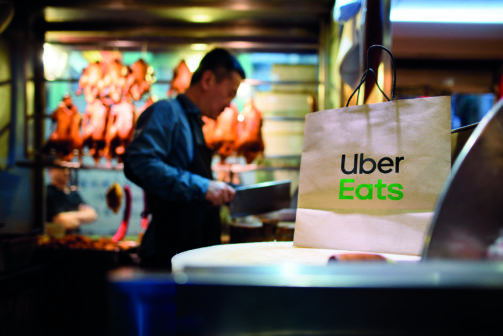 Collier ascribes the success of the US diner-style chain to the simplicity of its offer, which allows it to achieve great consistency and speed of service, and makes it one of the fastest options on 'dark kitchen' platforms such as Deliveroo and UberEats. "Essentially, we do one thing — burgers and fries — but we do it really well," he says.
"Typically, people have their food within six minutes and that means that Five Guys is usually part of a person's day or night out, not the focal point. So people know what they are going to get, plus great service and our obsession with cleanliness."
Richard Collier, Five Guys: "Essentially, we do one thing — burgers and fries — but we do it really well. Typically, people have their food within six minutes"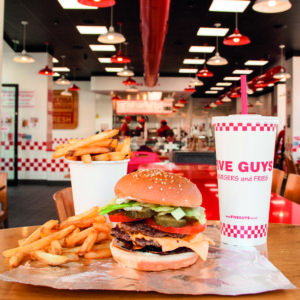 As Five Guys expands internationally, Collier says cultural differences are becoming more notable — such as the demand in Spain for food later in the evening and the high uptake of the free toppings in Germany. Store sizes vary, from the 150 sq m outlet on London's Portobello Road, which is the smallest to open, to the flagships in cities such as Frankfurt, which come in at 550 sq m.
"Our optimum store size is around 350 sq m, with high footfall," Collier adds. "Because of evening demand, we tend to prefer urban high streets, so that we are not constrained by shopping-centre hours. Office populations, students and nightlife are all on our tick list."
Currently, Five Guys is focusing on finding sites for standalone drive-up locations for click-and-collect, for which Collier foresees strong demand in the UK, France and Germany.
With a turnover of €2.05bn, nearly 2,000 restaurants and outlets — half under franchise — and a presence in 100 countries on five continents and 10 production plants, France's Le Duff Group is a world leader in the coffee-bakery sector. Founded more than 40 years ago by Louis Le Duff, the group operates a number of brands, including Brioche Doree, Del Arte, Fournil de Pierre, La Madeleine and Mimi's Café, the latter two dedicated to French cuisine in the US. It also operates Kamps cafe bakery in Germany.
Meanwhile, Fauchon Hospitality, the new hotel division of Fauchon, has begun international development in the wake of the September 2018 opening of its first hotel in Paris' Place de la Madeleine — the historic site of the famous delicatessen house. It has already signed its first hotel project abroad, in Japan.
Fauchon has been in the Japanese market for 47 years and has 28 shops, two cafes and two bakeries in the country. Next year, it will open, a Fauchon L'Hotel, its five-star hotel brand, in the heart of Kyoto. The establishment will have 70 rooms and suites, a bakery, a Franco-Japanese tea area and a gourmet restaurant called Grand Cafe Fauchon. The Fauchon Kyoto Hotel will be operated under license by Japanese company Wealth Management.
"The goal is not to make a copy-and-paste of the Madeleine in Paris, but we will keep, of course, our French touch — our 'gourmet' connotation," says Fauchon president Samy Vischel.
The Kyoto project is to begin in June and aims to be completed in time for the Tokyo Olympic Games. In parallel, Fauchon is continuing the development of its point-of-sale shops and cafes, with openings planned by the end of this year in Zurich Airport, Monaco, Dubai, Jeddah, Saudi Arabia and Qatar.