What will the real impact of the Covid crisis be for Food Destinations? The food industry has to foresee deep changes and rethink its DNA amid this food industry crisis. On Tuesday 6 May. #TheHappetite team welcomed Jonathan Doughty, Global Head of Foodservice, Leisure and Placemaking at ECE Projektmanagement G.m.b.H. & Co. KG interviewed by Andrea Rasca, Founder of Mercato Metropolitano Movement for our third The Happetite 'Food for thought' virtual talk on the topic of the restaurant industry and the corona virus crisis.
Mercato Metropolitano initially opened in a light industrial location in south London at a site that was not formerly used for retail or leisure purposes. Having established a strong following, founder Andrea Rasca opened a second location in a former church in Mayfair, in London's West End.
Rasca hopes to open two more sites in London and said that the company is on the look out for locations in Europe, particularly in the continent's capitals. Since the webinar broadcast, the first of these was confirmed as ECE's Potsdamer Platz Arkaden in Berlin, which is being extended and completely revamped, with the Mercato Metropolitano as its food anchor.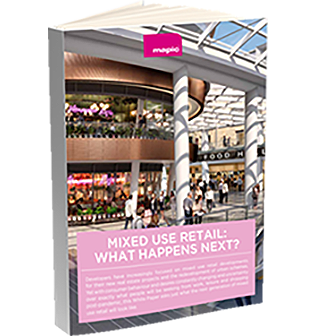 Mixed use retail and leisure: What happens next? – White Paper
Learn about the retail industry's latest data, developments, innovations and projections in our last white paper
Here are four key takeaways from our speakers on the restaurant industry corona crisis:

1. Back to basics in food destinations
For over 30 years we have experienced rapid growth in cheap food and the ready-meals business. The times are now changing and the impact of the crisis on food destinations and the future of food, with new generations increasingly asking for healthier, more nutritious and accessible food.
Jonathan Doughty: "The future is about back to basics, rediscovery."
Andrea Rasca: "For the last 70 years we have been persuaded that cheap food is something we needed. The major suppliers have been providing us with everything but food, which has proved very expensive for our health and the environment. Sometimes you need a chemistry degree to work out the ingredients. Much of the food is simply calories, not nutrition."
2. The future of the food industry: More than food places
Andrea Rasca: "Our goal was to create an independent island with no sponsors, no fixed leasing fees, no chemicals, no big corporations. We just don't let them in. It is possible to see the world through different glasses and create something different. Mercato Metropolitano is much more than a food place; it is a movement based on the community with a positive impact. In three years, MM has incubated 100+ authentic food entrepreneurs, generating four million visitors without investing in advertising and starting from a disused paper factory location. We had people ask, how do you make a place out of a derelict location?"
3. Collaborative experiences for food destinations
Andrea Rasca: "It's now time to work with new collaborative models. It's all about a triple win model: landlords, the marketplace, the vendors. They all need to be the winner."
Rasca said that his company seeks out potential operators and will support those who try hard to make their offers work but will move out operators who find they cannot comply with the opening hours and site policies: "Our scouters look for potential outlets. Then there is a vetting process regarding where they source. If they don't put in the effort, then they are moved out. If they struggle, then we help them.
"I have never been able to analyse. Instead I prefer to create places that I would like to host my friends. The future is what you make it, so be adaptable. As a market we normally have around 2,500 people per hour, so if we have to open with a capacity of 1,000 then if trading patterns and our operators can survive, then we are happy."
4. The food industry crisis: New business models
Jonathan Doughty: "There is going to be a period [as we come out of the crisis]when you can acquire great people and great places. This will challenge the traditionalists. I am quite positive about the future because we needed change. We are going back to focusing on a good product and possibly an era when clients pay more for a heightened experience. But things are different, it's only a vaccine that equates to normality."
Mercato Metropolitano has been distributing free lunches to local residents and Andrea Rasca also noted that this sense of community is key for businesses: "We are keeping the community with us. It's not only about making money. You have to do something."
Discover the Food sessions powered by The Happetite during the Mapic.