Few sectors have been as badly hit or fundamentally changed by COVID-19 as the food and beverage industry
Initially forced to close in-store dining during a raft of lockdowns across Europe, more recently F&B operators have been juggling the need to create a great user experience but remain COVID-safe. For many in the food & beverage industry this has meant embracing trends in the food and beverage industry that were already apparent – including click & collect, app-ordering, kerbside collection and delivery.
The pandemic has meant a huge acceleration of these changes and required a rapid response to ensure that new F&B business models make F&B industry operators fit for business as quickly as possible. Coupled with changes in consumer requirements, the F&B sector has also been experiencing the consequences of all the other lifestyle changes, with working from home largely emptying Europe's city centres and downtowns and the recent announcement of cinema closures a blow to the many F&B industry operators which base their business around a movie theatre.
As this food & beverage industry report notes, there have also been countless small, pragmatic changes made, from the obvious elements such as masks, sanitising gel, physical distancing, etc, through to a steep increase in the use of digital menus, in-app ordering and contactless payment.
"I don't think the model has changed by choice but was rather forced by simply following the same health and safety protocols we are following as individuals," says Mickael Coutin, partner at Paris-based advisor AK Consulting.
"In the physical space this has been by changing the restaurant layout and making the best use of their outside space, thanks to the city. F&B operators have also achieved this by reaching out to their customers rather than welcoming them into their physical space – increasing delivery, click & collect and takeaway options and connecting with their customer base via apps, newsletters, Instagram and other social media feeds. Basically, this is about keeping the habits they developed during lockdown."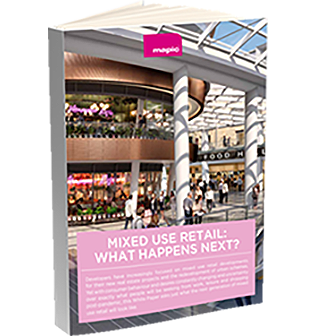 Mixed use retail and leisure: What happens next? – White Paper
Learn about the retail industry's latest data, developments, innovations and projections in our last white paper
F&B industry faces challenge to optimise
Having introduced or enhanced many of these elements, the challenge now for the F&B industry is to improve and optimise these systems and to shift their business model towards the growth channels of their income streams and the latest F&B trends. At the same time, they may face further changes, from flexing their offers for further local lockdowns and restrictions to ongoing considerations about where and what their real estate should look like and where it should be located for the food market.
Particularly hard hit has been the travel food and beverage industry, where F&B operators reliant on footfall across airports, train stations and public transport hubs have seen the collapse of traveller numbers.
In this food & beverage industry report we look at the first of the three steps to recovery.
Step one: Adapting to COVID-19
The first step for F&B industry operators in recovery from the pandemic has been to tackle the immediate impact of COVID-19 on the food market, adapting their outlets for safe in-store dining and improving digital ordering, pick-up and delivery services.
"In our case, we had been doing our homework well for a few years, and although the lockdown situation has been dramatic, issues such as self-ordering through QR codes, through app or via the web were already in full operation before the pandemic," says Jordi Quilez, business development director of Barcelona-based Udon.
"The [initial]lockdown helped us to promote and publicise new, more secure channels for customer orders, as well as keeping minimum contact. We have adapted the units to the regulations and we stipulated new procedures in the preparation and handling of our dishes. The result was that the client felt more secure without affecting their experience at Udon."
Eric Wauthier-Wurmser, international franchise director, Groupe Le Duff – which operates a quick-service style restaurant brand and a full table-service restaurant brand – adds: "The challenges are different for these two brands. As a first step we had to introduce the necessary hygiene protocols to secure our customer's journey. This included one-way journeys in our stores as well as pre-packed goods and to perfect staff behaviour to reassure our customers. These protocols are now a core part of our restaurants design books."
Johan Ståhl, head of franchising EMEA, Max Burgers, says that the company was fortunate that home base Sweden did not go into lockdown initially – although the Government is now considering lockdowns – and that Poland, its second market, initially only closed shopping centres for relatively brief periods. He sees several current market trends in the food and beverage industry for 2021.
"Of course our mall stores and downturn locations were hit by people working from home and changing their habits. Shopping patterns completely changed," he says. "Because we stayed open, we had to respond very quickly and within two or three weeks we had revisited our processes and had put a lot more emphasis on working with our delivery partners, improving our app to make it easier to use, and enabling kerbside pick-up for online ordering and kiosks for in-person ordering. Although out restaurants were open, this meant that people could order and collect without having to interact with staff and had minimal need to go in-store if they didn't want to."
Flexibility and adaptability key for the F&B industry
Barthélémy de Callatay, chief development, design & legal officer of restaurant chain Exki, believes the key right now for F&B operators is flexibility and adaptability to a food and beverage sector situation which is also rapidly changing.
"For us the challenge is to find the fair balance between ensuring that the health issues are in place and at the same time making the experience as pleasant as possible. It's something we review every week, especially for our two main markets in Paris and Brussels," he says.
He adds: "When COVID-19 first arrived and we thought it would be a matter of weeks, we allowed the stores to execute the changes. But as it became clear that this would last months or even years, we centralised our response and started to make equipment available, including high-grade sanitiser, to professionalise our approach. The municipalities in our main bases of Paris and Brussels were very helpful in doing things like allowing us to have more outdoor seating."
Of course, doubly hit are the travel-based F&B operators, which are reliant on traveller footfall for their business. Mélanie Guilldou, executive vice president foodservice global, Lagardère Travel – a world-leading operator with three main retail businesses, duty free, travel essentials and food service – says of the impact of COVID-19: "Our business model has completely changed since the beginning of the pandemic. First we are still partly closed – only 60-70% of our outlets and restaurants have reopened over the 39 countries where we operate – and our turnover has decreased by 60% versus last year. Our industry being also based on traffic and volume, our business model has hence to be reinvented. Not to be too technical but we have to renegotiate all our contracts, most of them having variable but also fixed rents that we cannot afford anymore."
She says of the initial response and food & beverage industry problems: "We also try not to open all our units but only the essentials one from a customer point of view, such as Relay, to manage our costs as much as we can."
New business models for food & beverage industry
"In June 2020, Areas started progressively reopening the point of sales to a new normal, implementing measures to ensure health and safety across the customer journey, including the highest standards of hygiene, social distancing measures and a contactless experience with the use of technology to minimise touchpoints and increase speed of service," says Areas concepts & standards director, Mathieu Herrero.
"Areas has adjusted the menu offering across different brands and concepts to the new traffic dynamics and consumer behaviour, with a stronger healthy orientation and convenience grab & go offers, a focus on smaller product ranges to improve productivity and a strong communication and marketing campaign to attract customers, increase average ticket size and retain clients with loyalty programmes."
Some F&B industry operators have found themselves in a slightly better position in the food and beverage sector because of their offer and have had to adapt less, despite the COVID-related trends in the food and beverage industry and across the global market.
"We've adapted our operations to meet the new capacities and safety standards established by the local authorities in the five cities where we currently have stores, but we don't feel it is a change in our business model," says José Antonio del Castillo Martínez, managing director of Spanish-based Manolo bakes. "For example, we have always offered our product in the main delivery apps, which has been an innovation for many businesses during the pandemic. From the beginning of the reopening, we were pleasantly surprised to learn that our customers – or 'manolovers' – and teams were extremely co-operative and understanding in implementing the new measures."
And Justine Chabrol, strategy and development director, Côté Sushi, adds: "Côté Sushi's business model is focused on take-away and delivery – that's why, even if our shops remained closed to the public during lockdown, we noticed a big increase in our sales during this period. After reopening, we had to adapt our shops to comply with new government directives."
Also, get the three steps to food and beverage industry recovery White Paper here, read on food and beverage trends in a covid 19 world, and read views on restaurant m&a activity in the post covid 19 market.