Despite, or perhaps because of, huge industry disruption, this food & beverage industry report highlights that food and beverage companies are having to come to the global market with new offers and different ways of doing things. Innovation will be at the heart of adapting the F&B sector.
"This economic crisis is a catalyst for the restaurant industry and the food market. All the changes that were to occur in the coming years have to be accelerated. Our brands have been on the marketplace for the last 40 years," says Groupe Le Duff's Eric Wauthier-Wurmser.
"The multiple disruptions in progress in our industry, be it on the delivery segment, on the app options to order, pay and collect have been integrated understandably by the digital-native restaurant brands that have appeared on the market. The health crisis for many reasons has favoured these disruptions, creating a match between digital options and safe and healthy experiences in restaurants," he adds. "Every contactless option has become a healthy one – QR code menus, payment apps, home delivery are changing the customer experience, even when eating at our full-service restaurants.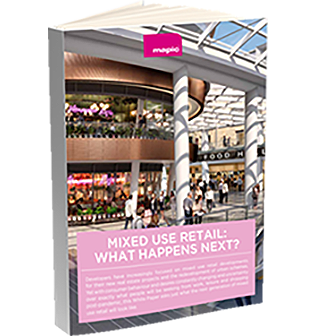 Mixed use retail and leisure: What happens next? – White Paper
Learn about the retail industry's latest data, developments, innovations and projections in our last white paper
Given these main customer experience shifts, the next competition will not anymore be to gain visibility on the retail side to capture traffic but to build a strong customer database and to create a loyal digital community, that is offered a different kind of experiences."
"Personally I don't see the revolution that everyone is expecting in the F&B industry following the pandemic. In my opinion the COVID crisis has only accelerated some changes which had become or will become inevitable in our future," says AK Consulting's Mickael Coutin. That being said, I don't imagine our industry will move to a 100% 'dematerialised experience'. I don't believe click & collect and delivery will become the norm and the physical location the exception.
"Yes, we will have impressive growth in the dark kitchen sector; and soon a fleet of drones will deliver our food! Yes, we will continue to improve access and volume to all digital material our favourite restaurant has to offer. AI and robotics will play a major role in the F&B industry, reducing drudgery and making our consuming experience even more seamless."
He believes that although the F&B sector may move toward a digital world, the F&B industry is "first and foremost about people and physical interaction. Just look at the collective of restaurants fighting to stay open in Marseille and the city behind them."
At Udon both "internal and external clients must feel safe, relaxed and ready to experience Udon", says Jordi Quilez. "All our efforts are based on this, our mantra is, 'people-product-planet' and in these times it must be given even more importance. Our proximity product, respectful of the planet, generates trust in people so that, with a safe environment like Udon's, they can enjoy the experience of our food. We continually reinvent ourselves within a changing world where new technologies help us to fully personalise our clients' tastes. We are able to make the experience so personal that we can suggest to the client what to ask for, before they do."
Mélanie Guilldou says that Lagardère has adapted its offer to reflect the latest F&B trends and will continue to innovate: "Regarding the health concerns we are currently launching our label Stay Safe, aiming at reassuring customers about all the health and safety processes we have put in place. This label will be available for the countries and outlets having put in place all the Group policies on these topics. It will come with a QR Code giving more information about what is done locally," she says. "Regarding our business strategies, we strongly believe in our industry and its rebound within the next months and years and we will prepare for this. In the meantime, we are also looking for new growth engines to support our resilience."
Similarly, Johan Ståhl says that at Max Burgers – although the company stopped activity in the first weeks of COVID – it has increased its marketing and promotion spend more recently as it is seeing the current time as a good opportunity to showcase the burger brand.
"Although COVID has not really changed anything for us, it has definitely accelerated consumer trends and behaviours and although I think that developments such as kerbside, Drive Thru and delivery would all have become more important, the change has come now," he says. "Our job is to build a business model for this future and to continue to improve our digital offer to make the most of these opportunities."
"Areas has launched a global campaign under the slogan 'We care about you', including a series of initiatives," says Mathieu Herrero. "Since we are living in difficult times and we need to care about customers' pockets, Areas offered best-seller products at great prices during the summer. In particular, Areas focused its efforts on reinforcing its business strategies to maximise conversion rates and average ticket value, promoting the menu offering with active selling at the point of sale, trying to sell more products, larger formats and more premium products, simplifying recipes and implementing new digital initiatives such as contactless payment, digital screens, QR menus and click and collect."
Barthélémy de Callatay says that at Exki the main concern has been, where possible, about getting footfall back to its outlets but he says that restaurants are not the only channel. "While we have offered e-commerce, delivery and click & collect, we have really focused on developing these. We quickly developed our app and now we're looking at improving it and making it easier to use," he says. "Exki started 20 years ago, when healthy food wasn't really a topic. But that had changed before COVID-19 and become much more mainstream. Perhaps the pandemic will boost that interest in healthy eating further, because people are thinking about their health and well-being.
"For us there is a lot of thinking to do about how we adapt. We are very passionate and what I would say is that perhaps ideas that were off the table before COVID are now within limits, because nothing is set in concrete about future directions."
"Since the beginning of Manolo bakes, we have always worked with an extremely agile approach that has proven successful these past months," says José Antonio del Castillo Martínez. "The whole team is adopting the new legal measures and recommendations straight away as they are being announced, while keeping our clients at the forefront of all our operations. Our main concern at the beginning of this was to keep the experience as unchanged as possible, so we implemented all the safety changes in a very friendly way: from the stickers to mark the social distance, to the rules or the masks, everything has been designed to keep the 'manolovers' comfortable and at ease while at the store. Having said this, our business strategy is and will be the same: to offer excellent coffee and delicious sweet and savoury snacks at affordable prices for people to 'taste, share & enjoy' [the brand tagline]."
Justine Chabrol adds: "Côté Sushi has built a strong brand identity based on a blend of Peruvian and Japanese cuisines and offers colourful and tasty recipes with a great visual impact. It is quite important when you make your choice based on a picture on an app. Creativity remains at the heart of our concept. We want our clients to discover new flavours and create a surprise effect." As for the F&B company's next challenge, she says it is environmental sustainability. "The COVID-19 crisis has reinforced customer expectations in terms of social and environmental responsibility," says Justine Chabrol. "This point is even more crucial if we increase deliveries. As a first step, we have decided to change our scooters to use electric ones, but we want to go further."
Also, get the three steps to food and beverage industry recovery White Paper here, read on food and beverage trends in a covid 19 world, and read views on restaurant m&a activity in the post covid 19 market.