Step two: Right-sizing F&B real estate
With changing consumer behaviour and shifting priorities, this food & beverage industry report notes that F&B industry operators are re-examining their store portfolios and redefining them to ensure they are fit for purpose in a COVID world, while supporting all their customer channels across the food and beverage sector.
"You have three different types of approach. First, brands who have stopped their expansion plans, withdrawn – or are trying – from signed agreements, and are in the process of disposing of some of their less profitable locations," says AK Consulting's Mickael Coutin of food and beverage trends in 2021. "Many of these brands were not in good shape before the COVID crisis, and were most likely heading for CVAs. Confinement and the long recovery road ahead have only exacerbated the issue.
"Second, brands who are staying put. No new investment, no development strategy, but no portfolio downsizing either. They are focusing on their current operations and waiting for better days," he adds. "Third, brands who see this crisis as an opportunity to grow; taking on new locations. The crisis is also giving additional leverage to all operators ready to expand, when it comes to landlord negotiations. These brands are either at the early stage of their expansion, with the back-up of capital risk-takers, or they are sufficiently established and cash rich enough to wait for the rebound while keeping an opportunistic approach when it comes to real estate."
In France, Mickael Coutin believes that for F&B brands willing to expand, the focus is on the largest cities in France outside the top five – but if in the top 10 cities then in number one locations only – plus mixed scheme projects and city centre locations with a large terrace, stand-alone units on city outskirts, retail parks and outdoor outlets.
"These provide freedom when it comes to hours of operation, implementation of delivery services and Drive Thru, plus lack enclosed scheme-inducing anxiety or high service charges," he says.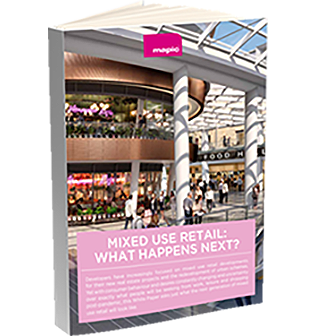 Mixed use retail and leisure: What happens next? – White Paper
Learn about the retail industry's latest data, developments, innovations and projections in our last white paper
The potential of Drive Thru for the food & beverage sector is picked up upon by Max Burgers' Johan Ståhl, who says: "In terms of our outlets, the biggest change has been an increased focus on Drive Thru locations, because these have proven very popular during the pandemic. We already intended to expand this format, but COVID-19 has accelerated that plan because we believe it will remain popular and also because we can buy the land, so we don't have leases and can acquire these sites for the long term."
Jordi Quiloz adds of Udon's approach to food and beverage industry expansion as an F&B operator: "We have always been a very conservative brand, minimising risks. Our development has been based on strengthening each location and studying the new areas and locations very well. Currently with more than 70 units in Spain, we are focused on international development, we continue with the very defined model adapting the format to each unit and evaluating the market of each country. Since the lockdown, we have improved our operations and the customer experience. This leap, especially technical, has allowed us to evaluate other formats and adjust our units to factors as important as delivery."
José Antonio del Castillo Martínez says of Manolo bakes: "We had a very ambitious expansion plan before the pandemic, which we have kept unchanged. We just had to pause during the worst months of the crisis, but even then we managed to open two new stores in Valencia and a third one was inaugurated in the Mediterranean city last October – that makes 21 altogether. For 2021, we plan to expand in three new cities in Spain and open 12 new stores all in all. We are delighted to report very healthy figures, which lead us to remain projecting our expansion as before the crisis."
And Côté Sushi's Justine Chabrol adds: "We planned to continue our French geographic expansion targeting medium-sized cities out of Paris. As deliveries still increase, downtown locations and retail area sizes are no longer the most important factors in our decision. We actually focus on downtown second zone locations with less expensive rentals and with a large production area."
Areas' Mathieu Herrero says: "In the current uncertain times, Areas, and the sector in general, face great challenges to continue developing the business.
It is an excellent opportunity to improve efficiency, develop new formats and accelerate the use of new technologies in our restaurants. Adaptation to new traveller needs with a new menu offering, digitisation and sustainability will be part of the main challenges that we will be facing in the medium and long term, while dealing with the progressive reopening of outlets.
We have adjusted the menu offering, but serving every pocket with basic products, local recipes, seasonal products, etc and reinforcing our grab & go offer to capture every occasion. Facing an unpredictable demand, we are also adjusting layouts and exploring new formats which may require less investment and provide more flexibility."
Different elements of the food and beverage industry will require different solutions, says Eric Wauthier-Wurmser, who says that at Groupe Le Duff bespoke global market approaches have been taken by F&B brand, emphasising that food and beverage trends for 2021 are not one-size-fits-all.
"Our QSR brand Brioche Dorée has emphasised the digital solutions to create more link with its customer base. The takeaway option was already available, and was a preferred solution after the ease of the original lockdown," he says. "Delivery and click & collect are also a growing part of the revenue. A streamlined products range allowed us as well to adapt the offer width to a variable flow of customers. Our full-service restaurant brand Ristorante Del Arte has introduced delivery and click & collect options in most of the units at the end of the lockdown period. Our core products of pizza and pasta were suitable for delivery, yet this was not our DNA. The experience has been improving and our brand is now shifting part of its traditional customers to this new solution."
For Brioche Dorée, Groupe Le Duff will drive a selective development plan in high-traffic locations, with a priority for small footprints. A full-service restaurant brand is now developing new retail formats with a fast casual orientation. A first unit will open this year and will "allow the brand to investigate new opportunities such as high traffic locations, including travel retail stores with much smaller footprints," he says. Nevertheless, 20 new openings under the current full service format took place in 2020, as these were planned.
Mélanie Guilldou says of travel retail that when Lagardère reopened it launched its Pick & Go initiative, aimed at limiting the time spent by customers in its shops and food outlets, gathering all the F&B products in the same place. "The goal was also to provide customers with a ready-to-eat solution that could also be an alternative to in-flight catering, not available at that time. It helped also to have a positive communication towards our teams, our customers and our landlords," she says.
"What we believe in is that we may have to optimise and strengthen this brand portfolio. We will maybe need to focus on our main preferred partner brands, for example for the coffee shop segment to focus on one main partner's brands instead of working with 10+ brands," says Méanie Guilldou. "We also believe that our own brands will be a good answer to the crisis, allowing more flexibility as offers that we can adapt easily to the situation instead of having too strict standards with partner brands, as well as more profitability through achieving faster break-even."
Also, get the three steps to food and beverage industry recovery White Paper here, read on food and beverage trends in a covid 19 world, and read views on restaurant m&a activity in the post covid 19 market.