That London Stansted, the third airport in a trio which includes London Heathrow to the west and London Gatwick to the south, is on the lookout for more F&B operators is no surprise when you consider its capacity expansion plans. London is already the busiest city for airport traffic globally and Stansted handled 26 million passengers last year, increasing to 29 million over the next 12 months.
The eventual aim is to get closer to 40 million annually and a £600m investment is proposed, creating a new terminal for arrivals, while the existing terminal will be converted to a departures-only terminal.
Richard Cross, head of retail at London Stansted owner Manchester Airport Group, said at MAPIC Food & Beverage in Milan, that the company works with around 70 F&B brands currently and is actively searching for new operators.
Coffee remains a key area, as does fast food for passengers short on time. However, we are looking to make some major changes at London Stansted, introducing a central street food/marketplace in the middle of the terminal. This is not just about the offer but about creating a sense of space and place. – Richard Cross
This, he stressed, is particularly important as Stansted evolves from primarily a low-cost airline hub to introduce far more long-haul flights.
An ambitious repositioning is also underway at railway stations, driven by Retail & Connexions, part of French rail operator SNCF. The parent company has around 3,000 train stations, carrying two billion passengers per year. The busiest, Gare du Nord, services 200 million passengers per anum.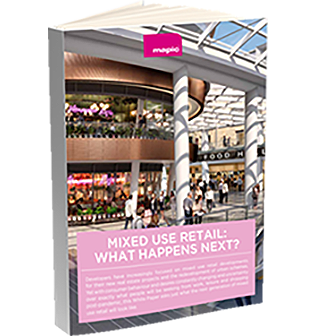 Mixed use retail and leisure: What happens next? – White Paper
Learn about the retail industry's latest data, developments, innovations and projections in our last white paper
Retail & Connexions asset manager William Luis said that F&B is a key activity, with the core themes the modernisation of facilities, development of local gastronomy and reinvention of the traditional buffet.
We are bringing in more diverse offers. For example, Five Guys is to open in Gare du Nord, as we try to develop more points of sale, including a completely new travel concept with French grocery retailer Monoprix. – William Luis
But the approach also includes a high degree of localisation, with more artisan and food makers encouraged to open F&B outlets within train stations in each city.
The final component is the reinvention of the historic buffet. The first was Lazare in 2013. It has become the destination for a lot of business meetings and following that we opened L'Etoile at Gare du Nord.- William Luis
The concept of localisation and creating a clear sense of place was echoed by Rossetto, Luco, CEO Italy for Lagardere Travel Retail. The company develops tailor-made solutions for transport hubs and to be successful requires a long term perspective, he said, citing the "100% local approach" in Iceland Keflavik Airport, where seven bespoke restaurants – all dedicated to Icelandic food – have opened.
Lagardere has also helped forge partnerships with well-known chefs such as Thierry Marx at Charles de Gaulle, Gare du Nord and Nice Airport.
"Understanding how to adapt the offer and create a mixture that is right for the location is crucial
He used Rome Airport Extra-Schenegen as an example. With predominantly Chinese travellers passing through, the F&B offer comprises Ajisen Ramen (a popular Asian brand); Mediterranean (providing a food offer typical to southern Europe); and beercode (a Nordic beer and steak concept).
By contrast, the Intercontinental Food Court, Dubai has been conceived as a universal food court dedicated to international F&B, reflecting its hub status, and in Austin, Texas, the airport F&B offer features Second Bar & Kitchen and Long Beach, both local champions and reflective of the area.
Nick Schapira, international strategy and development director for the Jamie Oliver Group, also stressed that the travel market represented a major opportunity for the UK celebrity chef-led operator. Oliver's domestic chains have recently faced contraction amid concerns about casual dining over-expansion across the UK market, but his debut London Gatwick restaurant is intended as the first of more outlets in travel locations.
In an increasingly competitive market, the group's major focus is also about healthier choices. We ensure that at least 30% of the menu contains healthier choices and that's what we're trying to create. The aim with the first airport outlet was to bring those healthier choices to a location where it's not always easy for travellers to eat healthily. So its especially important in travel. – Nick Schapira
Part of his role is to find restaurant partners around the world and the group has worked with SSP in Europe, opening 11 units in the past 18 months. "Consumers are looking for trusted brands, for example a good deli brand, and we try to incorporate a local dish onto the menu as well," he said.
Schapira said that the group is looking at the Middle East, Asia and "eventually" the US for wider expansion of a healthier eating F&B offer.
Top image : © Retail & Connexions