Few shopping malls are developed or asset managed without extensive mixing of uses in the modern age and those mixed use retail developments are becoming ever-more diverse. While the COVID-19 pandemic has disrupted project construction and closed most shopping malls completely for anywhere between weeks and months during lockdown, the retail industry has been reopening and rescheduling as restrictions eased.
In the second in this two-part project report on the retail industry, MAPIC highlights a few of the global development projects and refurbishments where leisure and F&B are playing major roles in the retail mix and how major schemes are planning to reinvent themselves for new consumer needs and preferences.

REGENERATION: MILAN IN TRANSFORMATION
Lendlease has established a long-term strategic partnership with Canadian pension investment manager PSP Investments for the €2.5bn development of a major urban regeneration project, Milano Santa Giulia, in Milan. This covers more than 110 ha in the southeast of Milan and is split into two distinct areas to the north and south of a new mixed-use development, with the potential for 2,500 homes alongside an office, retail and )entertainment district.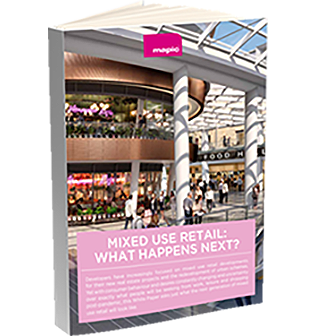 Mixed use retail and leisure: What happens next? – White Paper
Learn about the retail industry's latest data, developments, innovations and projections in our last white paper
The scheme will provide facilities for over 1,500 students, new schools and a museum. Milan's largest multi-function 16,000-capacity indoor arena will be built to the north of the site and used as a venue during the Milano Cortina 2026 Winter Olympics.
Meanwhile, Ceetrus Italy is to invest at least €2.5bn in a five-year plan, including Merlata Mall, a complex consisting of two buildings that extends over an area of ​​65,000 sq m in the heart of the first 'urban smart district' of Milan adjacent to the AreaExpo.
Merlata Mall will host new forms of entertainment based on virtual reality, sports activities and digital art as well as catering, located along a covered boulevard illuminated by natural light. The inauguration is scheduled for 2022. The second project is Milanord2 in Cinisello Balsamo. At 240,000 sq m, it will combine a futuristic mall, served by a subway hub, plus an office district, scheduled to open in 2023-24.
DEVELOPMENT: DUTCH OUTLET DEBUTS
The joint project between Neinver and Nuveen Real Estate became the first outlet centre in the Netherlands. Less than ten minutes away from Amsterdam Schipol Airport, Amsterdam The Style Outlets will occupy 19,000 sq m of commercial offerings with 1000 sq m allocated to leisure areas and restaurants. Set to open with an occupancy of 75%, the location already houses 110 international brands such as Adidas, Björn Borg, Guess, Nike, O'Neill, Puma, Salomon and The Kooples, with more brands set to be open in the coming months.
Amsterdam The Style Outlets opened to customers on 26 November to become the 15th asset of the two companies, although non-essential stores are currently closed in The Netherlands.
Daniel Losantos, CEO of Neinver, said of the opening: "The opening of Amsterdam The Style Outlets contributes to Neinver's international expansion in a very attractive market and represents an important milestone in our growth strategy, since it becomes the seventeenth outlet centre in our European portfolio and the first in the Countries Low."
Charlotte Ashworth, fund manager for Nuveen Real Estate, said: "This new outlet centre in Amsterdam is a great project that represents another step in our alliance. At Nuveen we continue to bet on the outlet sector due to the unique experience it offers its visitors and because its provides relative resistance to e-commerce trends."
CHANGING USES: NORWEGIAN COMMERCIAL TO HEALTHCARE AND COMMUNITY
Last summer, Finnish mixed use retail developer Citycon signed agreements with Bergen municipality for a new health centre, and with Veidekke for construction of the next development phase of Oasen Center in Bergen, Norway as over 6,000 sq m of office space is to be converted into premises for a new health centre, F&B and convenience shopping.
"Citycon's assets are located in the heart of the community, in some of the city's most dynamic and popular areas. As developers, we can provide high-quality public spaces and meet the growing demand for housing and office space in attractive urban areas."
Our vision is to create inclusive new neighbourhoods with great amenities, better public areas and job opportunities, places that meet the needs of residents and businesses today, says Fredrik Myhre, development director at Citycon.
The local authority is also establishing a new stop on the Bergen light rail line and a new, extended bus terminal at Oasen Center. Citycon will develop Oasen into a more modern and connected centre with retail, health services, offices and residential. Veidekke will convert existing office space into public-oriented services in the first phase of the development project, which also includes more food & beverage units and a new main entrance from the west.
Planned for completion this year, and with non-essential stores currently closed, Bergen municipality will become the largest tenant in the redeveloped area at Oasen.
"Developing good premises, with different functions for different users is always exciting. We will do what we can to turn Oasen into a great place to be for both those who work and shop there, and for those who seek out the various other services available at the centre," says Erlend Bygnes, district manager at Veidekke Bygg Bergen.
Read about Ingka Centres and how it focuses on urban retail properties with London, read also an interview with Ian Sandford, President of Eurofund on how to embrace change to reinvent retail lifestyle centres, and learn how shopping destinations need to rethink, refresh and renew.