"The difference between the mixed-use, lifestyle destinations of tomorrow and the mixed-use schemes of the past is the public realm and open spaces," says Ian Sandford, president of Madrid-based investor and developer Eurofund. "People are demanding new outdoor space. The Northern European café society, with blankets and heaters in the colder months, had never really caught on in Spain. But COVID-19 has changed the culture and in Madrid this Autumn people met and socialised outdoors at restaurants and bars even as the days got colder."
This behavioural shift is just one way Sandford believes that retail lifestyle centres need to change as shopping malls and commercial developments adapt to create new customer experiences. Another area is co-working, while he also feels that medical services will play an important future role within shopping malls.
"I am convinced that co-working will become a huge part of what we used to call shopping centres," he says. "Work is changing radically and going forwards people will work from a hub – their central office – from their homes, and also from co-working locations near their homes, because most people crave social interaction."
And shopping centres are in an ideal position to become retail lifestyle centres because they tend to be well located and easily accessible for suburban dwellers, provide a wide range of amenities and have plentiful parking. "They also have lots of spare space," Sandford reflects of the decline in retail stores and anchor department stores. "But for workers they offer socialisation, F&B, shops, Pilates classes, doctor's surgeries, and so on. They will become urban campuses."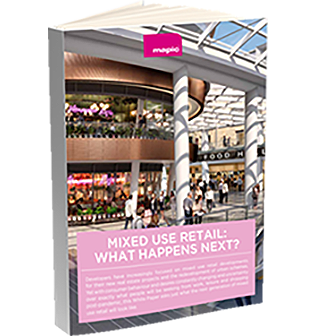 Mixed use retail and leisure: What happens next? – White Paper
Learn about the retail industry's latest data, developments, innovations and projections in our last white paper
Eurofund has already opened small co-working spaces at a number of its shopping malls and is actively looking to develop a circa 600 sq m co-working space at its Dolce Vita Tejo, Lisbon retail lifestyle centre. Sandford says that it is currently determining whether to develop and run the space itself or work with a "cool co-working partner" in a joint venture.
He believes that COVID-19 has given people and businesses the chance to "rethink things" and that initiatives such as co-working at a flagship Starbucks in Tokyo are an indicator of established F&B players positioning their offer to create a new customer experience and capture this new market.
Dolce Vita Tejo is also the location for a new 15,000 sq m medical centre, connected to the mall, which is predominantly, but not exclusively, focused on day procedures. The inter-connected buildings mean visitors accompanying patients have the shopping mall to spend time within while they are waiting, whether that is eating, shopping or relaxing.
"Health will be a massive part of the future of lifestyle destinations," says Sandford.
Despite the many challenges facing shopping centres, retail and F&B, Sandford believes that a new generation of investors and operators are waiting on the wings. He cites the potential for significant capital deployment for retail lifestyle centres but feels that volatility in the retail and leisure markets has led investors to view shopping centres as alternative assets.
"I think we'll see more major investors team up with specialist asset managers to reshape shopping centres," he says. "This could be a big moment for the industry."
Ian Sandford joined Francois Blouin of Food Service Vision; Jonathan Doughty of ECE, Jochen Pinsker of The NPD Group; and Niesten Reoewein of Conceptional to discuss "Food: building lifeplaces of tomorrow" at 14.30 on 17 November.
Read more on how shopping centers rethink refresh and renew, how shopping is dead long live hosping, and about shopping behaviour during and after lockdown.