The MAPIC Awards will be presented at a gala ceremony on Thursday 14 November in Cannes, but there is a long way to go before the winners are announced. Entries are still arriving for consideration, before the judges get hard to work with the process of evaluating the entries in Paris. From there, the shortlist will be announced ahead of the main event in Cannes. On 13 and 14 November, MAPIC registered delegates will get the opportunity to vote for their favourite projects. 30% of the final decision will be based on their votes.
A hugely experienced awards jury – headed for the first time by Mayte Legeay, Senior Asset Management Europe, Head of the Outlet Platform, Resolution Property – and drawn from all areas of the retail world and all corners of the globe, will make the final decision for 2019.
And importantly, this year's Awards classifications reflect the changing face of retail – with categories for pop-ups, F&B, leisure, city regeneration and future developments among the Awards up for grabs.
New to the position of jury president – although not new to the Awards panel – Legeay says that MAPIC Awards judges have an important role in showcasing and promoting those companies in the real estate industry that are embracing the retail changes with innovative and performance-focused solutions.
"The retail sector is in constant evolution and the industry is facing challenges in order to embrace customers' new behaviours," says Legeay. "The MAPIC Awards aims to pay tribute to influential and inspiring companies emerging as leading retail trend-makers. It is indeed international recognition of innovative thinking and outstanding achievements within the retail industry and a prestigious distinction for those who are building the future of retail and lifestyle destinations."
The Awards also reflect the need to create outstanding/differentiated destinations and retail offers in challenging times.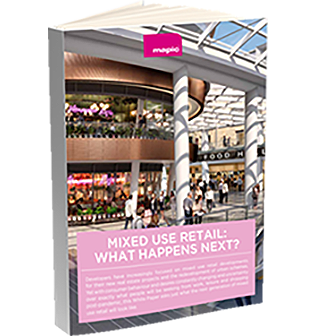 Mixed use retail and leisure: What happens next? – White Paper
Learn about the retail industry's latest data, developments, innovations and projections in our last white paper
"Retail is definitely alive and kicking but it is experiencing great challenges nowadays. Retail is evolving fast and the industry needs to adapt," says Legeay. "The rise of online shopping is undoubtedly a decisive factor in the structural changes taking place as this is providing retailers with strong flexibility and the opportunity to adjust their bricks-and-mortar store development, allowing them to focus on the most strategic and profitable sites."
She believes that although many retailers are slowing down their store development programmes, there has been an increase in multiple concepts like pop-up stores, temporary shop-in-shops, e-shops, outlets, etc as retailers adopt omni-channel as a full distribution strategy.
"In despite of a decline in retail projects over the past year in Europe, there is now a strong focus on regeneration and optimisation of existing retail assets and destinations. There is a need to create something different, lifestyle hub destinations versus the classic shopping centre proposition of exclusively retail in order to attract customers again," says Legeay. "Indeed, we have recently seen a strong increase in interest for hubs including a larger mix of retail, food & beverage, entertainment and well-being."
The full list of categories for this year are: Best retail global expansion, Best retail concept, Best F&B concept, Best store design, Best leisure concept, Best pop-up shop, Best shopping centre, Best outlet centre, Best retail city centre regeneration, Best retail innovation and Best futura shopping centre.
The ceremony will be attended by over 300 of the most influential retail real estate professionals.
Submit your projects by 31 July! More information
For ticket information please contact MAPIC Awards Coordinator Laurene Dureault at mapic.awards@reedmidem.com
The Jury
President of the Jury
Mayte LEGEAY
Senior Asset Management Europe, Head of the Outlet Platform
Resolution Property
UK
Alain BOUTIGNY
Editor in Chief
Sites Commerciaux
FRANCE
Edoardo FAVRO
CEO
RES Srl – Real Estate Strategist
ITALY
Steffen FREIDLEIN
Managing Director Leasing
ECE Projektmanagement
GERMANY
Ana GUEDES DE OLIVEIRA
Executive Director, Developments
Sonae Sierra
PORTUGAL
Isabelle HERVOUET
Group Director of Digital
Unibail-Rodmaco-Westfield
FRANCE
Barry HUGHES
Design Director
BENOY
UK
Anders LILJENSTOLPE
Managing Director
Russia & CIS
JLL
RUSSIA
Charles READ
Managing Director
Blooloop
UK
Serfan Sjostrand
Global Commercial & Digital Manager
Ingka Centres
SWEDEN
Fabien STUTZ
Senior Director Real Estate & Store Construction EMEA
Nike
THE NETHERLANDS
Wilson TAN
Chief Retail Innovation Officer
CapitaLand Group
SINGAPORE
Justin TAYLOR
Founder
P-THREE
UK