With Brexit creating disquiet across Europe, Germany looks a centre of stability and commitment to the long-term Euro project — a place that retailers can look to as a safe haven in potential-ly troubled times. Yet the continent's leading economy is not immune to retail uncertain-ty and, for those in the business of acquiring, letting or developing retail space, the picture is mixed, depending on where you happen to be in this large country. It is worth noting, however, that as things stand Germany appears to be in a good place.
Frankfurt-based Boris Planer, chief economist at retail research house Planet Retail, says:
"Germany is currently in a strong phase economically, with unemployment at the lowest rate since reunification in the early 1990s, consumer confidence high and consumers gradually buying into the idea of up-grading their shopping trip."
He adds that low interest rates are discouraging saving — traditionally a mainstay of German thinking — and, instead, shoppers are investing in big ticket items, such as cars, furniture and household electronics. Even in the face of such economic positives, however, there is a problem. As in many other European markets, there is an excess of retail space and there is something of a flight to quality. Frank Emmerich, head of retail Germany at CBRE, notes that, while there may be excess retail space, it is not evenly distributed. "On the plus side, there is definitely a clear focus on the top 10 cities," he says. "But if you go beyond this, we see a clear slowdown in demand for prime retail sites, whether luxury or mass market."
The effect of this is marked. Emmerich says that there is, in fact, a "pretty stable" rental situation as far as the top cities are concerned, but move away from key locations and rents are falling. It is a situation that has had a clear effect on market entrants from overseas. Emmerich observes that, in 2016 "we saw 55 new brands arriving in Germany and 90% of them were focused on the top cities". Effectively, this means that Germany, like many other major European economies, is seeing the rapid development of a two-speed retail sector, in which high streets with empty units are as commonplace in secondary locations, while full tenant rosters are the norm for prime.
This does not, however, mean a moribund retail arena. As Emmerich says: "Germans are sitting on money." There is also the phenomenon of shopper loyalty — one of the reasons for the strength of H&M in Germany, which Emmerich says is targeting another 200-300 stores on top of the 450 extant branches across the country.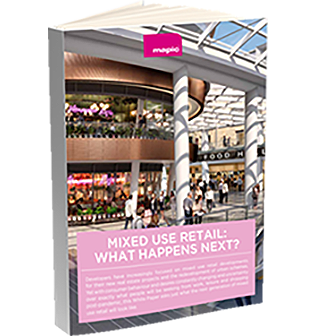 Mixed use retail and leisure: What happens next? – White Paper
Learn about the retail industry's latest data, developments, innovations and projections in our last white paper
Carlotta Matteja, senior international key account manager, retail agency, at Savills in Frankfurt, says that many of the new retail arrivals and expansions in Germany over the past 12 months fall into the 'affordable luxury' category, with names such as Sandro and Maje being prominent. She points out, however, that home-grown outfits are "not expanding strongly and there have been a number of bankruptcies, with New Yorker and Esprit both currently struggling with properties on the market".
So what does all of this mean? Matteja says that in some cities — she cites Dusseldorf and Hamburg — rents are set to decrease slightly as there are "just too many developments".
That said, the outlook in the biggest markets, notably Berlin, Frankfurt, Munich and Stuttgart, is positive.
The only real question looks to be the future of department stores. Planet Retail's Planer says that this form of retail probably does not have a future in Germany — "at least not in its current form". He adds: "I could see a chance for them were they are curating very exciting brands that are available at their stores only, embedded in an inspiring shopping experience. But the investment isn't there, and the creativity and commitment probably aren't there either."
There is also the matter of price. Department stores are feeling the pinch as fashion retailer Primark continues to make inroads — a phenomenon that is also taking its toll on the fashion sector as a whole. Indeed, Primark opened its first store at the end of September in the region at the new ECE shopping gallery Loom in Bielefeld, a major German city in North Rhine-Westfalia. More than 50 retail concepts new to the city have been introduced, including the 5,000 sq m Primark located over three floors. Further new brands include Adidas Originals, KULT, JD Sports, Thomas Sabo, Pandora, Stadt-Parfumerie Pieper (perfumery), Leder Berensen (leatherware) and MAC. The anchor tenants include a 1,000 sq m Intersport Voswinkel and Schuhpark Facies (shoe store), a 2,000 sq m Toys "R" Us, a Rewe supermarket and a market hall.
Many retailers that had already leased space in the old City Passage have returned to new Loom. These include Deichmann, Bijou Brigitte and Nordsee. "We are very pleased that we could convince so many retailers to join us at Loom. This achievement shows the quality of our shopping centre, but also the appeal of Bielefeld as a city," says ECE senior leasing manager Sven Schwotzer.
For the next 12 months, it seems probable that little will change and that increasing market polarisation will follow a pattern already fairly well developed in markets such as the UK. Even allowing for this, Germany remains a retail behemoth and one in which all the major groups will continue to want to be a part. Much of Germany's old retail order is under attack from the keen pricing and rapacious nature of some of the newer operators in the country. This is a strong economy but, for some retailers, it also is a time of flux.
This and more in the MAPIC 2017 Preview magazine, which you can read in full here!