Asian markets defining their own identity!
Esterina Nervino, Moderator and Director, Retail in Asia, BLUEBELL
"Asia's markets have been rapidly growing and increasingly defining their own local identities, pushing brands to localise their offer and communications. At the same time, different countries have seen the proliferation of local brands gaining local consumers and building a basis for global expansion, such as K-beauty [Korean beauty]."
"Of course the current situation in Hong Kong has been spreading uncertainty about its future as the region's retail hub because of the high number of Chinese tourists choosing it as a shopping destination. This has shifted retailers' attention to local consumers and other opportunities such as the Greater Bay Area and the ASEAN markets. Furthermore, Chinese travellers are exploring alternative destinations, such as South East Asia, South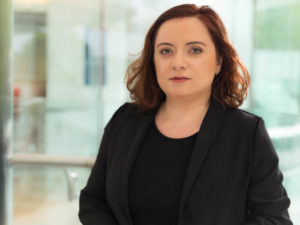 Korea and Japan.
In places like Hong Kong, malls are an intrinsic part of the city planning, enabling people to move from one place to another and, directly connected to the MTR, represent the places where people spend most of their time.
In Hong Kong, for example, the size of housing does not allow for large gatherings and with air conditioning indispensable for most of the year, this makes malls the first destination to spend spare time. Therefore, landlords are redefining their portfolio of tenants, prioritising F&B and leisure. Among the latest tech solutions, there are digital installations in-store like the magic mirror – very popular among cosmetics brands – that enables customers to try on different products, but more importantly to save a wish list, send it to their private account, complete the transaction online and get the products delivered to home. Those solutions, besides becoming an attraction within the store, also incorporate AI to provide recommendations, collect data and help build the customer database, enriching the CRM platform with additional behavioural information. Mobile payments are also key to customer experience, and worldwide, solutions have been implemented to meet the needs of Chinese travellers increasingly used to a cashless daily life."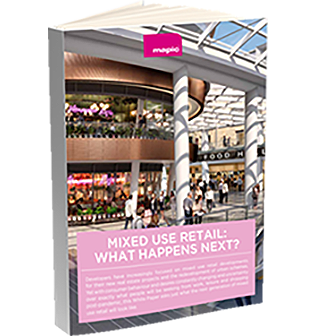 Mixed use retail and leisure: What happens next? – White Paper
Learn about the retail industry's latest data, developments, innovations and projections in our last white paper
Mall meets store meets culture in Bangkok!
Much of Bangkok's landmark Iconsiam complex defies definition and Chadatip Chutrakul, CEO Iconsiam, SIAM PIWAT, is joining the panel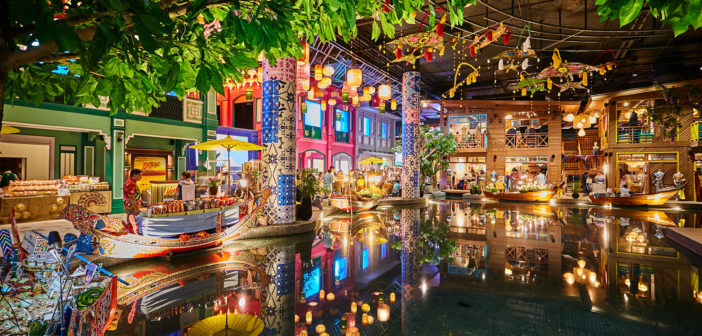 Iconsiam is a $1.6bn development on Thai capital Bangkok's Chao Phraya River, a larger-than-life 750,000 sq m mega-destination, developed by Siam Piwat, Magnolia Quality Development Corporation and Charoen Pokphand Group.
Positioned to face the river, with a veranda inspired by the 12 indented corners design often found in Thai constructions, and shaped to resemble a Thai decorated basket, it includes retail, residential, offices and dining. But its retail areas are difficult to define, blending the mall with an eclectic mix of international names and local Thai artefacts. The front of the shopping zone is the world's longest pleated-glass façade, using special glass panes without metal frames throughout its 323m length.
The plan of each of six floors draws inspiration from the shape of a budding lotus, featuring on the ground floor three major areas: Sook Siam, showcasing local products; luxury retail area Iconluxe; and Veranda, a multi-outlet dining experience.
All the architectural features of Sook Siam have been designed to make visitors feel as if they are in a large city, complete with streets, canals and modern structures. "Icons within Icon" is the design concept for the middle floors, featuring a set of four triplex retail towers, each of which comes with its own 360-degree façade. These unconventional structures afford the stores occupying them a unique opportunity to present their brand in a 360-degree environment. The hall also features 10 gigantic hand-cast fiberglass structures in the shape of lily pads floating at different heights. The fourth and fifth floors make up the Iconcraft section, focused on creative design products and handicrafts across over 2,000 sq m, which has attracted leading designers and artists from various disciplines.
Urban living and 5G will reshape retail!
Wilson Tan, Chief Retail Innovation Officer, CapitaLand Group
"It is poignant that nine out of the 10 most populated cities in the world are in Asia. This region dominates in population and many consumers have increased buying power as their wealth grows. Millennials represent more than 45% of the Asia's population. By 2020, it is estimated that 60% of the world's millennials are expected to live in Asia. By 2030, approximately 66% of the world's population will be middle class, and more than half of the global middle class, or 3.3 billion people, will be in Asia-Pacific countries. Consumer expenditure has increased dramatically and will continue to grow in APAC markets with total expected growth in China of 438% and 342% in India between 2006-2030.
Asian malls are community and experiential focused, offering diverse F&B options, to ensure that a variety of cuisines are available to attract customers. In addition, experience-based services such as cinemas, fitness centres, spas and other educational and entertainment-based services are in the malls to extend dwell time and spending. Both these categories can constitute close to 40% of leasable area in the malls.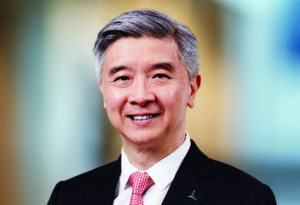 The quest for convenience and co-sharing of spaces has led to the development of interesting building concepts in Asia. Malls are often seamlessly integrated into transportation hubs and are placed within mixed development projects. Some of these projects could have offices, hotels and/or residential apartments that are integrated with a retail mall.
Some Asian countries, particularly those more developed, are seeking to tap into the 5G arena, and we expect to see relatively rapid adoption of 5G applications across developed Asia. Asian mobile operators will invest more than US$570bn between 2018 and 2025 to turn this into a reality and competitive edge.
The use of QR quotes, facial recognition, mobile payments, AI and unmanned kiosks and shops are redefining how shoppers are interacting with retailers in the malls.
In addition, the use of big data and analytics are helping retailers to better understand the different tribes and communities within their customer base. These digital technology adoptions have allowed for more frequent interactions and transactions between shoppers and retailers both online and offline.
Celebrating a decade of Indian retail!
This is a special year for DLF Shopping malls as it completes its first decade in India. Pushpa Bector, Executive Director, is on the panel
Starting with DLF Place Saket in 2008 to DLF Promenade, Horizon Plaza, DLF CyberHub and DLF Mall of India, DLF Shopping Malls has grown from 0.4 million sq ft to 4 million sq ft of retail space and from 40 stores to 740 stores. It has evolved with time and integrated digital technology into its operational backbone.
Commenting on the decade landmark, Pushpa Bector, EVP and Head of DLF Shopping Malls, said: "It's been an incredible decade and we at DLF Shopping Malls continue to make a positive impact in the retail landscape. We will continue to build upon this milestone and enhance our already strong retail lineup through the coming years ahead. With 740 brands, 36 anchor stores, DLF Shopping Malls, we continue to differentiate the centre in a compelling way and the merchandise featured in our diverse retail portfolio speaks to the uniqueness of what bring to our esteemed customers. Over the past decade, the DLF Shopping Malls have truly transformed to offer a sought after mix of contemporary fashion, top notch F&B outlets and designs.
From introducing innovative concepts, hosting celebrities, to launching brand new or exclusive outlets; DLF Shopping Malls have made every visit to the mall a joyous occasion for all.
They are a wonderful communication platform for reaching out to different target markets with culturally, socially relevant propositions."
Discover more insights from Asia expert on our ASIA FORUM panel session  at MAPIC on Wendnesday 13th November – 16h30/18 – Verrière Grand Auditorium, Palais Level -1!