After the shuttering of over 5,000 stores in the US in 2017, nearly 5,000 more store closures have been announced so far this year. Just last month, iconic retailer Sears Holdings filed for Chapter 11 protection, saying it will close 142 stores by the end of the year, with another 40 to close in February 2019.
These well-established US operators have closed for a variety of reasons, including competition from e-commerce and failure to adopt sufficient omni-channel strategies, failure of perceived value to the customer, poor merchandising, oversized footprints and overexpansion. But there is no single explanation for their difficulties.
The closure of department stores with store footprints of between 100,000 to 300,000 square feet is resulting more in redevelopment and repositioning opportunities than in traditional re-tenanting, however.
This "breaking up the box" trend is capitalizing on the industry's evolution from "retail" real estate to "consumer" real estate — where food and beverage, health and fitness, recreation and entertainment (including movie theatres and bowling alleys) are more critical than ever to a project's success.  Even grocery is getting in on the action, with high-end grocers such as Wegmans, Whole Foods and The Fresh Market having taken over spaces previously occupied by JCPenney and Sears.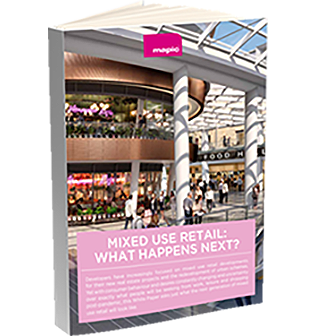 Mixed use retail and leisure: What happens next? – White Paper
Learn about the retail industry's latest data, developments, innovations and projections in our last white paper
Perhaps nothing better exemplifies the future of omni-channel retailing more than last year's acquisition by Amazon (the world's largest online retailer) of Whole Foods (the country's largest upscale / natural foods grocery chain).  The deal enabled Amazon to utilize Whole Foods' well-located real estate and superior demographics as "last-mile" delivery points, expand to traditional off-line consumers the value of an Amazon Prime subscription, diversify product mix within Whole Foods stores, and leverage Whole Foods' product quality.
Although much remains to be seen, if nothing else, this enormous investment in traditional bricks and mortar from the world's largest e-retailer should offer the retail real estate industry one of its most comforting endorsements of the past several years.
Despite many challenges, retail real estate in the US is strong and the US consumer will never tire of spending money for good merchandise at good value in good locations offering a good experience. There is great opportunity for global brands (whether haute couture, fast fashion or otherwise) to come in to the US market and quickly take aggressive positions in multiple locations either regionally or throughout the country.  Striking deals with mall owners with national footprints such as Simon, GGP, Macerich and Unibail/Westfield, or with prominent open-air center owners like SITE Centers (formerly DDR), Kimco or Brixmor, can be a global retailer's portal to hundreds of prime locations.  And the consumer is always looking for new brands.
That said, global operators need to continue to be keenly focused on understanding the US consumer, embracing US management and being flexible.  And the global retailer still needs to make the big upfront decision as to whether to roll out company-owned stores (and commit its own capital to the expansion) or to partner with a US-based operator or master franchisee. For those savvy brands and retailers who get this right, there will be opportunities for growth and success.