While the global Coronavirus pandemic has heavily impacted the tourism that the otherwise flourishing designer outlet sector is a major benefactor of, expansion and extension continues across Europe. In the short-term most of the major operators are turning their focus to local customers, in the anticipation that international movement will resume in the medium- to long-term.
Fashion House Group will open a second outlet centre in Bucharest in 2021. Situated to the east of the Romanian capital, near Cernica, the new mall is already well under construction and has been designed in an 'Old Bucharest' architectural style and will include 62 units across 12,600 sq m. Fashion House – part of developer Liebrecht & wooD – has now delivered six outlets in Central and Eastern Europe, the most recent in St Petersburg, Russia.
In addition, Tbilisi Outlet Village in Georgian capital Tbilisi, is set to open in 2021. It aims to be the number one premium outlet in Eastern Europe and is set to attract seven million visitors in its first three years. Once completed, it will have 111 units, totalling 20,000 sq m, and is being developed by Georgian Outlets & Resort Group, led by Guram Tsanava and Sandro Kordzakhia, and TORG is leading the development and leasing.
Neinver's Amsterdam The Style Outlets will feature 115 stores set across 19,000 sq m GLA, including 1,000 sq m planned for leisure areas, restaurants with outdoor seating and walkways and gardens. The centre, which will become the first outlet centre in the Greater Amsterdam area, is being developed in the Randstad region, one of the wealthiest and most densely populated regions of Europe, benefiting
from a catchment area of 12 million people within 90 minutes' drive. Moreover, the centre will be located 10 minutes away from Amsterdam Schiphol Airport and with easy access to the Dutch capital and Haarlem, including a railway station a four-minute walk away. The village design of the centre is inspired by traditional Dutch architecture, with an important role for vegetation and natural light. The centre has obtained BREEAM New Construction certification in the design phase and the centre is expected to open at the end of 2020.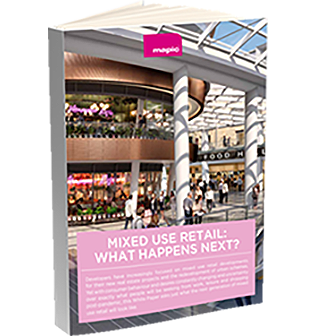 Mixed use retail and leisure: What happens next? – White Paper
Learn about the retail industry's latest data, developments, innovations and projections in our last white paper
Meanwhile, McArthurGlen's expansion programme will continue with two new developments currently under construction: Paris-Giverny Designer Outlet, France and West Midlands Designer Outlet, UK. Also in the UK, McArthurGlen Designer Outlet Ashford officially launched its circa 10,000 sq m expansion in November last year, marking the completion of the centre's first extension since it opened in 2000. The £90m expansion introduced over 40 new stores, a new food piazza, an events space, a digitally-enhanced children's playground and 725 additional parking spaces.
In February, McArthurGlen Designer Outlet Malaga opened in the south of Spain in partnership with Sonae Sierra. The new shopping destination hosts a mix of European and US brands including Polo Ralph Lauren, Adidas, Karl Lagerfeld, Brooks Brothers, Escada, Tumi, Pal Zileri, Scalpers and Zwilling. The centre is located next to Plaza Mayor, the city's most-visited shopping centre, and has been designed to reflect local Andalusian architecture.
Pre-pandemic VIA Outlets, a joint venture between APG and Hammerson that owns 11 fashion outlets in nine European countries, reported strong growth for full-year 2019, with an 8.4% increase in brand sales and 6.1% rise in footfall growth. The company's 3 Rs strategy, which focusses on 'remodelling, remerchandising and remarketing', is a driving force behind the outlet company's growth and in the past 12 months, 31% of the portfolio has been remerchandised, while 128 new brands joined the VIA Outlets' portfolio, including Ajax, Frederique Constant, Liu-Jo, Coccinelle, while brands such as Adidas, Hugo Boss, Diesel, Karl Lagerfeld and Calvin Klein opened further stores within the portfolio.
Four centres undertook significant redevelopment and remodelling works in 2019 including Wroclaw Fashion Outlet in Poland, Sevilla Fashion Outlet in Spain, Zweibrucken Fashion Outlet in Germany and Hede Fashion Outlet in Sweden. By the end of 2020, VIA Outlets hopes to have undertaken remodelling works across all 11 centres. A total of €200m has already been invested since the company was formed in 2014.
Cheltenham-based developer Robert Hitchins and European outlet operating company ROS Retail Outlet Shopping have plans for a 195,000 sq ft Designer Outlet Cotswolds in Gloucestershire. It will be opened in two phases and will feature some 90 retail units, restaurants and cafes. Construction is due to start on site in autumn 2020, with the first phase expected to open towards the end of 2021. ROS is also managing recently-opened and upcoming schemes in Spain and the CEE.
Discover revamped Outlet summit in Cannes on 17 november and the detailled programme!