In 2017, total transaction volumes for UK shopping centres were down 30% compared with 2016 and reached a total of £2.13bn according to advisor CBRE, which notes activity for 'Best Secondary' assets increase and rise to 47% of the market compared (21% in 2016), the share of 'Prime' shopping centre transactions decreased to 37% from 65% in 2016.
In H2 2017, two large deals dominated shopping centre investment activity, which included the sale of Hermes' 7.5% holding in Bluewater shopping centre to The Royal London Mutual Insurance Society for £155m, and the 50% stake sale of Norwich's Chapelfield shopping centre by owner Intu to LaSalle Investment Management for £145m.
In 2017, only 14% of new shopping centre space was made up of extensions, whereas 2018 will see extensions increase to 68% of the 2.47m sq ft expected to open, dominated by the Westfield London extension, a 740,000 sq ft scheme, anchored by a 230,000 sq ft John Lewis store, which opened in March.
The other notable scheme scheduled for completion in 2018 is the 383,000 sq ft extension of intu Watford.
"There's no doubt the market is challenging," concedes Mark Bourgeois, managing director UK and Ireland at Hammerson. "Sales are under pressure and traditional models are being challenged. The reasons why things are tough are well known, the job for us is to look at this as a period of opportunity and for cultivating new brands and offers."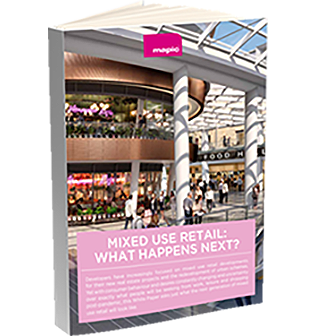 Mixed use retail and leisure: What happens next? – White Paper
Learn about the retail industry's latest data, developments, innovations and projections in our last white paper
Bourgeois says that those opportunities include sectors such as athleisure, car showrooms, leisure, brands and international retailers looking to expand into key locations. "So for us it's about the right product in the right place," he says.
Iconic architecture and a customer-first approach are now de facto within the business, as is understanding the role of each centre. – Mark Bourgeois
Hammerson has major plans for the extension and remodelling of Brent Cross in north London and the joint venture with Unibail-Rodamco-Westfield in Croydon, to the south of the UK capital. These are two of a relatively small number of major projects going on in the UK, where smaller community schemes have dominated more recent redevelopments.
TH Real Estate is developing the largest new project, St James's at the eastern end of Edinburgh city centre, with a project that will include upmarket residential delivered by Native Land and a boutique W Hotel. Land Securities and The Crown Estate opened Oxford Westgate and intu is investing an additional £13 million to update intu Watford, just to the north of London, in time for the opening of the new 400,000 sq ft retail and leisure space, replacing existing flooring, ceilings and lighting.
intu Watford is already anchored by John Lewis and home to other quality retailers such as Apple, Zara, Mac and Kurt Geiger, and the work to expand the centre into a 1.4 million sq ft shopping destination is attracting even more popular brands to the Hertfordshire town for the first time.
Cineworld, Hollywood Bowl and new bar and restaurant concept The Florist are among leisure brands to have signed up for retail space as a result of the project which has been predicted by CACI to elevate Watford to a top 20 retail destination. New retailers will include Debenhams, Jack Wills and Superdry.
Rebecca Ryman, regional managing director at intu, says: "We're creating what will be one of the biggest in-town retail and leisure destinations and combined with our extensive mall refurbishment programme, this will create the very best environment for intu Watford."
Jace Tyrrell, CEO of New West End Company, remains positive about London as a major retail destination and points to 20 new retailers debuting in London in the year to date, after 65 new names arrived in 2017.
"We all know the challenges but actually they present great opportunities," he says. "The loss of department store Bhs on Oxford Street has allowed gold concept Swingers and a food hall to come in. We are looking forward to a five floor Microsoft including two floors that are effectively Xbox lounges, John Lewis adding a cinema on the roof, Adidas coming in with a brand statement. These all boost the retail and leisure mix."
Tyrrell says that such reinvention is the key for any major city around the world and adds that despite pedestrianisation of Oxford Street recently being declined, he expects Westminster City Council to come up with a "bold plan" come the autumn.
"They are very aware of what an asset the West End is to the city and with Crossrail [the new east-to-west rail link across London]and the expectation of a further 60 million visitors to the area by 2020, up one third," he says. "I think we'll see something very positive, a race to the top!"
Flexible space is the key to it, from contracts to the correct specification, locations, the mix of brands, the 'wow' factor. And as we see formats such as department stores struggle we need to think about larger MSUs, showcases for brands and leisure beyond cinemas. We are constantly looking at and reworking concepts. – Mark Bourgeois.
"F&B has obviously been a huge success and Southampton is a case in point, where the F&B extension adjoining the shopping centre has boosted the offer in the city, created a new piazza and given something to the city."
"We are still seeing a number of sectors performing well," says Graham Barr, senior director, CBRE. "That's across the board from JD Sports to athleisure brands such as LuluLemon and Sweaty Betty, to North Face. It's part of a wider growth of the whole industry, with a lot more gym brands opening up, so it's about the weight of the sports offer."
Barr also points to the technology sector, noting the sharp change between the decline of major high streets and retail park brands such as Comet and the exit of Best Buy a few years ago with the rise of the likes of Dyson, Samsung and the impending Microsoft store in London.
They have all promoted experience stores in interesting locations and have reinvented the sector. – Graham Barr
Of course the UK has been hit be some challenging trade winds, with Toys R Us, Maplin, Mothercare, New Look and House of Fraser among those to close or reduce store numbers through Company Voluntary Administrations already in 2018. Barr feels these are "case-by-case" events and not representative of the wider market but says that retailers need to be focused on their business fundamentals and says that openings are "very carefully considered and analysed" by retailers before they agree deals.
"It has undoubtedly been a difficult last five months for the retail sector in the UK," says Ed Cooke, chief executive of Revo. "That has been illustrated by the Company Voluntary Administrations (CVAs) and their impact, which is perhaps a symptom rather than the cause."
Cooke would like to see "more and better" intervention from the government through regulation as he points to the disruption that CVAs have caused, not just for landlords but also for local authorities trying to energise their town centres and to other retailers.
"What we have seen during the opening six months of 2018 is a great illustration of why we need action," he says.
F&B remains a strong growth area, despite some setbacks for casual dining chains, while he notes that much of the best innovation is being driven by leisure operators such as Puttshack [a new take on mini-golf]and Flight Club [darts].
Retail in the UK will be discussed at MAPIC 2018.