With the Covid-19 pandemic and the huge difficulties the retail and leisure industries are facing and will face, the world of retail will rely more on collaboration: on sharing data, new leasing models, with humanity at the heart of the business. As she officially launches MAPIC 2020, event director Nathalie Depetro reflects on how we must all share these difficulties and adapt through new business models.
Launching this year's MAPIC comes at a time of unprecedented turmoil across the world, with the retail, F&B and leisure sectors at the forefront of the global Covid-19 pandemic.
Right now the challenge is day-to-day, whether to keep stores open, how to look after staff, how to pay rent, keeping each business viable, working with the supply chain and trying to share the burden so that the industry can come through this crisis together and rebuild.
Our intention for 2020 had always been to focus on new business models for retail, mixing uses, compelling cities, refurbishment and extensions, sustainability and the innovation that underpins all of these.
Quite simply, these now feel more important than ever.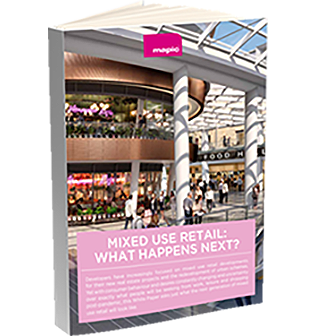 Mixed use retail and leisure: What happens next? – White Paper
Learn about the retail industry's latest data, developments, innovations and projections in our last white paper
So MAPIC 2020 will introduce a series of new innovations this year as our annual event focuses on Embracing Collaborative Retail and asks, are we "Ready to change the rules?"
We will showcase a host of new digital native retail brands, look at the opportunities for urban revival around mixing uses and, for the first time, run alongside new leisure launch LeisurUp.
At the heart of all these inter-connected themes, which reflect the fundamental changes happening across retail and leisure, will be the importance of innovation – both digital and new business models – and the role of sustainability in supporting an industry that is in the process of profound reinvention.
But even more importantly, the way we will approach this at MAPIC will be different, because our emphasis will be on collaboration, the creation of new business models, sustainability, data sharing and a move towards less proprietary attitudes and more sharing and working together for a common goal.
Our industry's revival relies on us pulling together and rebuilding with each other.
Among the many popular traditional elements of MAPIC, three key pillars will be emphasised in 2020.
Next generation retail
Next generation retail is about everyone. It is about a new collaboration between property players and retailers, reflecting the new spirit and solidarity of the industry. The retail value chain will change and logistics will definitively take a predominant role in this.
To focus on new business models for retail, at MAPIC there will be a Retail Arena and a Retail Lounge, plus a showcase for digital natives and new brands, providing participants with a fantastic opportunity to meet these exciting, next generation retailers.
A true mixing of uses
Mixed use means far more than a retail scheme with other uses, we are expanding to include all those projects – new or existing – where retail features. This might be within offices, in a leisure or service location. And this is a very important area for cities, so we will be emphasising the way that these new types of schemes can enhance and make iconic towns and cities.
Innovation
MAPIC has increasingly reflected the introduction of digital innovation into retail and destinations but this year it will not only be digital solutions showcased but all kinds of innovations that help the industry to better understand and to serve customers, from new retailers and new uses through to how technology and innovation is used within stores. We will also be stressing the importance of new business models and fresh ways of thinking, for a customer base motivated by different fundamentals, from ethical buying to the sharing economy, experience to socialisation.
Alongside a packed agenda of conferences and workshops, MAPIC will also include a City Summit, the very first Investment Forum, an Outlet Summit, a Master-Franchise Summit and the debut of LeisurUp, following last year's amazing leisure conference.
LeisurUp is a super-complementary new event, which will start the day before MAPIC. Of course we know that there is no future without leisure and for us this is not about amusement parks, it is about everything we do with our free time. Every aspect and every part of leisure will be represented, from suppliers, to operators, to fund raising. It will cover the entire value chain.
Above all else, MAPIC 2020 is about the future of retail, bringing the new players, the retailers, the investors and developers together in unity and solidarity. From all of us at MAPIC, we wish you and your loved ones well in these challenging times and we look forward to helping you rebuild our amazing industry, with fresh approaches and collaborative attitudes that create new business models.