This post from Reportlinker highlights the four trends shaping the Chinese retail market.
China has gone from being the world's factory floor to its second largest economy with retail sales growing by double digits each month.  The growth of the Chinese retail market has come as a response to the government's urging that the economy should grow via consumer spending rather than by other means.  And spend they have.  Chinese citizens have flocked to purchase furniture, electronics and other items. (Source:  International Business Times)
Here we'll explore four elements that make the Chinese retail market what it is today:
Shopping Trends for the Remainder of 2016: The Chinese economy is in a state of rebalance as it continues to move from a manufacturing to service business and consumer-led economy. In 2015, retail sales reached $400 billion, an 11% increase on 2014; but as 2016 dawned, consumers were saying they had plans to curb spending. Some trends to look for this year include:
Growing investment in the online-to-offline market. This method is seen as a best-of-both- worlds scenario, with an ecommerce site driving customers to a physical store.  The online auction site Alibaba recently invested $4.6 billion to link up with electronics chain Suning Commerce Group.
Chinese shoppers are more loyal to prices than brands. As a result, brands are beginning to learn what customers really want and market with these considerations in mind.
The Chinese government has ended its one-child-per-couple law and is now allowing couples to have a second child. This means the sale of baby items and supplies will grow.  Baby formula alone is expected to increase by 6% this year.
Smartphones will rise in importance as consumers increasingly use their mobile devices to research and purchase products. Mobile wallets are also changing how customers pay.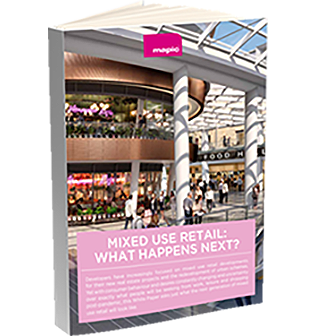 Mixed use retail and leisure: What happens next? – White Paper
Learn about the retail industry's latest data, developments, innovations and projections in our last white paper
Pop-up stores: As in other parts of the world, pop-up stores offer Chinese small businesses a means of showcasing goods.  One example is Dysemevas, which sells clothing, accessories and homeware by Chinese designers. Dysemevas was the first pop-up store in China when it opened in 2009.  It has closed shop and reopened in several locations.  The purpose of the shop is to garner attention for Chinese designers, who are often overshadowed by their Western peers.  The boutique's website states, "Creativity crosses borders. There is no reason why it should only flow one way… This project will feature the best and the most relevant."  The first pop-up store was established in a working-class area.  Sources: PSFK, Voices of America
Foreign products become more expensive: In April, the Chinese government changed the tax rules to encourage Chinese citizens to purchase domestic as opposed to foreign goods.  The change means goods purchased online will be treated as imports and taxed as such.  The number of goods that can be purchased tax-free and brought back in luggage has been lowered.  If the change has the desired effect, it will narrow the price difference between foreign and Chinese luxury goods.  Luxury products have higher tax in China than the rest of the world, raising the prices.  For this reason, 78% of luxury goods are purchased outside of China annually, either online or during foreign travel.   In 2015, $18.32 billion in goods were purchased online from other countries, a 111.9% increase from the previous year.  Whether the new tax rules will force shoppers into changing their habits is unclear.  In surveys, they list quality and safety as the top reasons they purchase from non-Chinese manufacturers. Sources:  Fortune, ECNS, Fibre2Fashion
Tax-free spending: A report by refund company Global Blue discovered that while foreign goods are getting more expensive at home, Chinese travelers also are less likely to buy while on vacation. The report, Globe Shopper Report: China Edition, found that while tax-free shopping had increased 58% in 2015, it has been dropping steadily in 2016.  In March of this year, it dropped 24% after slow growth in January and February.  Tax-free shopping is the process of buying goods in a foreign country and receiving a refund on any sales tax paid; it has been used by many nations as a means of attracting foreign tourists.  Five thousand Chinese tourists who travel frequently were surveyed for the report; 65% said tax-free shopping was the top service that attracted them to retailers.  The threat of terrorism and changes to Schengen Visa requirements may be to blame for the decrease.
Nevertheless, Chinese shoppers account for a third of all tax-free shopping with most shopping being conducted in early May and early October.  These dates coincide with Chinese holidays.  Popular destinations are Australia, Europe, Japan, Singapore and South Korea.
Chinese shoppers are seeking well-known brands, as well as convenience.  The report found 35% of shoppers preferred malls or retail parks; 33% sought retailers that sell international brands, and 31% looked for better prices than those found in China.  Sources:  Frontier, Retail Gazette