Final Press Release Cannes, 15 November, 2013– A growing sense of optimism among retailers and retail real estate specialists was evident at MAPIC, where some 8,300 delegates from 70 countries gathered this week. Of the 2,400 retailers in Cannes, representatives from 400 retail brands were making a debut appearance at the international retail property market.
In the exhibition halls, discussions focussed on omni-channel retailing strategies, the increasing importance of leisure facilities in shopping malls and the growth of retail real estate opportunities in prime locations and certain second-tier cities.
Setting the tone for this year's MAPIC, industry specialists released a flood of data indicating a return to retail growth – albeit at differing levels around the globe.
According to research from Colliers International and RCA, investment in European retail real estate reached €16.2 billion over the past six months, a 14% increase on 2012, with the UK continuing to generate the most interest from investors, while Russia and Poland are attracting the majority of capital in Central and Eastern Europe.
With memories of the 2008 global economic meltdown beginning to fade, major retail brands are once again looking to grow their business. Savills reported that 78% of new store openings in the key European markets of London, Paris and Berlin have been made by international retailers, with North American brands accounting for 20% of those openings.
What was clear at this year's MAPIC was that flagship retailers are increasingly being courted to anchor shopping malls and retail parks.
CBRE, the world's leading property consultants, reported that mall managers identified Primark, Apple and H&M as being three of the most reliable brands for driving shopping mall footfall including for prime shopping centres in secondary locations or secondary shopping centres in prime locations. In a sign of the times, shopping centre developer Westfield and UK department store John Lewis announced during MAPIC that a new John Lewis outlet will anchor the extension to the Westfield London shopping centre, due to open in 2017.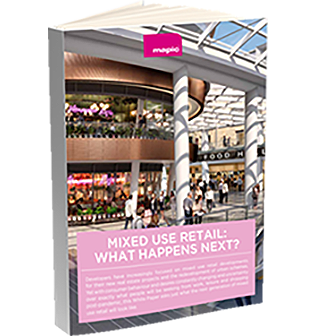 Mixed use retail and leisure: What happens next? – White Paper
Learn about the retail industry's latest data, developments, innovations and projections in our last white paper
During MAPIC, French developer Apsys showcased its upcoming Vill'up and St Paul Park developments, both scheduled to open in 2014. Paris-based Vill'up combines leisure facilities that include a Pathe cinema and freefall simulator iFly. "With all our new schemes you can see the growing importance of mixing retail, leisure and culture to create compelling and family-friendly environments," commented Apsys Development Director, Matthieu Babinet.
Among the various shopping centre extensions announced at MAPIC, details were unveiled of the Westgate development in Oxford city centre, which includes a boutique cinema alongside over 100 new retailers and restaurants.
"Shopping centre strategies are fundamentally about attracting footfall and prolonging the clients' visit to the centres as long as possible. Including multiple entertainment facilities in the centres is a critical part of that strategy and this is why we have initiated the retailtainment zone at MAPIC this year," noted MAPIC Director Nathalie Depetro.
One of the more unexpected sights at MAPIC were characters from 'Shrek,' 'Kung Fu Panda,' 'Madagascar' and 'How to Train Your Dragon' – all of them DreamWorks Animation (DWA) properties
In October, DreamWorks Animation CEO, Jeffrey Katzenberg, appeared at Reed MIDEM's MIPCOM television market to outline his plans to develop the company internationally. At MAPIC, DWA and retail property development and management company Regions GC gave details of their alliance to develop DreamWorks Animation indoor theme parks adjacent to new retail facilities in St. Petersburg, Yekaterinburg and the Moscow region. The combined theme and retail parks are set to open in 2015, 2016 and 2018 respectively and include multiplex cinemas, restaurants, concert halls, hotels and retail space of up to 150,000 sq m in each venue.
MAPIC's Rising Stars
DreamWorks' expansion into Russia reflects the country's continued attraction for retailers, alongside MAPIC's three other 'Rising Star' nations, India, China and Brazil.
"What is clear within the international retail real estate sector is that even in difficult economic times, there are territories which are driving market growth and presenting brands with attractive opportunities. Our choice of MAPIC 2013's Rising Stars reflects the retail dynamism in China, Russia, India and Brazil," said MAPIC's Nathalie Depetro.
Making a first appearance at MAPIC, China's largest real estate company, Wanda, reached out to European retailers looking to enter the growing Chinese market via its shopping centre portfolio Wanda Plaza.
Zhibin Wang, Deputy General Manager, Wanda Commercial Management, reported that the company will have 85 Wanda Plazas in China by the end of the year and 109 by the end of 2014. "If there are European retailers wanting to step into China we are the best choice," noted Zhibin Wang.
From Brazil, shopping centre developer Sonae Sierra Brasil reiterated the importance of providing a 360° shopping and entertainment experience to customers. By the end of the year, the company will open the Passeio das Aguas Shopping mall, the largest shopping complex in the state of Goias. "We are developing a space that will be more than just a shopping centre; it will also be a place where everybody will be able to find quality options of leisure and gastronomy," enthused Sonae Sierra Brasil CEO, Jose Baeta Tomas.
Leisure will also feature prominently in Indian real estate powerhouse DLF's new Mall of India centre which opens for business in 2014. Set to be the country's largest shopping mall, the project includes a leisure land, skating rink and a major brand indoor theme park.
India, like Turkey, is proving that there is retail life beyond its tier-one cities. Lotus Shopping Centres, which opens its first mall in Mangalore next year, has already attracted the likes of Marks & Spencer, Zara and Shopper Stop to the mall, which includes a nine-screen cinema. "There's a lot of power and money in the tier-two cities and brands are moving there," commented Tania D'souza, Assistant VP of Leasing and Marketing for Lotus Shopping Centres.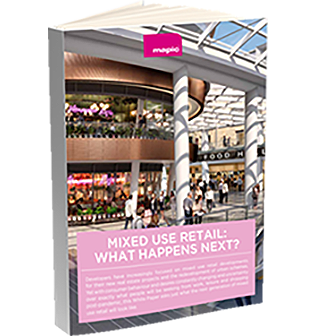 Mixed use retail and leisure: What happens next? – White Paper
Learn about the retail industry's latest data, developments, innovations and projections in our last white paper
Omni-channel Retailing and Innovation
One of the most striking developments at MAPIC was that discussion over the relative threat of online shopping to traditional retailers is a thing of the past. Indeed, the online debate is now almost a question of semantics as retailers choose between calling their strategy multi- or omni-channel!
CBRE research from 10,000 consumers in Europe shows that 40% of 16-65 year olds use internet for buying goods online and two thirds research product information and prices online before visiting physical stores. Among the key takeaways for retailers, the CBRE study suggests that price remains a key factor governing decisions to shop online or offline, alongside availability of goods in national markets. The biggest brake on online shopping is, according to CBRE, cost of delivery.
Digital innovation is opening up new opportunities to retailers and took centre stage at the MAPIC Innovation Forum. London-based web start-up, Appear Here, demonstrated its new portal that brings together those in search of temporary retail outlets with landlords. And new technology that records car licence plates of shopping mall clients, presented by EuroCSGroup's Development Director, Bernard Legrand, is set to be used for mall marketing purposes. Legrand told his audience that having identified where customers lived, shopping centres can target those clients with dedicated marketing campaigns, drawing increased numbers of shoppers to the centre.
On the innovation front, French creator, designer and architect Philippe Starck unveiled what may be the face of shopping centres of the future. At a packed keynote presentation, Starck demonstrated a new exterior facade covering, Bacacier by Starck, co-developed by French sheet metal specialists Bacacier.
"MAPIC is about every aspect of the retail experience," said event Director Nathalie Depetro. "Having such an internationally-respected figure as Philippe Starck among us adds to the magic of this year's event."
Image: V. Desjardins / Images & Co.