According to Alessia De Col, business development, lockers and pickup points at online giant Amazon, as many as 57% of those who go to an Amazon locker within a shopping centre or store will subsequently visit the shop/mall afterwards. While the figures are lower for F&B outlets – "because you can't eat every time" – there is also a marked spike in visits to dining spots that host lockers as well.
The statistics, derived from a recent Amazon research, are the latest to reinforce the complementary yet complex nature of online and offline coming together. Multiple touchpoints, convenience and proximity all play their part in the customer journey and increasingly those are entwined, with the start and finish points indistinguishable.
"The relationship between online data and physical locations is a really interesting one," said De Col of what are early learnings about the opportunities around co-location.
Her view, outlined during a session on data collaboration at MAPIC Italy in Milan, supports other findings from stores and shopping centres that host Amazon lockers. Shoppers are making more quick trips to Whole Foods stores – the specialist grocery group that Amazon acquired last year in the US – that have installed Amazon lockers, giving the retailer a new way to boost sales, according to recent research from location data advertising firm inMarket.
Short 'micro' visits of three to five minutes' duration were up 11% in stores with lockers since Amazon closed its purchase of Whole Foods on 28 August last year, while they were up only 7% over the same period in stores in the same cities that do not have the banks of lockers, inMarket said.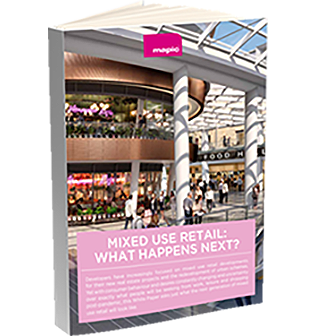 Mixed use retail and leisure: What happens next? – White Paper
Learn about the retail industry's latest data, developments, innovations and projections in our last white paper
The firm studied 98 stores in the New York, Los Angeles, Chicago, Philadelphia, Dallas-Fort Worth, San Francisco, Washington, Houston, Boston and Atlanta metropolitan areas. Some 76 stores, or about 16% of the chain's 473 stores, had lockers.
"There's a serendipity and immediacy to the in-store experience," said Todd Dipaola, chief executive and founder of inMarket, of the findings. "As good as delivery is getting – one-day delivery, sometimes one-hour delivery – that still can't compete with the one-second immediacy of being in store and picking up that avocado that I'm about to make guacamole out of because I thought about it in that moment."
Amazon lockers made their Italian debut in September 2016 and there are nearly 400 installed across the country now. Retailer Pam Panorama was the first to sign a deal with Amazon to introduce lockers within its stores, as Amazon began the process of using retail hosts to house its lockers.
Italy is not as developed as some other markets, notably the US and UK. On 28 April this year, the online retail giant launched free deliveries to customers' cars in 37 US cities, with Amazon Prime members who own newer General Motors or Volvo vehicles eligible. Deliveries are only being made to cars parked in a publicly accessible area, such as on a driveway, in an office car park or on the street in front of a block of apartments.
In order to receive car deliveries, customers must download the Amazon Key app and link it to their vehicles. The app tells customers their delivery slot, when the package is on its way and when it has been delivered – and also offers a record of when their car was unlocked and relocked.
The service is Amazon's latest push into areas that were once considered no-go zones for delivery drivers and postal workers. Amazon Key, which was launched last year, also allows homeowners with WiFi-connected door locks to unlock their front doors remotely so packages can be left inside.
Having noted the success of Amazon's lockers, others are attempting to get into the space. A number of rival lockers systems have been launched by start-up businesses, while troubled US department store Macy's has been trialling its own proprietary locker system for selected stores.
However, not every experiment has been successful. In London, metro network operator Transport for London experimented with lockers at a number of Underground station car parks dedicated to customers picking up groceries from Asda, Tesco and Sainsbury's. However, low consumer demand led to the retailers ditching the pilot programme.
And Alessia De Col also shared insights from Mapic Food & Beverage.
Learn more about innovation at MAPIC 2018!
Join the conversation now!
Top photo © AdrianHancu/GettyImages