Pepper, the smart robot brought to Cannes by SoftBank Robotics Europe, was undoubtedly one of the stars of MAPIC 2016. But what exactly can such synthetic assistants bring to the shopping experience? Firstly, as SoftBank's Daniel Campo explained at an Innovation Forum session today, their humanoid form means people are more likely to interact with them than with a screen (think Apple's Siri, Microsoft's Cortana, or even standard mall pathfinding screens).
Once the communication barrier is broken, they can use algorithms to recommend products; they can collect customer data, like satisfaction surveys (helped by the fact that, as Campo put it, "a robot does not judge"); and they can greet, advise and entertain shoppers.
Think it's early days for retail robots? Think again. 1,500 SoftBank stores in Japan are equipped with Pepper robots; since that equipment, traffic has increased by 20%, said Campo. In Europe, Carrefour has extensively tested Pepper, using it to give product advice, recipes and rewards to shoppers. As for other brands currently working with SoftBank's robot, Campo cited nearly 40, including Nissan, Marriott, Pizza Hut, Uniqlo and Kiabi.
Each robot costs €20,000, and is fully evolutive, in that it can be taught new routines over its entire life cycle. So should human shop workers be worried? "We're not replacing humans with robots, no more than any other technology does," insisted Campo. "It's just an interface, like Star Wars' C3PO. It's more a tool for your team than something that replaces your team."
Kodisoft was more bullish about what its smart technology — interactive table screens — can bring to retailers on this front. As one of the tables' many functionalities is ordering food, you can "cut labour costs, because you only need two plate runners," said the company's CEO, Dmytro Kostyk. Indeed, Kodisoft has found that its tables are at their most effective in malls' food halls, as at least a third of all mall visitors go there. And the company noted that once the tables are installed, restaurant orders increased by 32%.
Shoppers can also login to the tables' interfaces with their social media accounts to win in-mall rewards, then like or share whatever they've just ordered, via enticing video menus integrated in the tables. "They can even send flowers to the girl on the next table!" enthused Kostyk.
Above all, as Kodisoft has found, as consumers spend on average 20 minutes interacting with each table, this represents 1 million hours per year for mall operators to monetise.
The tables can also take quite a beating, as Kostyk joyfully demonstrated:
Concerned about the durability of @IMT_Kodisoft's interactive glass tables? Don't be: you can break wine glasses on them. Watch! #MAPICpic.twitter.com/cvSATnJjRt

— MAPICWorld (@MAPICWorld) November 17, 2016
The day then closed with a session with Google France's Cyril Griga & Romain Bertogli, with Waze France's Jerome Marty, on how can digital drive traffic to stores.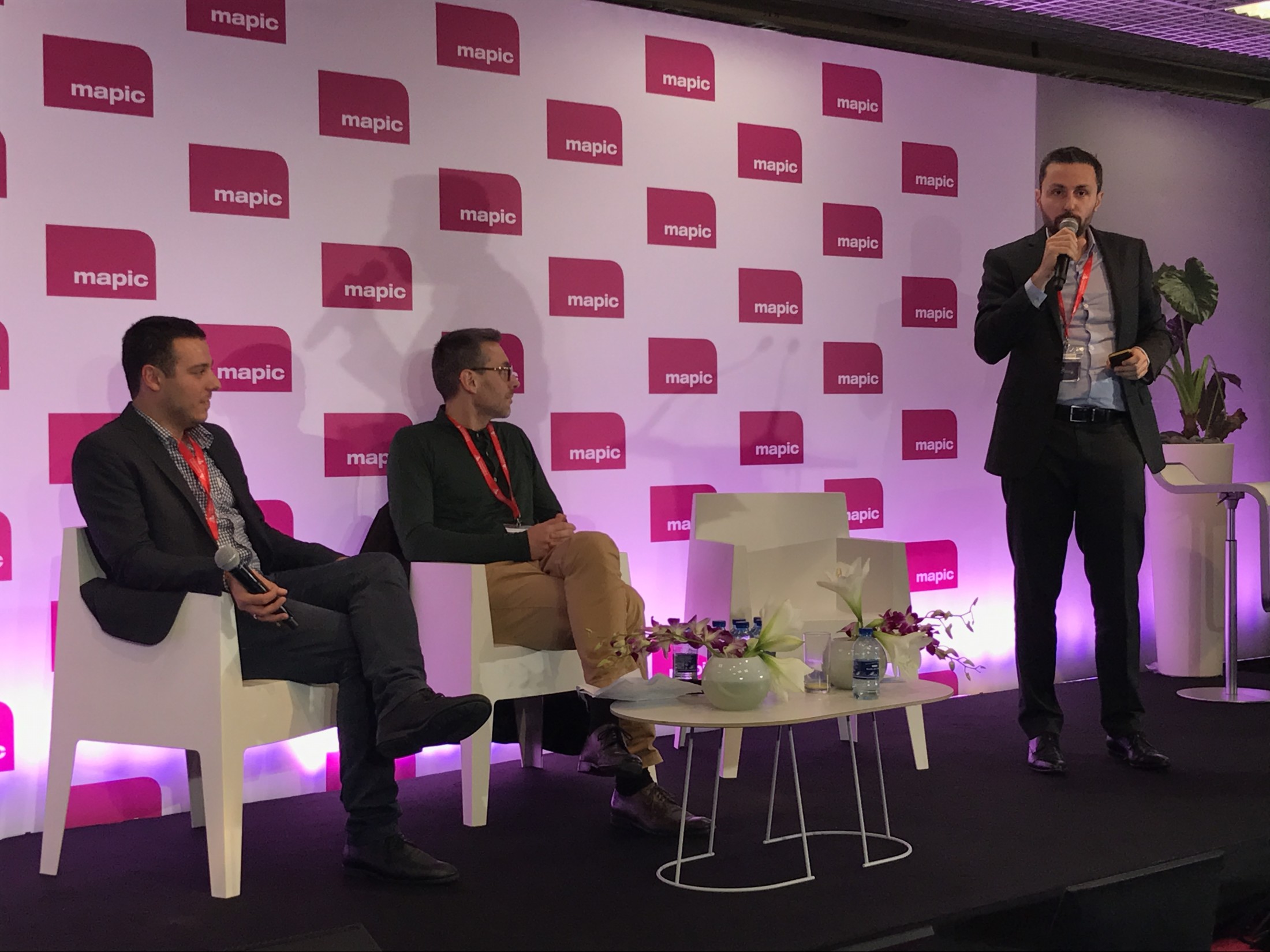 As Griga pointed out, Google's "online to store" ads can not only suggest nearby stores based on search queries: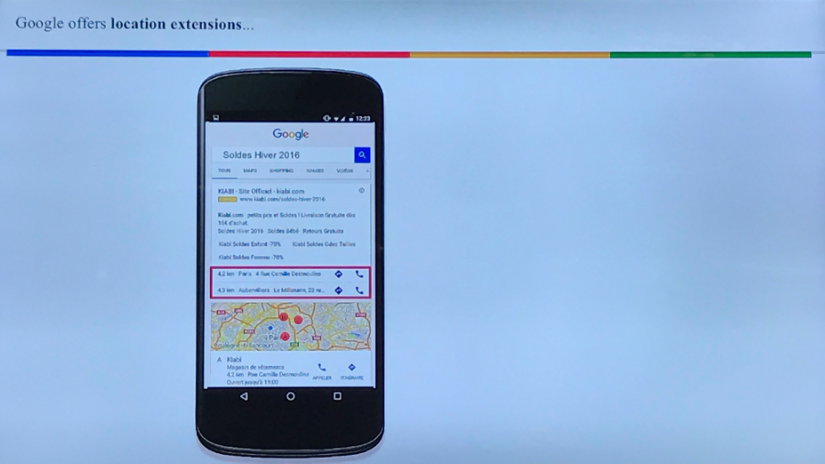 …they can also tell retailers how many people clicked on those links and then came to their store. This "online to store effect" acocunted for a 2.5x increase in ROI for French electronics retailer Darty, with customers spending 10% more if they've prepared their visit online beforehand: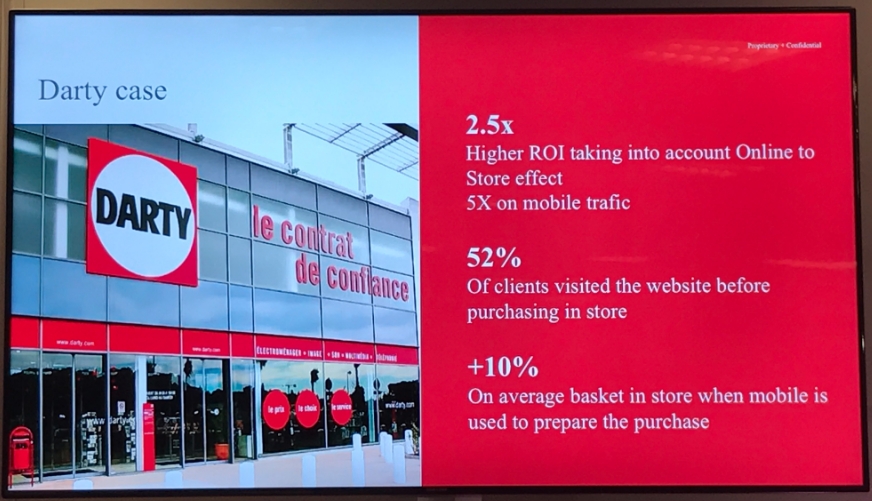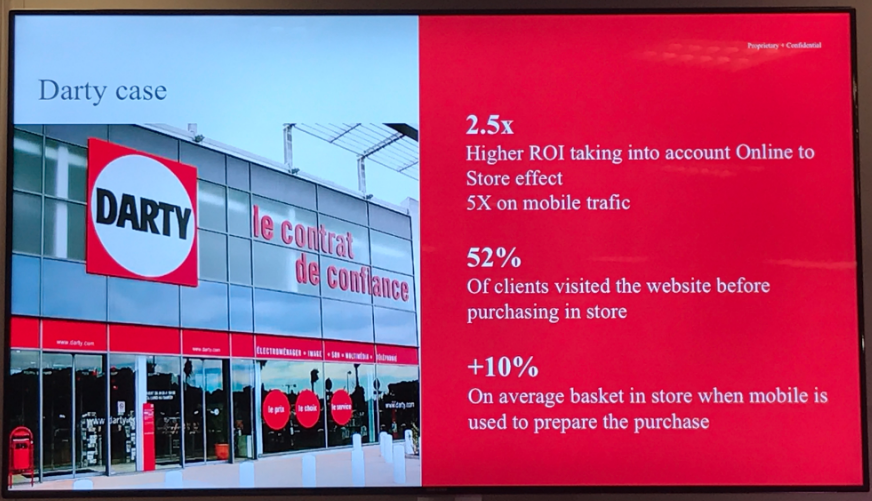 Then Waze France's Jerome Marty explained how a retailer paying to add their logo to Waze maps can increase visits by 46% (versus retailers who don't pay to do so); and Google's Romain Bertogli said that 1/3 of Google mobile searches are local (e.g. restaurant + city); that 50% of consumers who did a local search go to store that same day; and those people have a 2x conversion rate versus other shoppers.
Stats galore, then, offering plenty of food for thought. Will you have taken this all in by next MAPIC? See you there to find out!