The investment picture for retail real estate has never been more complex. The lack of new development and caution about the prospects for traditional retail, consumers shifting away from product to experience and a backdrop of political uncertainty across many markets has understandably dampened investment enthusiasm – and transaction levels reflect this.
Other real estate sectors have been the beneficiaries, notably logistics, hotels, wellness and medical buildings and location-dependent residential.
The result is the need for a different type of investment in retail-led schemes, focusing on mixing uses and "densifying" existing and new assets to add a range of uses that can both add footfall and make use of the floorplate, especially levels and spaces not well-suited to retailing. As such, the future generation of shopping centres may be far less exposed to the economic headwinds of consumer confidence and spending, because these destinations will be less biased towards pure retail.
Last year saw approximately 2.6 million sq m of new shopping centre space completed, some 28% below the figure achieved in 2017, bringing the total size of the European shopping centre market to 168.1 million sq m, according to advisor Cushman & Wakefield. The amount of completions last year was the lowest in the previous 24 years and is comparable with the sort of volumes delivered in the early 1990s, when the first traditional shopping centres in Central and Eastern Europe were opening.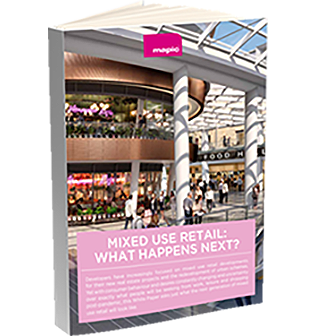 Mixed use retail and leisure: What happens next? – White Paper
Learn about the retail industry's latest data, developments, innovations and projections in our last white paper
Shopping centre development slowed in Western Europe, where annual completions declined by 23%, although France retains its top position for shopping centre development in this region, despite a 28% decrease, when compared with the amount of space opened in 2017. While a similar trend was also seen in a number of other Western European countries, slightly improved results were recorded in Germany, Finland and Sweden.
Central and Eastern Europe also recorded a strong (31%) decline in shopping centre development in 2018. While development has decreased across the whole region, Turkey — which along with Russia has been Europe's driver of additional space in recent years — experienced the largest drop in completions, from 1 million sq m in 2017 to 500,000 sq m in 2018. However, Turkey, Russia and Poland remained the most active countries and together they accounted for nearly 50% of new openings in Europe.
Yet Cushman & Wakefield believes that development should remain stable over the short-term, with 6.5 million sq m currently in the pipeline and due to be delivered by the end of 2020, reflecting the maturity of the shopping-centre market in most European countries and the fact that demand for shopping-centre space is in relative equilibrium with supply.
As a result, developers are trying to retain their market positions and are focused on redevelopment and refurbishment projects aimed at creating multi-purpose, modern and updated shopping and leisure destinations. Developers are also experimenting with other existing or new retail formats, from different store sizes and lease agreements, to repositioned tenant mixes.
"The traditional shopping centre is evolving," says Derek Coss, senior vice-president and chief development officer at Canada-based Ivanhoe Cambridge. "It's now a dynamic cultural hub."
Many owners continue to turn to F&B to attract consumers seeking convenience and experience. Ivanhoe Cambridge, for example, will increase the space allocated to F&B in its centres from 9%-12% to as much as 20%.
Another project that is dedicating significant space to food is the long-awaited American Dream in East Rutherford, New Jersey, which opened its first phase last month and which has 55% of its 418,063 sq m dedicated to entertainment and dining.
Co-working spaces have become a tenant of choice, as they bring possible shoppers into a project during typically slower weekdays. A number of shared office-space operators have partnered with US mall owners — Industrious, for example, has opened locations at Taubman's The Mall At Short Hills in New Jersey and Macerich's Broadway Plaza in Walnut Creek, California.
In fact, such is the promise of office space that real estate companies are creating their own versions, for example CBRE's flexible-space Hana, which is rolling out to class-A assets in the top 25 US cities as well as London, with future growth expected throughout Europe, the Middle East and Africa. In the UK The Crown Estate has also created a pilot co-working location on Regent Street, London, as part of its asset management strategy for the famous shopping street.
Property investors' concerns about retail headwinds across Europe are necessarily driving change, even in markets such as Italy where e-commerce penetration currently stands at only 4.1%, according to market research firm Forrester. Italy's major shopping-centre developers and operators are responding to the new challenges.
"Retail today is all about experience, which is what consumers are looking for," CEO of Italian commercial REIT Aedes, Giuseppe Roveda says. "This means easily accessible locations, attractive architecture, ample and pleasant common spaces and an offer that extends way beyond retail into leisure, entertainment and personal services."
In Spain, AECC chairman Eduardo Ceballos — also country head of Spain and Italy for outlet specialist Neinver — adds: "The sector is immersed in a period of transformation that is generating opportunities for everyone willing to accept that the formulas used years ago are no longer enough. Shopping centres are strengthening their position as meeting points, where retail co-exists with a varied offer of ever-more diverse, innovative and healthy restaurants, as well as sports and leisure activities and cultural events like concerts and even water parks."
Such changes should also influence investor sentiment towards risk. After all, if a scheme is no longer a shopping centre but in fact a lifestyle destination, incorporating leisure, F&B, medical and wellbeing, residential and flexible working, then investment exposure to retail — which is inevitably impacted by consumer behaviour — becomes diluted.
That message is taking some time to be received by the investment community, yet as more new developments and renovations following this model come online, the higher the likelihood that transaction volumes will start to trend upwards.
More at MAPIC!
TOP PHOTO: Projects such as Cap3000 in Nice continue to bolster the French retail market, compared with neighbouring Western European countries