For many retailers, "partner" is not the first word that comes to mind when thinking about their landlord, but maybe it should be. After all, besides the retailer, who has more to gain from a tenant's success than the person who collects the rent? Savvy shopping center managers are realizing that by building active communication channels with their retailers, great ideas can flourish from which all parties will profit.
For the latest thinking on how landlords can help tenants succeed, CRE expert and commercial broker Michael Lagazo spoke with David Bujnicki, vice president of investor relations and corporate communications at Kimco Realty Corp. Kimco is a real estate investment trust (REIT) headquartered in New Hyde Park, N.Y., that owns and operates the nation's largest portfolio of neighborhood and community shopping centers — more than 896 properties comprising 131 million square feet of leasable space. Kimco's centers are filled with approximately 8,400 individual tenants, from mom-and-pops, to franchises, to regional chains, to the biggest big box retailers and grocers.
Q: Mr. Bujnicki, what's the biggest thing a landlord can do to help retailers?
Landlords should make it easy for their retailers to talk to them.
A landlord has tremendous influence over the success of every retailer in his center. The mix of retailers in the center, whether complementary retailers are located together (co-tenancy), easy access to the center, and whether the center is attractive and well-lit – these issues are critical to drawing shoppers and boosting sales. A landlord will use market demographics and competition comparisons to make such decisions, but a good landlord will realize that his retailers know and see things that he can't see at a corporate level. Kimco operates its centers using a regional management approach to better understand the local market and be more accessible to tenants, shoppers and community officials.  Retailers can easily reach their local Kimco representative. They can also reach us through our individual shopping center websites and our corporate Facebook page, which we monitor constantly.
Retailers, if your only communication with your landlord is to send the rent check, you are missing an opportunity to be heard.
Q: What should retailers be asking landlords to help them succeed?
Ask your landlord for help promoting your business.
Good landlords recognize the value of their smaller shops.  While large anchors may be the big draws to a center, smaller stores typically pay much higher per-square-foot rents. And small shop vacancies can take longer to fill. Landlords want them to succeed.
Most corporate landlords have communications teams with media contacts and marketing tools that local retailers won't have.  Kimco is very successful at building exposure for our shopping center tenants in local newspapers and online. One way we draw media and consumers to our centers is by organizing community events within our public spaces, and using these events to cross-promote the center's shops. Also, Kimco has a corporate blog where we provide small business tips and write features that highlight our smaller tenants, pointing out what makes these retailers unique. Another marketing strategy we use that has proven very popular with customers is to offer a gift card sweepstakes to a particular store or stores using Facebook.
Ask your landlord for help promoting your business. Make your landlord aware of newsworthy events in the community and special promotions in your store, and ask how you can be featured in any social media marketing campaigns. If you have a good idea for something that would work for your store or center, tell your landlord.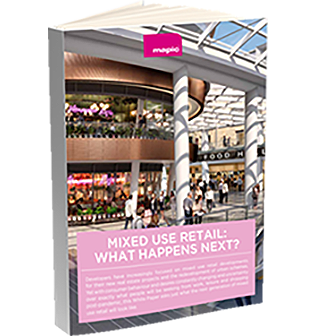 Mixed use retail and leisure: What happens next? – White Paper
Learn about the retail industry's latest data, developments, innovations and projections in our last white paper
Q: How can retailers counter the threat of online shopping?
Find ways to make e-commerce complementary to your brick-and-mortar business. Online shopping is here to stay. Mobile and electronic devices are ever more critical in how shoppers research products, so retailers should post on the internet as much detail about their products and services as someone may need to make a decision. Going further and providing online scheduling or online ordering is ideal. Providing in-store pick up is a great strategy to leverage e-commerce while still getting traffic in the door. Look at e-commerce as a tool that works for you even when the store is closed for the day.
Even if a retailer chooses not to provide the full online shopping experience, you should at minimum make it easy for customers to find your business location, products, operating hours and the latest promotions. You must provide an electronic way for customers to contact you, since buyers are gravitating away from making phone calls. Having your own Facebook page is an easy way to do all of these things, and it's a snap to update it with your store's latest news and promotions. Your landlord can probably help you get started.
If foot traffic is critical, find an e-commerce resistant location.
Kimco's shopping centers are typically anchored by necessity-based retailers like grocery and drug stores, which people still need to visit often. Retailers that are heavily dependent on foot traffic should locate themselves near such daily needs stores, or within view of a well-trafficked street. Restaurants of all types are doing very well, so locating near such an establishment can help draw traffic to your business.
Make every customer visit more profitable.
For many retailers, the increase in online shopping means fewer in-store visits. Retailers must think strategically about how to make each store visit count more. It takes less effort to increase the average amount sold per customer than it does to increase foot traffic for a sustained period. Create an immersive experience or an inviting environment within your store that encourages customers to stay longer. Give your customers the ability to sample or try out your products or services. Once they try, they are more likely to buy. Display complementary items such as products and accessories together, and offer impulse items near the registers. Offer a rewards program and other loyalty promotions to encourage repeat visits.
Use data to help you refine your sales efforts.
You want your marketing effort to precisely target your ideal shopper to increase the dollars spent per transaction. Tools such as ShopperTrak and Motionloft count people, capture data, and provide analytics in retail environments. Retailers can calculate total sales opportunity and conversion rates; compare site performance locally, regionally, and nationally; gauge marketing effectiveness; and improve payroll efficiency.
Landlords use these kinds of tools to determine shopper habits, spending trends, daily and hourly patterns, and identify which locations or categories perform better than others. Ask your landlord. She may have gathered data on your center that she can share with you.
Q: Is there any other advice that you would give to retailers?
Get the most out of your lease.
Leases are not the most exciting part of being in business, but they are probably one of your largest fixed expenses. First, understand your contract. Develop a real estate strategy that covers site selection and option development, and be sure to include an exit or renewal strategy. Have your own advocate (SBDC volunteer, an accountant or an attorney) and don't rely on your landlord to explain the terms.
Once you are up and running, verify that your landlord is fulfilling all of his lease obligations to you, and make sure that you are in compliance with contract standards. Track key dates and deadlines in your lease to avoid potentially costly defaults and penalties.
Keep communication lines open and actively foster a solution-based relationship with your landlord. In this market, landlords are used to adjusting leasing strategies and offering more flexibility in space configurations to adapt to ever changing consumer choices.  Have a candid conversation with your landlord before a problem arises and avoid last minute emergencies.
Q: How does Kimco feel about the current retail real estate market?
We're optimistic, even given the economic uncertainty.
Our numbers for 2012 reflect both a strengthening in the retail industry and the success of our strategy to upgrade the quality of our shopping center portfolio. Despite some national retailers downsizing store counts or store sizes, absorption of existing space is still outpacing new development, and plans for store openings are the highest in several years.
Q: Can you provide any numbers on occupancy and renewals?
All of our operating metrics are favorable.
Kimco ended the year with occupancy levels at 94 percent, our highest since the third quarter of 2008. Anchor spaces are doing particularly well with occupancy levels at 97 percent. Same store performance improved again, for the eleventh consecutive quarter, with same-store net occupancy income (NOI) up 3.4 percent.
Rents are being pushed higher, reflecting growing demand. New leasing spreads averaged 28 percent for full-year 2012. In addition, more existing tenants are choosing to stay. Our lease renewals and options grew 6.1 percent in the fourth quarter.
We think this is a good business climate for both landlords and retailers.

Michael Lagazo has held leadership roles at some of the largest commercial real estate companies including Westfield Group and Forest City. Michael optimizes performance and drives financial results for top commercial real estate projects in the U.S. Among his projects, Michael managed a 1.7 MSF coastal luxury development and was a shopping center executive at Forest City's 160-acre super regional center, Victoria Gardens. Highlighted inShopping Centers Today, Wall Street Journal, Commercial Property Executive, National Mortgage Professional, Michael holds an MBA as well as a dual Bachelor's Degree in business.
Image: Flickr-chooyutshing