On the 15th November, the opening conference at MAPIC entitled "REIMAGINING RETAIL IN 21ST CENTURY" was set up by Franck Laizet, partner of McKinsey & Company and Sébastien Badault, Managing Director France Alibaba Group.
First of all, Sir Laizet Franck reminded us about the forclosures and disclosures in retail during the 21st century. Retailers have a lot to do in order to survive. Three forces are going to shape the industry:
New consumer behaviours: Nowadays, in US, millennial consumers are spending on average six hours a day online, using mainly social media. To retailers, it is an opportunity for shopping moving online.
Global competition: On a global scale, giant online players are setting new standards which cross boarders of retail.
Technology acceleration: People use more and more their mobile, big data is going to be central, artificial intelligence is taking an important place. So, it is important to re-imagine how big data is going to impact business and industries and how it triggers new retail standards?
So, where are we heading? Retail is going online, direct impact of retailers' profitability and opportunity to better invest with sources of growth.
Franck Laizet defined the 4 dimensions of the 21st century:
New formats: reconfiguration of store networks. For example, reinventing convenience such as Kroger's Fresh (mixing food service and grocery).
Seamless and rich experience: from "omni channel" to "no-channel", data will be in the center of the personalized shopping experience
Entertainment as a driver: entertainment and shopping will be one. Augmented reality and gaming. F&B has a main role and it is an important driver in shopping malls, as well as regular events and happenings. For example, Nike offers gaming and product trials – a virtual run for its clients: a type of customer experience.
Technology as a catalyst. Artificial intelligence is improving retail performance, automation will help to reduce costs in the front-end and back-end.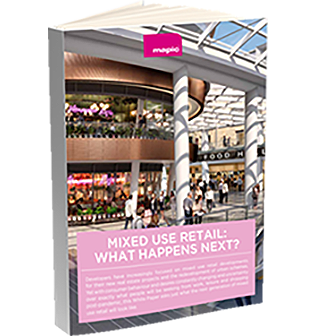 Mixed use retail and leisure: What happens next? – White Paper
Learn about the retail industry's latest data, developments, innovations and projections in our last white paper
Stores will still account for the large majority of purchases but growth will be generated by digital channels.
The 21st century new retailers' goals – from strategy to success :
Start from the customer experience
Invest in digital and analytics skills
Unleash innovation with partnerships
Evolve your culture to be more agile
Then, Sébastien Badault gave us his point of view about perspective of physical retails in the next years. He explains how the enterprise Alibaba succeed to grow really fast thanks to new technologies and retail innovations (30% last year). According to him, there are 3 new factors every retailers should re-invent :
Partnerships (especially what to do with them), technology and physical retail (how associate entertainment and consummery?). Alibaba is based on these 3 new factors and took advantage quickly of these business evolutions. Sebastien Laizet developed several events which have a lot of impacts on consumers like :
A big fashion show with 30 brands broadcasted on 7 local channels thanks to influencers, bloggers and celebrities.
Physical events launched in 60 pop-up stores located in several Chinese cities in which consumers could try cosmetic products off-line and order it on-line.
An augmented reality game in a shopping mall where people should catch targets in the store.
To put in a nutshell, retail business will be more and more based on digital marketing and the way big data enables more experiences and, as a consequence, more business.
Authors:
Marie HORENT & Juliette BRIGNONE – Students at Paris 1 Panthéon – Sorbonne Real Estate Investment and Construction Strategies
Photo: Images & Co.