Today, I visited 2 conferences dedicated to the future of the Russian retail market. The leading Russian & foreign retailers, developers and investors met to share their vision of the new Russia. In the context of deep economic and political changes affecting the country at the moment, for instance, Western sanctions, many foreign investors and retailers interested in this rapidly growing retail market are asking themselves how this will affect the future of Russian retail. Many of them, scared by the unstable political situation, decided to postpone their arrival to Russia for a couple of years. Is it secure to invest in Russia at the moment? I will try to sum up for you the main issues discussed during these sessions at MAPIC 2014 by leading Russian & foreign retail experts and investors.
"Russian Business in the face of new challenges"
Co-organised by ImpressMedia
Highlights:
– How will the Russian/Western Clash impact the Retail?
– The Perspectives of Russian Manufacturers in New Retail reality
– Russian Luxury Shopping Goes Home – How Russian premium stores could win the Customer?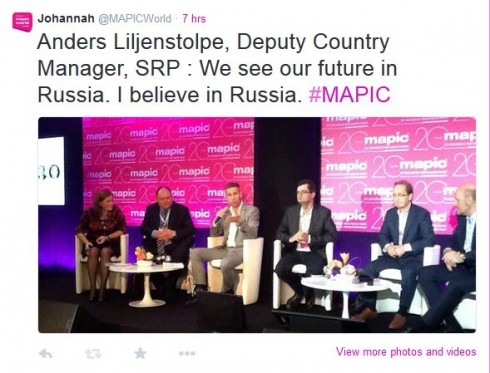 The first conference was about the future of Russian retail in the context of Western sanctions affecting the Russian economy. All the speakers agreed that Western sanctions had a deep and controversial impact on the economy of the country and Russian retailers by slowing down foreign investments. As the Ruble falls, Russian customers tend to prefer "best value for money" however, they continue to shop. Which is why investors who are already implanted in Russia are far from leaving the country. The low interest rates might just attract new Western investors.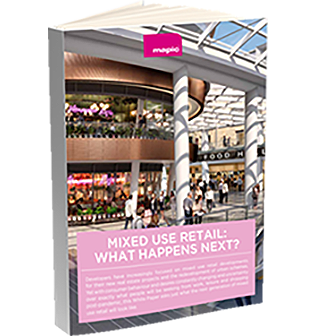 Mixed use retail and leisure: What happens next? – White Paper
Learn about the retail industry's latest data, developments, innovations and projections in our last white paper
"We're optimistic about the future of Russian retail", said Tatyana KLUCHINSKAYA, National Director, Head of Retail, and all speakers agreed with her.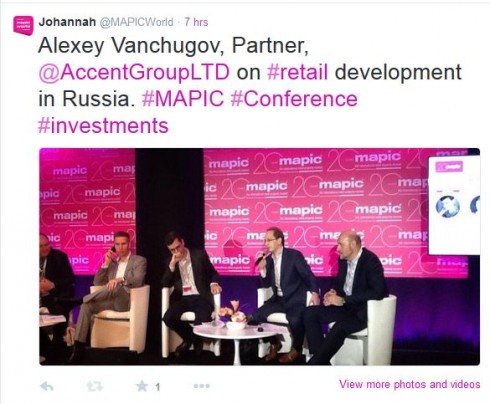 SPEAKERS:
Tatyana KLUCHINSKAYA, National Director, Head of Retail Department, JLL RUSSIA & CIS (Russia)
Andrey KOLOKOLNIKOV, Vice President, Morgan Stanley & Co International (Russia)
Anders LILJENSTOLPE, Deputy Country Manager, SRV (Finland)
Yury LOSEV, Director Development, AZBUKA VKUSA (Russia)
Alexey VANCHUGOV, Partner, Accent Real Estate Investment, Accent Group (Russia)
"Retail in Russia: Innovation that works"
Co-organised by Kommersant.ru
Highlights :
Russian retail market: What do the leading players think about the outlook for its development?
How attractive is the Russian retail market for investors? What parts of retail look particularly promising in terms of investment?
How does e-commerce change traditional market? Strategy of large off-line market players entry into internet
Particularities of consumer behavior in Russia: What do we buy, from whom, and why? What do companies expanding into Russia need to know?
New formats, new requirements: How is the commercial real estate market developing in Moscow and in Russian regions?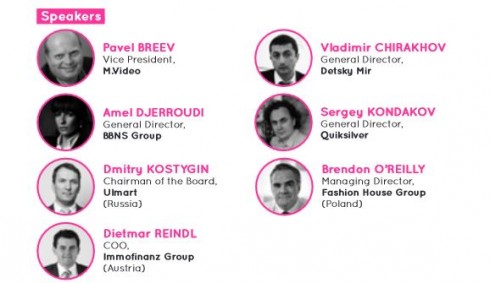 "The situation is normal, people still want to buy"
According to Amel Djerroudi, General Director at BBNS Group, foreign retailers in Russia were mostly interested in big cities such as Moscow and St-Peterbourg – now they have started to look at smaller regions.
However, Dietmar Reindl, COO at Immofinanz Group, said that his company would prefer to stay in Moscow and wouldn't take a risk to invest in small cities and towns.
Dmitry Kostygin, Chairman of the Board, Ulmart, believed that Russia would need to build new generation shopping centres with larger space, combining entertainment and retail (retailtainment) to attract customers to the stores. According to him, the Russian retail market continues to be attractive for investors in spite of the slow-down, however, they prefer to invest in big cities and are seeking for the short-term investment opportunities.
E-commerce does not seem to seduce retailers in Russia at the moment, because the Russian customer is not ready to trust pure-players. "People want to buy on the Internet and come to pick up their purchases in the shop", said Pavel Breev, Vice President, M.Video.
 Check out the playlist with the MAPIC 2014 Conferences